Posted on
Mon, Apr 5, 2010 : 3:47 p.m.
Michigan athletic director David Brandon: Expanding NCAA basketball tournament a bad idea
By Michael Rothstein
As the NCAA heads toward expansion of its men's basketball tournament from 65 to 96 teams, opinions on whether or not it is a good idea still vary.
Those in favor of expansion are usually coaches and the NCAA, which stands to make even more money on what is already a multi-billion dollar operation. Those who don't like the idea are, well, almost everybody else.
Including Michigan athletic director Dave Brandon.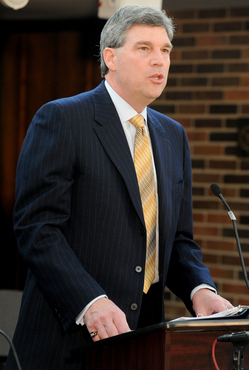 Angela J. Cesere | AnnArbor.com
"Expanding the tournament, I believe is a bad idea," Brandon said Friday. "It would dilute, I'm a change-is-good kind of guy. I want to be an innovator. I want to be out there doing things that could be different and better. I don't think you always have to rest on your laurels.
"But there are certain things that if they are not broke, don't try to fix 'em. If there is a better, more outstanding platform out there than the NCAA Final Four and basketball tournament, you have to tell me what that is."
Brandon should know about running successful operations. Until a month ago, he was the CEO of Domino's Pizza, a multi-billion dollar corporation. When he ran Domino's, he wasn't afraid to make changes, either.
He participated in aggressive marketing campaigns and oversaw an overhaul of the pizza receipe.
So he's a guy who takes chances. But he's concerned about this one.
"It gets great price tags in terms of advertising support and sponsorship support," Brandon said. "It's got huge attention around the nation. It has great prime-time television capability. It works and it funds the NCAA. It works and it funds and it provides value to institutions. It's a really, really solid program.
"So I ask the question 'Then why do we want to go in and start fiddling with it? Why do we want to dilute it?' If it were my decision to make, we wouldn't expand it and mess with it. Not my decision to make."
That decision is with the NCAA and the university presidents. At a press conference before the Final Four last week, the organization hinted they'd be going to a 96-team tournament and detailed plans for what the tournament would look like.
One of the major concerns - besides the obvious missed class time - is the dilution of the regular season and conference tournaments. At many schools, men's basketball is a money-making venture and with 96 teams making the tournament, it might de-value games - especially early-season non-conference games.
Also, an expansion of the NCAA tournament could hurt conference tournaments, which often have games in the first couple of rounds that have implications on whether or not a team makes the field. An expansion to 96 teams likely eliminates a lot of that tension and drama.
"A number of things would need to be evaluated from each conference perspective," UCLA athletic director Dan Guerrero said at the press conference last week. "Certainly the regular season, the impact on the regular season would be of issue. Conference tournaments would be of issue. And the relevance of regular-season games, as I indicated."
Relevance would be one of Brandon's concerns if Michigan were drawing like Kansas, Kentucky and Duke. But right now, the Wolverines aren't filling up Crisler Arena.
In 2009-10, Michigan averaged an announced attendance of 11,725 fans per game, about 2,000 fans short of the listed 13,751 capacity crowd.
So he doesn't think, from an attendance standpoint, tournament expansion would hurt crowds at Crisler.
"If I was filling my arena and at a point where my men's basketball program had reached the maturation stage, I would worry 'Well, gee, is this going to cause us to take a step back because it would de-emphasize the importance of league play," Brandon said. "I don't look at it like that from Michigan's perspective. We're very much in a growth cycle in terms of our program. Whether or not they go to 96 teams, to me, is irrelevant to Michigan basketball. We're about winning more games, being more competitive, getting more marquee games on our schedule, filling more seats, improving our facilities and creating a better game experience.
"We have so much upside in both of our basketball programs, both men's and women's, we have so much upside that regardless what they do in terms of this tournament decision, I believe there is a lot we can accomplish."
Michael Rothstein covers University of Michigan basketball for AnnArbor.com. He can be reached at (734) 623-2558, by e-mail at michaelrothstein@annarbor.com or follow along on Twitter @mikerothstein.