Posted on
Sun, Nov 21, 2010 : 5:33 p.m.
Michigan basketball team, led by Jordan Morgan's best game, annihilates Gardner-Webb, 80-58
By Michael Rothstein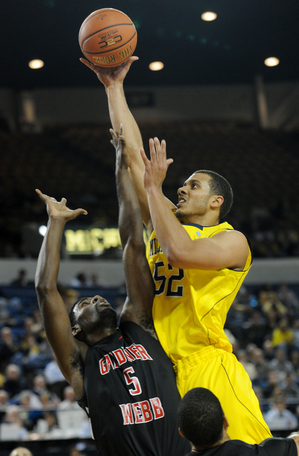 Melanie Maxwell | AnnArbor.com
Michigan basketball coaches had a feeling entering Sunday's game that they might see a good performance from Jordan Morgan.
What he did, though, couldn't have been expected.
The redshirt freshman forward dominated in Michigan's 80-58 win over visiting Gardner-Webb on Sunday afternoon, using an array of post moves and entry passes from guards on the outside.
When he caught the ball, he finished his way to a career-high 20 points along with eight rebounds - six of them offensive.
"The more I work with coach (Bacari) Alexander, I just get physical and finishing in the paint, and I guess I feel a little bit better in the paint," Morgan said. "… He makes a difference not only in skill level but in intensity you bring on every aspect, every play, whether you're away from the ball. A lot of little things that help you in your all-around game."
Michigan went to Morgan early. The Ferndale native scored six of Michigan's first eight points and had touches in the post on the Wolverines' first three possessions.
Morgan came to Michigan (3-0) at 270 pounds, out of shape and having a craving for ice cream from his grandmother in Kentucky.
Then he got hurt last season - first his knee and then his shoulder. Through it all, though, he trained. He worked.
But he wasn't close to ready.
"He came in here and coming off of that (injury), you say he's a long way from playing in the Big Ten or playing anywhere," said Michigan coach John Beilein, who picked up his 600th win. "But he's really worked his body and little by little, he's gotten better."
He transformed his body by cutting out junk food, drinking almost exclusively water instead of soda and working out. He weight dropped to 240 pounds.
"When he first came in last year, he was a little bit out of shape," said sophomore point guard Darius Morris, Morgan's roommate last year. "But as you can tell by the picture on the wall, the before and after, he's put in a lot of work, and that's always been his game since I knew him in high school.
"He takes pride in that, as you can see how he goes after defensive and offensive rebounds."
Morgan has turned into an effective rebounder and evolved into Michigan's most complete post player. He's gotten stronger each game, too. He went from scoring four points in the opener to 12 against Bowling Green to 20 on Sunday. His offensive rebound numbers have climbed from one to four to six.
Morgan had help on Sunday.
Morris had his second-straight double-figure assist game, scoring a game-and-career-high 21 points and making 10 assists. Freshman forward Tim Hardaway Jr. scored 15 points. Junior guard Stu Douglass came off the bench and scored 10 points.
But it was Morgan who set Michigan's pace from the post in the Wolverines' crushing of the Runnin' Bulldogs (3-2). That he's talented hasn't surprised Michigan's players. The timing is the eye-opener.
"Surprised that maybe so early, being that you can see it every day in practice that the ability is there for him," Douglass said. "The mindset to just stay relaxed and trust himself.
"He really put it together for a complete game. There were ups-and-downs, definitely, and he knows how he needs to play and the mindset he needs to be in. It'll help him in the long run."
Michigan will continue play in the Legends Classic when it plays No. 10 Syracuse on Friday in Atlantic City, N.J.. The Wolverines will then play Georgia Tech or UTEP on Saturday.
Box score | Slideshow | Notebook
Michael Rothstein covers University of Michigan basketball for AnnArbor.com. He can be reached at (734) 623-2558, by e-mail at michaelrothstein@annarbor.com or follow along on Twitter @mikerothstein