Posted on
Sat, Jan 21, 2012 : 5:39 p.m.
Michigan basketball captain Zack Novak meant no harm in hard foul on Arkansas' B.J. Young
By Nick Baumgardner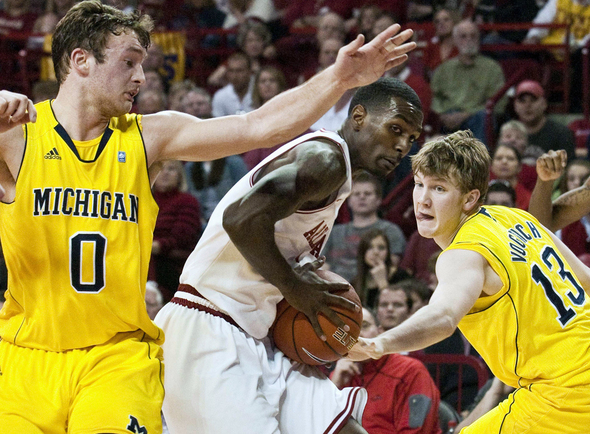 AP Photo
FAYETTEVILLE, Ark. -- Michigan basketball senior captain Zack Novak said he had no intent of hurting B.J. Young on Saturday after a hard foul sent the Arkansas freshman guard crashing to the floor and sparked raucous boos from the crowd of 19,050 at Bud Walton Arena.
With Young sprinting toward the basket for a breakout dunk early in the second half of Arkansas' 66-64 win over Michigan, Novak went high in an attempt to block his layup attempt.
He missed, though, hitting Young's head instead of the ball, and sending him down hard to the floor.
"They were booing me because they thought I made a dirty play, I didn't mean to hurt the kid at all," said Novak, who was whistled for a flagrant foul. "There was no (malicious intent)."
Novak said he was unable to initially check on Young, who was remained on the floor for several minutes before being helped to the bench by Arkansas trainers, but said he did ask Arkansas coach Mike Anderson about him after the game.
Arkansas guard Rashad Madden took the free throws in Young's absence, missing them both. At the next dead ball, Young returned to the lineup. He finished the game with a team-high 15 points.
Novak said his intention was to go up and block a shot. Unfortunately, he didn't get high enough in the air.
"I'm just not very athletic," Novak said. "He was going up to dunk, and it's tough basketball, you're not going to give wide open layups.
"I tried to make a play on the ball, he was just a lot higher than me."
Michigan coach John Beilein said he didn't get a good look at the play during the game from the opposite end of the floor. He also said he didn't see the replays of the foul, so didn't want to comment on the situation.
He did, though, defend any accusation of his captain being a dirty basketball player.
"All I know is Zack Novak plays hard as can be, and plays clean as can be," Beilein said. "I'm sure there was no ill intent."
Anderson had a similar reaction, saying it was just a hard foul during an intense moment.
"It was in the heat of the battle," Anderson said. "He gave him a good foul, no question about it. But that's part of basketball."
Novak was booed heavily each time he touched the ball throughout the remainder of the contest, but it didn't seem to deter him.
The senior guard finished with a team-high 17 points on 6-of-9 shooting, knocking down five 3-pointers and grabbing eight rebounds.
"Novak couldn't miss anything," Anderson said. "He was knocking shots down and he was a guy we really wanted to identify in the second half."
Nick Baumgardner covers Michigan basketball for AnnArbor.com. He can be reached at 734-623-2514, by email at nickbaumgardner@annarbor.com and followed on Twitter @nickbaumgardner.
Want to stay connected to Wolverine basketball in your Facebook newsfeed? "Like" AnnArbor.com's Michigan Basketball News & Views.