Posted on
Wed, Feb 29, 2012 : 4:42 p.m.
John Beilein and Michigan basketball staff still working ahead of the recruiting curve
By Nick Baumgardner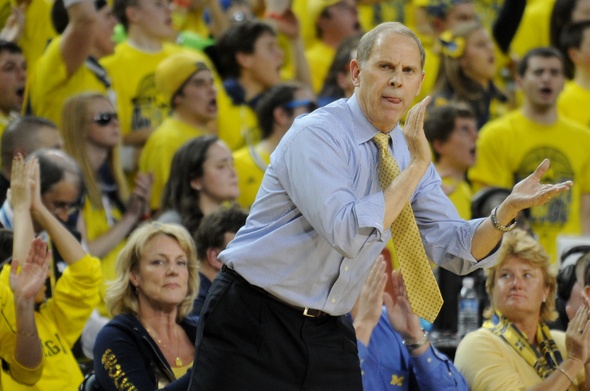 Melanie Maxwell | AnnArbor.com
As March readies to show itself on the calendar, the intensity on basketball courts across the country is about to hit a fever pitch.
Both on the college and high school levels.
But thanks to some heavy prep work, Michigan basketball coach John Beilein and his staff only have to fiercely compete on the college level this March.
With Michigan's 2012 recruiting class already full, and four commitments already in tow for 2013, Beilein's sense of urgency right now only lies with his current club -- and not with high schools and his program's future.
"With these guys signed and us having no scholarships for next year, there's not that sense of urgency," Beilein said. "I was out trying to make a decision on Zack Novak four years ago (around this time)."
The Wolverines presently have three available scholarships for 2012, and at moment, they're all spoken for with signed recruits Mitch McGary, Glenn Robinson III and Nik Stauskas .
Beilein said he doesn't anticipate any departures or scholarship openings for next season between now and the spring, so at the moment, his work for next season is done.
For 2013, Michigan already has pledges from four-star prospects Zak Irvin and Derrick Walton, as well as three-star forward Mark Donnal and three-star guard Austin Hatch.
Michigan's 2012 crop is rated No. 7 in the country by Scout.com. It's 2013 haul sat at No. 4 on Scout's list in December.
Beilein said his staff has gotten out to see all of Michigan's current signees and commitments in action this season, doing their best to offer support as the prep year heads into crunch time.
As for the head coach himself, he says he makes his best effort to go out and support his future players, but admittedly hasn't been out as much this winter as he has in years past.
"I'm trying to see them all at different times, and our assistants have all seen them," said Beilein, who watched Irvin play in Indiana high school playoff action Tuesday. "But I tell them when we're recruiting them, when you're here at Michigan, my No. 1priority is you.
"I haven't gotten out to see all those guys as much as I have in the past."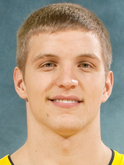 Max Bielfeldt update
Beilein also discussed the progression of freshman forward Max Biefeldt, a 6-foot-7, 240-pound forward who is redshirting this season.
Bielfeldt has struggled with tendonitis in his knees this season, but has grown on the practice floor, per Beilein, and is shaping into the type of player he hopes will provide a much-needed inside punch down the road.
"It was a tough transformation for him," Beilein said. "But we've seen great strides in many areas. He's a tremendous rebounder, which we always need, and he can really shoot from the outside.
"He's learning every day, and we're hoping he'll be on the floor for us one day and have a strong presence. And we know he'll have a strong presence, because there's some strength in there now. He's a strong man. When he sets a screen, or hedges, people feel it. And he's only 18 right now, he won't be 19 until June."
As far as Bielfeldt's knees go, Beilein says progress has been made, but not fully healthy just yet.
"It's going to take a year or so of rehab and training in the weight room to take pressure off the tendonitis," he said. "That'll take time to change that body to take the weight off (the knees) so they're not feeling all that stress."
Associated Press
Beilein calls Weber a 'great coach'
When Michigan visits Illinois on Thursday, the Wolverines will be playing a team currently fighting for its postseason life, as well as a coach who may be fighting for his employment life.
Illinois coach Bruce Weber has come under some significant heat this season, as the Illini have dropped nine of their last 12 and appear to be in need of a miracle to qualify for this year's NCAA Tournament.
Throughout the slump, Weber has been overly forthcoming about his team's struggles, publicly discussing his hiccups as a coach and his team's weaknesses on the floor.
On Wednesday, Beilein offered support for Illinois' maligned boss.
"He's a professional in what he does, he's going to work very hard for his university and he's a great coach," Beilein said. "Not a good coach, a great coach.
"And, if you coach long enough, you're going to have years that are going to be tough and you've got to fight through them. He's handled this like all of us handle it, be straightforward, do your job and worry about your team and its next practice."

Spring break advantage

With the university on spring break this week, Beilein and his coaching staff have taken advantage of extra film sessions with the team.
Additionally, Michigan ran double practice sessions for players who haven't seen much action this season, notably Bielfeldt, redshirting freshman Sai Tummala and freshman guard Carlton Brundidge.
"When someone tells us we can't play anymore, a guy like Max Bielfeldt, I might have six hours all spring to work with," he said. "He and all our guys that have redshirted, Jon Horford and Sai and Carlton, who hasn't redshirted but hasn't seen (a lot of time), we've worked a lot with.
"And, we can watch more film. There's no restriction on our hours this week, so we can watch more film and do more things."

Jalen Rose to call the Illinois game

Former Michigan guard Jalen Rose will be part of ESPN's broadcast team Thursday in Champaign, Ill.
Rose will serve as a co-analyst with colleague Stephen Bardo. Dave O'Brien will handle the play-by-play duties.
Rose, a member of Michigan's famed Fab Five, is eighth on the Wolverines' all-time scoring list (1,788 points) despite playing just three seasons.
Nick Baumgardner covers Michigan basketball for AnnArbor.com. He can be reached at 734-623-2514, by email at nickbaumgardner@annarbor.com and followed on Twitter @nickbaumgardner.
Want to stay connected to Wolverine basketball in your Facebook newsfeed? "Like" AnnArbor.com's Michigan Basketball News & Views.