Michigan basketball John Beilein defends transfer policy, says attrition is 'probably here to stay'
Posted on Thu, May 17, 2012 : 4:16 p.m.
It's been a rather intense offseason for John Beilein and the Michigan basketball program.
Trey Burke almost left, three players opted to transfer and two more recruits have joined the ranks.
Intense, no doubt.
But strange? No, not really.
"I think it's more like the way the business is right now," Beilein said. "Between transfers or guys going pro, the flexibility and changing rosters (are) probably here to stay."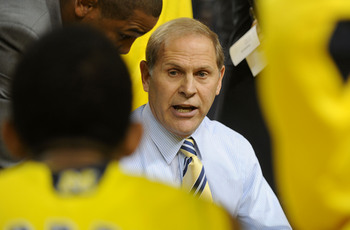 Angela J. Cesere | AnnArbor.com
Less than a week after Michigan was bounced by Ohio in the NCAA Tournament,
Evan Smotrycz
,
Carlton Brundidge
and
Colton Christian
announced they'd be leaving the program
.
Beilein wouldn't say he was surprised the three players opted to leave, but said the departures were unexpected.
"We didn't expect all those transfers," he said. "But it happened. We move on so quickly and we just move forward.
"Just like a guy getting his fourth or fifth foul, right? We have to put somebody else in the game."
The Wolverines will now have five new players on their roster next season, signees Mitch McGary, Nik Stauskas, Glenn Robinson III and Spike Albrecht.
Ohio combo-guard Caris LeVert has also offered a verbal commitment, but must go through proper admissions channels before Beilein can comment on him formally.
Michigan will have a large amount of roster turnover next season, but it won't be alone in dealing with that challenge.
The NCAA has estimated that nearly 40 percent of all Division I college basketball players will change schools by the end of their sophomore season.
The transfer epidemic has created a great deal of debate and interesting situations regarding how coaches handle the release of players opting to leave their program.
Beilein and the Wolverines weren't left out of that conversation either.
Currently, Beilein has a policy in place that restricts players from leaving his program to sign with another Big Ten school, or a team that's on Michigan's schedule over the following two seasons.
Beilein says it's a policy, but it's also handled on a case-by-case basis -- meaning that he will allow a player to bypass his policy if he has a "compelling" reason to do so.
One way or another, Beilein believes his stance on transfers is fair -- and that the players aren't exactly put in a terrible situation because of it.
"We don't want a young man to take our playbook and go to the next school," he said. "It just doesn't make sense.
"(Some people) look at it as a downside for the transfer. But the transfer gets another free year of education. He's got a pretty good thing, too. I'm sure people will continue to work on the transfer rule and find out the best way to do it, but it's not going to happen overnight."
At the Big Ten spring meetings in Chicago earlier this week, Michigan athletic director Dave Brandon backed Beilein's stance on the matter.
Also, he said the increasingly high rate of transfers is very concerning.
"I've heard statistics that we're getting to the point where 40 percent (of players transfer)," Brandon said. "When I heard that statistic it was like, 'My God.' We've definitely created a culture in the sport where, 'if I don't play as much as I think I'm going to play here, I'm going to run over there.'
"As well as, 'gee I think I'm ready, some agent whispers in my ear and tells me I'm ready, I think I'm ready to play pro' and you're just seeing this churn that I don't think is healthy, I don't think is healthy at all."
AnnArbor.com's Kyle Meinke contributed to this report.
Want to stay connected to Wolverine basketball in your Facebook newsfeed? "Like" AnnArbor.com's Michigan Basketball News & Views.