Posted on
Mon, Feb 6, 2012 : 9:05 p.m.
Michigan basketball coach John Beilein impressed by Denard Robinson's Maize Rage participation
By Nick Baumgardner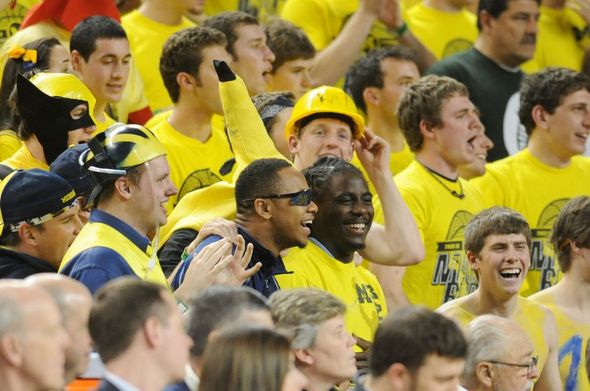 Melanie Maxwell | AnnArbor.com
The Michigan basketball student section, the Maize Rage, has gotten some extra face time recently courtesy of its newest celebrity member.
That being Michigan football quarterback Denard Robinson.
Robinson appeared inside the Crisler Center student section during Michigan's 60-59 win over Michigan State last month and was back inside the Maize Rage during the Wolverines win over Indiana on Wednesday.
Michigan basketball coach John Beilein didn't see Robinson, but that doesn't mean he wasn't impressed.
"He was back again? I didn't see him," Beilein said Monday during his weekly radio show. "That's great."
Robinson's first Maize Rage appearance came during an overtime win against Northwestern, as Robinson and teammate Roy Roundtree made their way into the Maize Rage following a halftime Sugar Bowl ceremony, grabbed some official T-shirts and helped cheer the basketball team to victory.
Against Indiana, Robinson, Roundtree and now ex-Michigan linebacker J.B. Fitzgerald took in the game.
Angela J. Cesere | AnnArbor.com
Robinson's student-section membership doesn't just stop at the Crisler Center, though. He was spotted at Yost Ice Arena over the weekend during Michigan's home series against Miami.
An avid football fan, Beilein has spoken several times about how exciting Robinson is to watch on the field. Off the field, the Michigan basketball coach says, 'Shoelace' is equally impressive.
"I texted (Michigan football coach Brady Hoke) after the Michigan State game and just said to him 'he must be wonderful to coach because of the way he carries himself in these crowds with people' " Beilein said. "He's all good."

Owning up to the technical

Beilein took full responsibility for the technical foul he was whistled for during Michigan's 64-54 loss in East Lansing on Sunday.
By his estimate, it was the first technical he's been whistled for in two years.
"It was the first in two years, by the way," Beilein said. "I waved my hands (at the official), and you can't do that.
"I know that."
Beilein said it's important to him that his players see him as a coach who is always under control on the sideline during games.
"I'm not perfect, but I hope my players see a guy that's not on the officials every minute or chastising his players every minute," Beilein said. "(I hope they see someone) that's in control."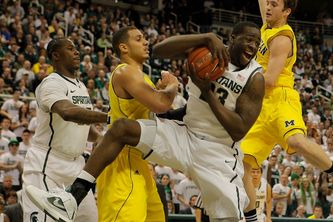 Chris Asadian | AnnArbor.com
Draymond Green "dominated us"
Beilein didn't mince words when discussing the team's road loss to the Spartans.
He said he watched the game film for roughly an hour during the team's ride back to Ann Arbor on Sunday, but eventually shut it off because the tape was just too difficult to watch.
"We didn't play well," Beilein said. "These guys are good. They're rated higher than us, their stats blow us out of the water, they've got All-Americans all over the place and they've got a tremendous coaching staff. And we didn't play well.
"If you watched Draymond Green, he was the key to the whole deal. His rebounds were incredible, they played through him ... he just really dominated us in this game."
Beilein was asked whether the raucous Breslin Center crowd had anything to do with Michigan's poor performance. He said no, the Spartans did.
"It was a great crowd, but it didn't blow us out of the water," Beilein said. "It was their defense and we just lost some focus when we got down early.
"These kids have been in some really tough places, and (MSU) has a great arena and they do a great job. But that crowd had nothing to do with that game. It had a lot to do with Michigan State's basketball players (being) better than us on this particular day."

First trip to Nebraska

Beilein said he's never actually set foot inside the state of Nebraska, and additionally, he's never had to scheme against Cornhusker coach Doc Sadler's system.
The Michigan coach will get an opportunity to cross both items off his to-do list Wednesday when the Wolverines visit Nebraska (8:30 p.m., BTN).
And though Beilein's never coached against Sadler, that doesn't mean he's not a fan of his.
"I love Doc Sadler," Beilein said. "He's such a gentleman, and in our meeting's, he's tremendous. But I knew nothing about his style until I watched his videos (Monday)."

Odds and ends

Beilein said he watched the entire Super Bowl on Sunday with his son, Andrew, and that he pulled for Tom Brady even though the former Michigan quarterback is -- by Beilein's estimate -- "99-1" against his favorite NFL team, the Buffalo Bills. ... The Wolverines have seven regular-season games remaining and Beilein noted that Michigan also has just 16 regular-season practices left.
Nick Baumgardner covers Michigan basketball for AnnArbor.com. He can be reached at 734-623-2514, by email at nickbaumgardner@annarbor.com and followed on Twitter @nickbaumgardner.