Posted on
Fri, Nov 4, 2011 : 9:34 a.m.
Michigan basketball coach John Beilein impressed with Trey Burke, but freshman won't start exhibition tonight
By Nick Baumgardner
Trey Burke has impressed Michigan basketball coach John Beilein quite a bit already in practice, showing a "natural" feel for the point guard position.
But will the freshman be in the starting lineup tonight during No. 18 Michigan's 7 p.m. exhibition game against Wayne State?
"No," Beilein said. "We're going to go with an all veteran group and then we'll adjust from there. We'll probably be adjusting for awhile."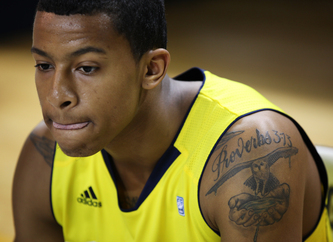 Jeff Sainlar | AnnArbor.com
Beilein said both Burke and senior guard
Stu Douglass
combined for "11 or 12" assists during a recent team scrimmage, and that Burke put up six assists and zero turnovers in his first full scrimmage with the Wolverines.
He's been impressive and Beilein expects him to play a great deal Friday, but Douglass will be in the starting five.
"(Freshmen have to) show that they're moving in the right direction and not impeding the team's progress," Beilein said. "They're all moving at different speeds, but so far, Trey has moved at a very comfortable speed and still helped the team grow.
"That's atypical for a freshman, and it's sort of like it was last year for (sophomore guard Tim Hardaway Jr.)."
An added positive for Burke, so far, has been his willingness to make the easy play rather than go for the spectacular. Beilein called it "going for singles instead of home runs." Senior guard Zack Novak called it smart.
"He was Mr. Basketball in Ohio coming in, a lot of kids in that situation might come in and try to put up 30 right away," Novak said. "But he's not (like that). He's done a good job managing the pace of the game and not pushing the issue too much.
"He's making easy plays, finding open guys and hitting open shots. ... He's really quick, he gets in the lane really well and, for his size, he can really finish."
Beilein said he'll examine the results of Friday's exhibition and couple it with the team's remaining practices to determine the starting lineup leading into the Nov. 14 regular-season opener against Ferris State.
As far as the rest of the group is concerned, Beilein says he's much more focused on developing a rough outline of a rotation.
He said he hopes to play as many as 10 players against Wayne State, maybe more, but added it'll all depend on how the game progresses.
Friday will also mark the first time Michigan hosts an actual game in the newly-renovated Crisler Arena, an occasion players have long awaited.
"We're excited," Michigan sophomore forward Jordan Morgan said. "We finally get to use this new beautiful arena, and we're really excited.
"We had a lot of students come out to practice (Wednesday), and it'll be a lot of fun to get it going."
Michigan unveils its new arena, its new point guard and its new national ranking Friday.
And it's not even a real game.
Beilein has repeatedly discussed the importance of staying grounded, something the team says it continues to work on each day.
"We've just got to stay humble and keep working hard," Novak said. "We don't want to have a sense of entitlement, because we're not there yet.
"We still have a long way to go, but we're heading in the right direction."

Odds and ends

Beilein said junior guard Matt Vogrich missed the team's closed scrimmage against Toledo last weekend with a sprained knee. Vogrich will be available and is expected to play Friday against Wayne State. … Asked Thursday how serious he takes his role in Michigan's recruitment of future players, Novak said it's simply part of his job. "That's part of the job description, especially being the captain," Novak said. "Part of that is making sure that when you're gone, there are hopefully kids that are better than you coming in." Novak hosted Brewster Academy power forward Mitch McGary on his official visit to Michigan in September.
Nick Baumgardner covers Michigan basketball for AnnArbor.com. He can be reached at 734-623-2514, by email at nickbaumgardner@annarbor.com and followed on Twitter @nickbaumgardner.