Posted on
Mon, Feb 20, 2012 : 12:25 p.m.
Michigan basketball coach John Beilein offers his theory on redshirts, and more notes
By Nick Baumgardner
Michigan basketball sophomore forward Jordan Morgan notched the first double-double of his career Saturday during a statement victory against Ohio State.
But, in John Beilein's estimation, Morgan may have never gotten there if it hadn't been for a decision to redshirt his freshman season of 2009-10.
On Monday, Beilein discussed his theories on using redshirts for first-year players. And, in most instances, he believes sitting the year out is the right thing.
"It's not for everybody, but for certain young men and women, it's absolutely (the best thing) for their success," Beilein said Monday during the Big Ten coaches' teleconference. "Jordan was 17 when he got here, and he was trying to play against 21 and 22-year-old men, no different than a freshman in high school trying to play on the varsity.
"It just made sense."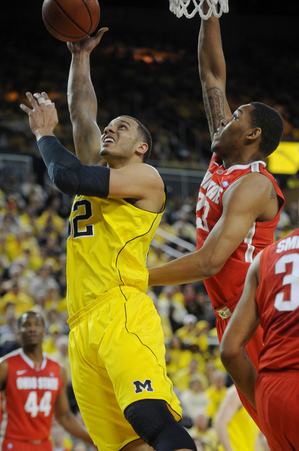 Melanie Maxwell | AnnArbor.com
Following Morgan's redshirt season, one that featured an injury, the 6-foot-8 forward surprised many by showing up in 2010-11 with a much more chiseled 240-pound frame before averaging 9.2 points and 5.4 rebounds.
A year later, Morgan continues to be Michigan's primary center, and without his 11-point, 11-rebound performance Saturday against Ohio State, the Wolverines may have been saddled with a loss.
Presently, Michigan is in the process of redshirting freshmen Max Bielfeldt and Sai Tummala. Additionally, sophomore forward Jon Horford is likely looking at a medical redshirt due to a foot injury.
The two freshman on Michigan's roster that haven't used a redshirt this season are Trey Burke and Carlton Brundidge.
Burke is in the discussion for Big Ten Freshman of the Year, while Brundidge has played in 12 games.
Before each season, Beilein says he speaks with every incoming freshman player about the possibility of a redshirt, and in most instances, he suggests they take one.
"We talk to every freshman we don't believe will start from day one," he said. "And we make the suggestion to him and tell him everything before we put him in that first game.
"Most obviously choose to try and play, but I'm sure many — after four years — wish they had chose to redshirt that first year."
Beilein says the decision whether to redshirt or not is almost always up to the player, though some players receive harder suggestions than others.
"We can suggest things, and if we really disagree, we would get the parents involved and understand everything involved," he said. "Some you will suggest more strongly than others, but it is a player decision.
"With Jon Horford, it's different. I want what's best for Jon Horford and having him play four or five games right now to help us win is not what's best for him. He should be entitled to another full season."
Biggest game in Northwestern history?

Northwestern coach Bill Carmody was asked Monday whether or not his team's home game with Michigan on Tuesday (8 p.m., BTN) could be seen as the biggest game in the program's history.
Presently, Northwestern sits on the bubble at 16-10, 6-8. A victory against Michigan, a top-15 RPI squad, would give the Wildcats plenty of help as they hold out hope for their first NCAA Tournament bid.
But, the biggest game ever?
"Oh, please. Come on," Carmody said. "It's an important game because you have four left, and if you win a few, you're in the discussion.
"But if you lose (Tuesday), you're not out of it. You just keep going."
Bad shooting or good defense?

Beilein was asked whether or not Ohio State's 38.8 percent shooting night Saturday was due to his team's defense, or the Buckeyes' poor offense.
He took the former.
"They were a team that was going to make tough shots, and we really made some well-guarded shots," he said. "They had several (similar shots) that just didn't go in."
Nick Baumgardner covers Michigan basketball for AnnArbor.com. He can be reached at 734-623-2514, by email at nickbaumgardner@annarbor.com and followed on Twitter @nickbaumgardner.
Want to stay connected to Wolverine basketball in your Facebook newsfeed? "Like" AnnArbor.com's Michigan Basketball News & Views.