Posted on
Sat, Jun 5, 2010 : 4:34 p.m.
Michigan basketball coach John Beilein remembers UCLA legend John Wooden
By Michael Rothstein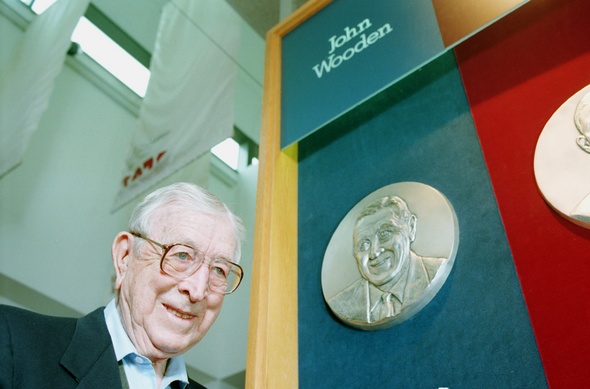 AP file photo
It was an hour before tip-off when West Virginia played at UCLA in 2006 and John Beilein couldn't help himself.
The current Michigan basketball coach saw John Wooden sitting in the corner in Pauley Pavilion, a line snaked around the former Bruins coach for autographs. Someone asked if Beilein would like to meet the legend.
"Of course I would," Beilein remembered. "But they had me butt in line, and I felt guilty about that a little bit. But he had some very good words to say before and after the game I recall. He was a really good leader. His humility was incredible.
"Very rarely do people reach such heights with such humility."
Wooden, who died Friday at the age of 99, had more than a one-visit impact on Beilein. Much like many of today's college head coaches, Wooden had an influence on their entire careers.
Beilein graduated from Wheeling (W. Va.) Jesuit the year Wooden retired from coaching in 1975. Soon after, Beilein saw Wooden speak at a clinic in upstate New York. The majority of Wooden's teachings, though, came to Beilein not through direct contact but reading.
Even Saturday, as Beilein reminisced about the career of the legend, he had Wooden's book "A Game Plan for Life," on his Kindle. He scours Wooden's books, searching for quotes to give to his players, coaches and even himself at appropriate times.
"There's the one (Wooden saying) 'You haven't taught until they've learned,'" Beilein said. "That's my favorite of all. Whatever it is, so they understand. When you have children, you'll understand.
"I have four children and they are all very different and you understand how different they are and you have to be fair with everybody and have to teach them whether it is the game of life or academics."
There's also basketball, where Wooden plied his trade better than any other coach in the history of the sport.
Wooden was 5-0 all-time against Michigan, including a 91-80 win over the Wolverines in the 1965 NCAA title game and a 103-91 overtime win in the opening round of the 1975 NCAA tournament.
Wooden won the tournament, then retired.
"Just real quiet, didn't see a lot of antics on the bench," said former Michigan star Wayman Britt, who played against Wooden twice including the 1975 tournament game. "You hardly noticed the guy, but we did see them drilling in practice and where it was at.
"They had some serious drills, man. They would all come down and stop, shoot the backboard shot from the side. They were disciplined and had their drills down."
He also saw Wooden and UCLA as something else - where he wanted to see Michigan.
"It was always a goal of mine to match up against that dynasty," Britt said. "That's the best team of all-time and he was a great coach. He was the kind of person that you wanted to be coached by. He was a disciplinarian but kind of a guy that you can get along with.
"He was the all-time great."
Wooden also did it in relative anonymity compared to how coaches are exposed today.
There was limited television coverage then, yet Beilein doesn't think his benchmarks -
10 national championships, an 88-game winning streak - will ever be matched.
"The icon he is now, just imagine his games were only on TV on Saturday or Sunday, one game in the afternoon," Beilein said. "I mean, right now, he would have an incredible influence on the game if he was on Big Monday and then Thursday and then Sunday, three times a week.
"It's a great story, a great story a lot of coaches loved following and aspire to have some of his wisdom rub off on all of us."
Michael Rothstein covers University of Michigan basketball for AnnArbor.com. He can be reached at (734) 623-2558, by e-mail at michaelrothstein@annarbor.com or follow along on Twitter @mikerothstein or on Facebook