Posted on
Sun, May 8, 2011 : 5:46 a.m.
Michigan basketball coach John Beilein thinks his program has turned a corner
By Michael Rothstein
Throughout the second half of the 2010-11 season, as the Michigan basketball team made its run to NCAA Tournament, coach John Beilein was asked if his program had shifted to a different level.
Every time, the Michigan coach who will enter his fifth season this fall said he'd wait until the end of the season to make that determination. During an interview with AnnArbor.com this week, Beilein said that, yes, his program has potentially turned a corner both on the court and off of it in recruiting.
Beilein even compared the growth of his team to the building of the new practice facility adjacent to Crisler Arena and the renovation going on inside Michigan's gym.
Here are some excerpts from a wide-ranging sitdown interview with Beilein on Thursday.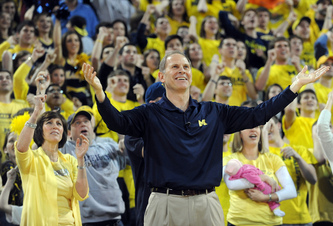 AnnArbor.com file photo
Q: Do you get excited about the Player Development Center construction? Are you getting antsy (being in the temporary trailers)?
John Beilein: "No, actually this is fairly comfortable, believe it or not. With our players being away this particular term, it's okay. But you can't help but be encouraged when you go out there and every day there is a new sight. I haven't been in the PDC where it is yet, it's probably still too dangerous to go in there and I have only seen the pictures of the inside of the arena. It makes me smile coming to work and going from work. It's on my way home. I go in and out. What's really amazing is when I go away for three or four days -- to the Final Four or recruiting or speaking engagements -- and I see how hard they've worked."
Q: When you look back on the season, is there a moment that stands out to you?
JB: "That's a frequently asked question. There's so many moments now when you look back that were turning points. The early-season success gave us confidence. The tough Big Ten early schedule, it was a hellacious early schedule that had as much to do with our slow start as youth had to do with our slow start. You look at all those things, but there were probably just as many defining moments in the loss to Minnesota at home as there were in the win over Michigan State a few days later where you say 'Okay, we begin to figure things out.' The Penn State win on the road was very big for us because we had been working so hard with Tim (Hardaway Jr.) just to make him more than just a catch-and-shoot guy in that game and that was very big for us. That scoring opened up more for (Zack) Novak on the other side because there was another guy. A lot of great moments."
Q: I felt I asked you this a lot through the course of the season and you said you'd wait until the end of the season. Do you feel like this program has turned a corner now?
JB: "Yeah, no question. I think there are some great things going on with our program now, no question. Just like the construction over there, they mirror each other in some ways. And there's going to be new challenges. Now you have to have a different point guard. That's a challenge. That's all it is for some young man to come in as a youngster and play earlier than he probably expected or a guy that has just been working hard that's on the team to play more. I think there's more pieces there to fit ... it's a slow rise to improvement. If we just keep improving to get better every day, if we're going to measure it by how we're improving, we're starting to turn a corner. I think there's a couple corners you've got to turn. There's more than one corner."
Q: Following that, the last time a team had expectations was the 2009-10 season and that didn't go how you thought. This team has expectations again with or without Darius. What did you learn from that?
JB: "Our players, there's only a few left from that time, will learn a lot from it and we'll draw from it a little bit. But it's just, what you did the prior season has nothing to do with your next season. We had injuries (in 2009-10), had to replace a lot in the leadership area with C.J. (Lee) and David (Merritt). I think that there is more in place now to, if things get tough and they always do every season, there is more in place to get us out of a rut. I believe there is more in place to do that."
Q: You can't instruct them what to do in the summer but, do you feel that Zack Novak and Stu Douglass have a good idea of what you want them to do within that dynamic?
JB: "We do, during the season, because of the individual development we emphasize. If they don't know some of the drills by now, they'll never know them because we've done it over and over again and now they can just take them and be innovative. We have a bunch of self-starters on this team, we really do. Now we have challenges because we don't have a gym to practice in. They use the IM (Building), Jon Horford told me he is using the CCRB, but his dorm is there right now. So they do have the opportunities but it is not as convenient. It's going to go from very little convenience to ultra-convenience in about six months."
Q: You've been here a little while now. Is it weird that first real recruiting class is all seniors and that you got past the one year with no seniors?
JB: "No, but I do feel probably the culture has got a strong foundation right now. When I was a junior college coach, for example, every two years we had a new team. So you were always re-establishing the culture of the whole team. Now that we have guys who are here for their second, third, two guys who are even here for their fourth years, it is good to know that you are not starting from square one. There's always room for more growth. But at least some of the growth is back to the basics as far as how you conduct yourself, how you are going to practice, what you're going to do with your business. Guys know the guidelines that are going to lead them to success."
Q: How is the ethics coalition going?
JB: "I'm not the chair, Phil (Martelli) took my place, but I'm still an active member and the chair of a subcommittee now. We're making great strides in working to educate, in really educating and finding better ways for our coaches, wherever they are, to understand the spirit of the rules and it's just really important that we all continue to grow in this area. ... There are so many great, honest, good coaches out there, it's like overwhelming. And a few coaches who make mistakes and that's magnified. That's not the picture we want painted."
Q: Does it seem like it's been more in the past couple of years? Football, with what is going on at Ohio State and Boise State, maybe magnifies it?
JB: "When you see the number of coaches, there's 340-some, and you look at it in perspective it's probably isolated. But we continue to try and educate so coaches don't get themselves in those kinds of situations. Because there are so many rules, if we continue to follow the spirit of the rules and educate young coaches, educate assistant coaches, what the NCAA would like us to do, what's the best practices. We're moving in the right direction very quickly."
Michael Rothstein covers Michigan basketball for AnnArbor.com. He can be reached at (734) 623-2558, by email at michaelrothstein@annarbor.com or follow along on Twitter @mikerothstein.