Posted on
Fri, Dec 23, 2011 : 1:38 p.m.
Michigan basketball coach John Beilein wants more 'yes faces,' less frustration from his young squad
By Nick Baumgardner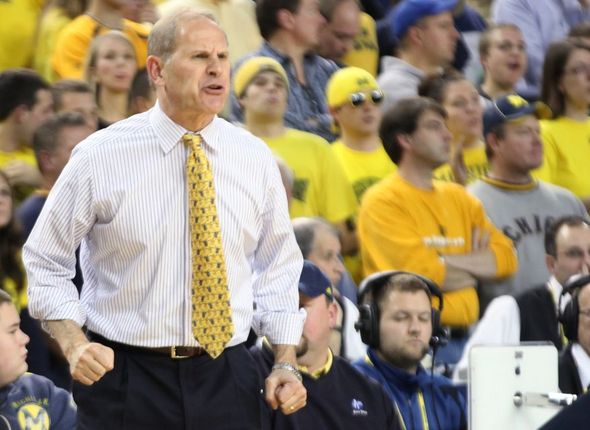 Jeff Sainlar | AnnArbor.com
If the Michigan basketball team was looking for one final bout with adversity prior to entering Big Ten play, it was delivered by visiting Bradley on Thursday night.
After failing to pull away from the Braves throughout the first 20 minutes, Michigan coach John Beilein delivered a clear message to his club in the locker room at halftime.
Stop pouting and suck it up.
"Frustration level cannot get in the way of your game," Beilein told his team at halftime, as seen via an exclusive inside-the-locker room video shot by the Big Ten Network. "We've got to have yes faces all over the damn place.
"They have talent, they're making shots. We are, too. We just missed some and (couldn't) get separation. Calm down, positive thoughts, everybody's together in this locker room."
Though the Wolverines currently sit with a 10-2 record and a No. 20 national ranking, fans were given a reminder of one reality easily forgotten at times with this team.
They're still very, very young.
Sitting with a tie game at the break against a lesser opponent, Michigan's locker room body language didn't resemble a confident team, ready to hit the floor and make up for a sluggish first half.
The group, which starts three sophomores, one freshman and one senior, had a nervous look to it.
Tim Hardaway Jr. sat with his head down, having shot just 3-for-8 from the floor during the first half.
The rest of the squad, freshman guard Trey Burke included, stared intently at Beilein -- almost eagerly awaiting an "it'll be OK" message.
Beilein delivered that message, but was quick to make sure the team understood
"You missed a play, or you got dunked on and your head goes down, you're draining energy from us," Beilein said sternly. "We've talked about this with everybody. No, you've got to be energy-givers. We've got to look around and see an approving face of 'you can do it every time.'
"Whatever I put on the board doesn't make a difference right now, unless you understand that."
Michigan ultimately proved it did understand Beilein's message, outscoring Bradley by 11 after the break and eventually cruising to a double-digit win, its fifth in a row.
But the concept of fighting through tough situations while keeping its collective head is something Beilein seemed concerned with following the win.
"I wasn't pleased with (the team) at halftime, not because of our play, but with our frustration level as individual players," Beilein said afterward. "This is a thing we've got to work on, having 'yes faces.' You're either giving energy or you're draining it. And we beat ourselves up.
"We have guys that really want to win, and sometimes, they want to win too much it gets in the way."
Beilein elaborated on his point, explaining how his team isn't caught up in arguing with one another, but it's overall youth can often lead to extended periods of sluggish play.
"It's not like we're bickering, we just get down on ourselves and the head goes down, you see it, and we've got to work through that," Beilein said. "We've got to get over it. The crowds (in the future) will be louder, the opponents will be stronger.
"And as we saw last year, the last few plays of every game will be crucial. It leads to a lack of focus because you don't move on to the next play. It's a big thing we'll continue to work on."
Michigan begins Big Ten play Thursday against Penn State and a week later it'll be in front of a hostile Assembly Hall crowd at red-hot Indiana.
The adversity meter is about crank up higher than it's been all season.
The Wolverines have played in one true road environment this season, at Virginia. The result of that venture was a poor showing and a 12-point loss.
Beilein eventually got his 'yes faces' in the second half, and Michigan will enter conference play with a positive vibe inside its locker room.
"Great win tonight," Hardaway tweeted after the win. "Showed alot of POISE and UNITY."
The youthful Wolverines received another lesson Thursday night.
Now, the hard part.
Proving they've learned from it.
Nick Baumgardner covers Michigan basketball for AnnArbor.com. He can be reached at 734-623-2514, by email at nickbaumgardner@annarbor.com and followed on Twitter @nickbaumgardner.
Want to stay connected to Wolverine basketball in your Facebook newsfeed? "Like" AnnArbor.com's Michigan Basketball News & Views.