Posted on
Sun, Jan 2, 2011 : 8:03 p.m.
Michigan basketball comes from behind then hangs on to beat Penn State
By Michael Rothstein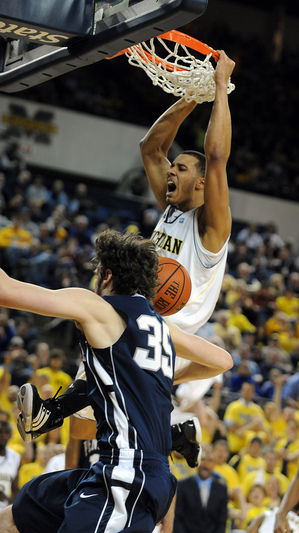 Lon Horwedel | AnnArbor.com
Updated 8:03 p.m.
Michigan basketball coach John Beilein is usually calm, not exactly the fire-and-brimstone type who yells on the sideline or inside the locker room. But the man knows how to get his point across.
Beilein stayed focused inside Michigan's locker room at halftime of the Wolverines' come-from-behind, 76-69 win over Penn State on Sunday. But he let his message be clearly known.
Michigan wasn't playing well. It had to get better. Because, even though none of the players or coaches really wanted to admit it before the game, this was one the Wolverines knew they had to have.
"He didn't yell at us, but he let us know it was the worst first half we played offensively all year," junior guard Stu Douglass said. "We just didn't execute, weren't looking for our teammates, doing what we drew up and attacking how we should have been.
"They found every opening."
Douglass called it an atypical Beilein halftime chat. Usually the coach has a few talking points, some motivation and encouragement ... and off they go.
It worked. After allowing Penn State (8-5, 1-1 Big Ten) to hit almost everything while taking a 36-31 halftime lead — the Nittany Lions shot 51.9 percent from the floor, David Jackson scored 13 of his 15 points and Talor Battle 14 of his game-high 31 points — Michigan settled down.
The Wolverines stopped forcing bad shots and stopped making bad decisions that turned into questionable turnovers. Darius Morris also settled down, making 8 of his 10 assists in the second half and scoring 12 of his 20 points.
"(Beilein) did a great job of encouraging us," Morris said. "We're a young team, so to go down at halftime, a lot of us haven't been in that position. He did come out and was really enthusiastic."
Michigan used a 9-2 run early in the second half to grab the lead. Junior guard Zack Novak, who didn't take a shot in the first half, scored six of those points.
Beilein's message had been clear. Play better.
Now, Michigan (11-3, 1-1) had to try to win.
The Wolverines took the lead for good on an and-one layup from sophomore guard Matt Vogrich with 3:23 left, which gave Michigan a 63-61 lead. Then Novak, who scored all 15 of his points in the second half, hit a 3-pointer from the top of the key with 1:44 remaining for a 68-64 lead and Michigan went to the line the rest of the way.
"It buried us," Battle said of Novak's shot.
Novak, Vogrich said, was the difference.
"At half we were all positive," Vogrich said. "We cut it to five and it could have been a lot worse. They could have pushed it to 10, 15. Novak was in foul trouble and that hurts us.
"He's kind of our heart and soul out there."
Novak and Morris were the ones, besides Beilein, doing a lot of talking at halftime, keeping players positive and coaxing them to a win they knew they needed to have.
The two of them have been there before and they know what is coming next: At Wisconsin on Wednesday. Then No. 3 Kansas at home. Then No. 2 Ohio State at home.
It's not the easiest stretch for a young team still trying to find itself. But Michigan can worry about that Monday. For one night, it can enjoy winning its first Big Ten game.
"I try not to (look ahead), it'd scare the hell out of me to look at the next part of the schedule," Beilein said. "But as far as growth, to put these 40 minutes together, we saw that today.
"…You're in a Big Ten game. Most of them are going to be decided in the last eight minutes. We were fortunate to win those last eight minutes today."
And that had a lot to do with what happened for about 10 in the locker room.
Michael Rothstein covers Michigan basketball for AnnArbor.com. He can be reached at (734) 623-2558, by e-mail at michaelrothstein@annarbor.com or follow along on Twitter @mikerothstein.