Posted on
Tue, Jun 5, 2012 : 5:57 a.m.
Michigan basketball commits Glenn Robinson III, Zak Irvin squaring off in All-Star challenge
By Nick Baumgardner
Glenn Robinson III and Zak Irvin have always been able to admire each other from afar throughout their high school careers.
The duo will get a closer look at each other this week in Indiana, but still from opposite sidelines.
Not to worry, though, because the next time Robinson and Irvin are in the same gym playing competitive basketball will likely be in Ann Arbor, and they'll be wearing Michigan basketball uniforms.
"That's going to be pretty fun," Robinson told AnnArbor.com. "To get to play against a guy one more time that I'll be playing with for the next couple years will be cool.
"I'll have to talk to him a little bit on the court, just to mess with him."
Robinson, a five-star 2012 Michigan signee, and Irvin, a four-star 2013 commit, are taking part in this week's Indiana All-Star festivities.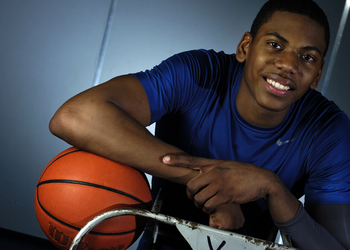 Jeffrey D. Nicholls | Sun-Times Media
The 6-foot-7 Robinson is a member of Indiana's senior team, a group of high-level Hoosier state prospects selected annually to compete in the prestigious Kentucky-Indiana All-Star Challenge.
The 6-foot-6 Irvin, meanwhile, was chosen to the Indiana junior squad's "core team," meaning he'll get the chance to scrimmage against Robinson and the seniors.
The first of two games took place Monday night, with Robinson's senior squad grabbing a 104-97 victory.
The leading scorers for both squads? Future Michigan men.
Robinson paced the seniors with 21 points, while Irvin led the junior team with 20.
"This is going to be a great experience and I know it'll be really competitive and cool to go against one of my future teammates," Irvin told AnnArbor.com before game one. "I haven't got to talk to him yet, but I know I will once we get out there."
Robinson recently finished his prep career at Lake Central High School in St. John's, Ind., as the program's all-time leading scorer.
Irvin plays for high school power Hamilton Southeastern, one of the top-ranked squads in the state a year ago -- the same program that produced Indiana's 2012 Mr. Basketball, and fellow Indiana All-Star, in Michigan State signee Gary Harris.
Robinson and Irvin already squared off once this season during a November contest in Fishers, Ind.
Robinson poured in 30 points to go along with 14 rebounds, but it wasn't enough, as Irvin finished with 19 points and five boards to complement Harris' 25 points in a 79-64 Southeastern victory.
This week, though, Robinson will have Harris on his side -- and payback, he says, is in order.
"We're going to go out there and compete," Robinson said. "I'm pretty excited about it, pretty fired up."
Off the court, Robinson and Irvin have developed a friendship based around respect and admiration of one another's game.
They have stayed in touch frequently via text message, and Robinson is a player Irvin says he's looked up to for some time.
In fact, both have similar attributes, with the potential to slot into two or three different positions once they become college players.
But the final thing that draws them together, perhaps the most important thing, is Michigan.
Robinson finished the 2011-12 season as the top-rated high school prospect in Indiana, according to Rivals.com. Currently, Irvin is Indiana's third-best player in the 2013 class, per Rivals' rankings.
In the end, two of the best players currently residing in the Hoosier state will make their way to Ann Arbor to play for John Beilein.
Together.
"That says a lot about Michigan," Irvin said. "Michigan has a great program, and Glenn and myself -- and the rest of the guys -- we're just trying to go up to Michigan and start something great."
Nick Baumgardner covers Michigan basketball for AnnArbor.com. He can be reached at 734-623-2514, by email at nickbaumgardner@annarbor.com and followed on Twitter @nickbaumgardner.
Want to stay connected to Wolverine basketball in your Facebook newsfeed? "Like" AnnArbor.com's Michigan Basketball News & Views.