Posted on
Thu, Nov 17, 2011 : 10:41 p.m.
Michigan basketball team continues offensive woes in 59-55 win against Western Illinois
By Nick Baumgardner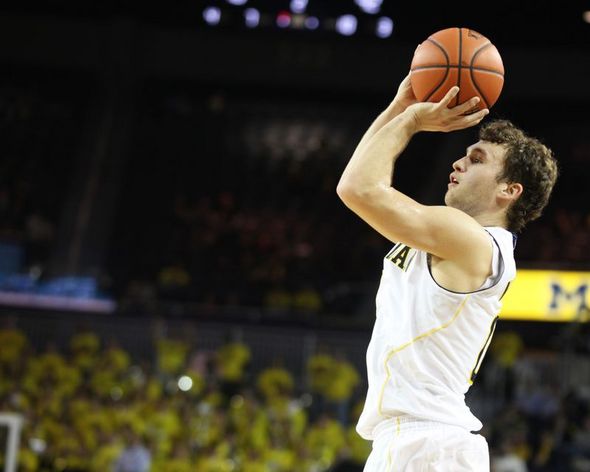 Jeff Sainlar | AnnArbor.com
The Michigan basketball team is headed to Hawaii. And it's bringing its offensive woes with it.
The 17th-ranked Wolverines shot 45 percent from the floor, 64 percent from the foul line and looked out of sorts offensively for most of Thursday night in a clunky 59-55 win over Western Illinois at Crisler Arena.
"Our four outside shooters went 3-for-15, that's a thing we've got to get better at and fight through," Michigan coach John Beilein said. "Maybe we need to get outside of Crisler for a couple games, make some shots and come back hot as can be."
Michigan (3-0) will depart for the 2011 Maui Invitational, where it faces off with No. 10 Memphis at 3 p.m. Monday.
The three-day tournament, regarded by many as the most difficult preseason event this season, also features Duke, Tennessee, Kansas and Georgetown.
Sophomore guard Tim Hardaway Jr. led Michigan with 16 points on 6-for-9 shooting, while freshman point guard Trey Burke turned in 14 points to go along with five assists and four rebounds.
MICHIGAN 59, WESTERN ILLINOIS 55

Nick Baumgardner's recap of Thursday night's game:
MOMENTUM SWING
After toying around with Western Illinois for the first 24 minutes of the game, Michigan sophomore forward
Jordan Morgan
sparked a mini-run all by himself, He dropped in two layups and blocked a shot in the span of 25 seconds to put the Wolverines up 7 points, and the Leathernecks never recovered.
SHOOTING WOES
Michigan struggled offensively for the third straight game, shooting 19-for-42 from the floor, 7-for-20 from 3-point range and 14-for-22 from the foul line. On the season, Michigan is now shooting 43 percent from the field, 30 percent from long range and 58 percent from the foul line.
TOUGH GUARD TO GUARD
After missing all but six games a season ago with a toe injury, former Summit League Defensive Player of the Year and preseason first team all-conference guard
Ceola Clark III
made his season debut against the Wolverines. He didn't disappoint, finishing with 21 points on 6-for-12 shooting.
QUOTE
"Our four outside shooters went 3-for-15, that's a thing we've got to get better at and fight through. Maybe we need to get outside of Crisler for a couple games, make some shots and come back hot as can be."
— Michigan coach John Beilein
RELATED CONTENT
Notebook: Jordan Morgan turns in best game of the season vs. Western Illinois
Photo gallery
Boxscore
|
Big Ten standings
Through three games this season against Ferris State, Towson and Western Illinois, Michigan has shot 43 percent from the floor (66-for-152), 30 percent from 3-point range (22-for-73) and 58 percent from the foul line (28-for-48).
Defensively, the Wolverines forced WIU into 20 turnovers and held the Leathernecks to 43-percent shooting after the break.
But the game was never in the bag.
After a sluggish first 20 minutes led to a 28-28 tie at halftime, Michigan got a big 25-second stretch from sophomore forward Jordan Morgan to begin distancing itself.
With Michigan clinging to a three-point lead, Morgan scored a layup on an assist from Zack Novak, blocked a dunk at the other end and then put in another easy bucket, this time from Hardaway, to give the Wolverines a seven-point edge with 15:44 to go.
Western Illinois trimmed the lead as low as four with 9:45 to go, but a Hardaway 3-pointer four minutes later put Michigan up nine.
The Leathernecks continued to hang around, never allowing Michigan to stretch the lead higher than nine, but eventually ran out of gas in the closing minutes.
"They exposed us a little bit in some areas that we have to work on," Hardaway said. "We did a great job of (facing adversity) being a young team, still. They had veteran guards out there that were controlling the game for their team.
"We've got a freshman guard that's coming into the mix trying to learn the offense and the defense. (It was a good learning) experience for facing adversity."
First Team All-Summit League guard Ceola Clark III, who played for the first time this season after missing all but six games a year ago with a toe injury, paced Western Illinois (0-2) with a game-high 21 points to go along with four rebounds and four assists.
"This is by far the best team we've played so far," said Novak. "They've got two senior guards, they run their stuff well, (Clark) was on fire hitting a ton of shots.
"They're well-coached, you could tell. ... They were tough, they were a good ball club."
The Wolverines struggled to find a flow out of the gate in the first half, falling behind early, but were given a spark from a pair of triples by Burke and another by Matt Vogrich to cap off a 14-2 run that put Michigan up 18-10 with 9:14 to play before the break.
The Leathernecks hung tough, though, rattling off an 11-1 run capped by a Jack Houpt jumper to give Western Illinois the lead back at 21-19 with 4:36 left.
Michigan trailed by as many as three from there, but eventually pulled even, taking a 28-28 tie into the locker rooms.
WIU went 6-for-9 from 3-point range over the first 20 minutes, and out-rebounded Michigan 12-9. The Wolverines, conversely, shot 45 percent from the floor before half.
Morgan finished with 11 points and five rebounds for the Wolverines, who lost the battle on the glass 27-22.
After leaping out to a big lead before easing off the gas in lopsided a win over Towson on Monday, Beilein stressed the importance of putting together a full 40-minute effort Thursday.
In the end, he said he got a full 40 minutes from his team.
Just not an overly productive one.
"We were average in both halves," Beilein said. "So that was complete."
Nick Baumgardner covers Michigan basketball for AnnArbor.com. He can be reached at 734-623-2514, by email at nickbaumgardner@annarbor.com and followed on Twitter @nickbaumgardner.