Posted on
Fri, Nov 18, 2011 : 1:06 p.m.
Michigan basketball great Cazzie Russell enters Hall of Fame on Sunday
By AnnArbor.com Staff
Cazzie Russell was a star from his first game in a Michigan basketball uniform, scoring 30 points and grabbing 14 rebounds in a 1963 game against Ball State.
After 80 games, 2,164 points and 669 rebounds, three Big Ten Conference titles and two Final Four appearances, Russell left Michigan as a three-time All-American and arguably its greatest player. On Sunday, he'll be inducted into the College Basketball Hall of Fame.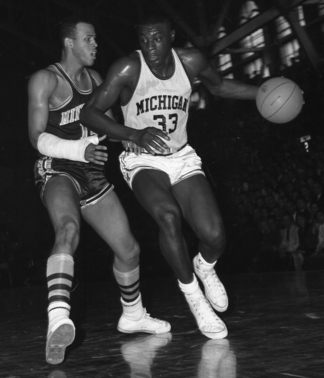 File photo
Russell, 67, lives in Savannah, Ga., and is an associate pastor at Live Oak Community Church.
He spoke to the Savannah Morning News in a question-and-answer format
about what he's doing now and what the induction to the hall of fame means to him.
"I had a few fraternity brothers call from my fraternity at Michigan," Russell told the Savannah Morning News. "They want to make sure they can make the trip. ... They're calling and they all feel a part of it because we grew up together. The magnitude of it is now starting to sink in. What a blessing it is to be recognized for a gift that God has given me to play. I enjoyed playing. I never thought about all these things — All-American — I'm just playing."
The induction ceremony will be televised on ESPNU. Russell told CSNChicago.com that Ken Maxey, a friend from his days growing up in Chicago, will introduce him at the ceremony.
Also scheduled to be inducted are James Worthy (North Carolina)); Chris Mullen (St. John's); Ralph Sampson (Virginia); coaches Bob Knight and Eddie Sutton and contributors Eddie Einhorn and Joe Vancisin.
A sampling of Russell's highlights while at Michigan
1963-64
Nov. 30, 1963:
In his first game for Michigan, Russell scored 30 points and had 14 rebounds as Michigan beat Ball State, 90-76.
March 7, 1964:
Russell had 17 rebounds and 27 points in a 69-61 victory against Iowa.
March 20, 1964:
Russell finished with 31 points and eight rebounds in a 91-80 loss to Duke in the NCAA Final Four.
1964-65
Jan. 26, 1965:
Russell scored 40 points on 12-of-16 shooting as Michigan beat Michigan State 103-98.
March 19, 1965:
Russell scored 28 points and had 10 rebounds as Michigan beat Princeton, 93-76, to reach the NCAA title game.
March 30, 1965:
Russell led Michigan to the NCAA title game, where the Wolverines lost, 91-80, to coach John Wooden and UCLA. Russell led Michigan with 28 points on 8-of-9 shooting and had five rebounds.
1965-66
Dec. 11, 1965:
Russell scored 45 points and had 10 rebounds in a 96-78 victory in a game played in his hometown of Chicago.
March 5, 1966:
Russell had a career-high 48 points in a 105-92 victory against Northwestern in his final game at Yost Field House.
March 11, 1966:
Russell had 24 points and six rebounds in an 80-79 victory against Western Kentucky in the NCAA tournament, his last victory in a Michigan uniform.