Posted on
Thu, Mar 8, 2012 : 5:57 a.m.
Michigan basketball has clean bill of health heading into Big Ten Tournament, and more notes
By Nick Baumgardner
If Evan Smotrycz was feeling any lingering problems from a hip injury Sunday against Penn State, then John Beilein says he'll be in the market for more hip pointers.
"If that's the way Evan's going to play when he's hurt," Beilein said. "Then that was a very good hip pointer for us."
Angela J. Cesere | AnnArbor.com
Smotrycz left Michigan's road win over Illinois last Thursday after colliding with Illini center Meyers Leonard, resulting in a hip injury.
Not only did he show no lingering problems with the affliction Sunday against Penn State, but he turned in his best game in months.
The 6-foot-9 forward dropped in 17 points on 6-of-7 shooting in 30 minutes against the Nittany Lions, his best scoring output of Big Ten play. The 30 minutes was also the most he'd played since December.
"I want to get him rest, that's the most important thing," Beilein said. "He put in a lot of time, and he'd only been playing (limited time in games) prior to that.
"Get him rest (in practice), and then get him more shooting reps, because he's working a lot on game action (shots)."
Smotrycz is now averaging 7.8 points and 4.8 rebounds this season, and says he's feeling as good as he has all year.
Michigan sophomore forward Jordan Morgan also left the Illinois game due to injury, his being a shoulder issue.
Morgan also seemed fine Sunday after playing 21 minutes, and wasn't expected to be limited at all this week, per Beilein.
The only player Michigan won't have at its disposal this postseason will be sophomore forward Jon Horford, who was officially shut down for the season late last month with hopes of garnering a medical redshirt.
Freshman guard Carlton Brundidge has also shown no health issues after a previous bout with asthma symptoms. Brundidge made the final two road trips of the regular season with the club, and is available.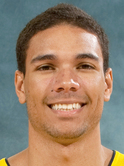 Christian leaps McLimans
It appears Beilein has moved sophomore forward Colton Christian ahead of junior Blake McLimans in the team's big man rotation.
The 6-foot-6 Christian has seen action in each of Michigan's past five games, mostly as a Michigan's third-unit center.
Earlier in the season, Beilein opted to insert the 6-foot-10 McLimans into action if both Morgan and Smotrycz were slowed by foul trouble.
But recently, he's had more confidence in the undersized Christian.
"In practice he's shown he deserves a shot," Beilein said of Christian. "He's shot the ball better in practice, and rebounding is his strength.
"He's a multi-dimensional defender, as well, and we feel he can guard on the perimeter and on the post."

B1G tidbits

Michigan's No. 2 seed is the highest the program has ever received for the Big Ten Tournament, and the 2011-12 bye marks the first time in program history that the Wolverines have received back-to-back conference tourney byes.
The Wolverines are 11-13 all-time in the tournament, 6-7 in tourney games played in Indianapolis.
Michigan has faced 10 of the 12 league schools in the event at least once, the lone exceptions being Nebraska (who joined the conference prior to this season) and Michigan State.
Beilein is 4-4 all-time in the tournament and during his tenure at Michigan the Wolverines have never lost to a lower-seeded club. Under Beilein, Michigan has been eliminated by the No. 1 seed three times, and one other time by the No. 2 seed.

Wounded Warriors

The Big Ten will honor the country's injured veterans during this week's tournament, continuing its partnership with the Wounded Warrior Project.
The Big Ten has invited various branches of service men and women, including the Marine Corps, Air Force, Army and Navy, to attend various games throughout the tournament.
Select Wounded Warriors will be honored at halftime of games throughout the weekend.
Nick Baumgardner covers Michigan basketball for AnnArbor.com. He can be reached at 734-623-2514, by email at nickbaumgardner@annarbor.com and followed on Twitter @nickbaumgardner.
Want to stay connected to Wolverine basketball in your Facebook newsfeed? "Like" AnnArbor.com's Michigan Basketball News & Views.