Posted on
Thu, Nov 18, 2010 : 4:59 a.m.
Michigan basketball team looks to improve by running on the break
By Michael Rothstein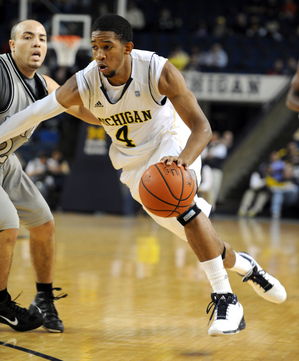 Lon Horwedel | AnnArbor.com
Darius Morris explained one way the Michigan basketball team could score more points this season.
Run for real instead of what he called "fake running."
Part of what caught Michigan coach John Beilein's attention after the Wolverines' season-opening win Saturday was his team's inability to convert fast break opportunities. Points off the break were a staple of his more successful teams throughout his stops around college basketball.
And despite the overmatched opponent Saturday, Michigan failed to convert much when it forced turnovers or missed shots. Part of the problem was how Michigan ran the break in practice.
"We're really, really grasping the idea of running this year," said Morris, a sophomore point guard. "Coach is really emphasizing that in practice, we have drills really dedicated to that, to really getting us adjusted to running, not just fake running, but really sprinting out there."
The difference between fake and real running is more of a jog versus a sprint. While it might not seem like much, it makes a difference in games - one Michigan hopes to see when it faces Bowling Green in a preliminary round game of the Legends Classic (7 p.m., Big Ten Network).
Against USC Upstate, Michigan had four fast break points. That isn't a great number considering the Wolverines forced 12 turnovers, had six steals and grabbed 32 offensive rebounds.
"It's so hard to score, and we're running every opportunity we can run," Beilein said. "When you have the advantage, 2-on-1, 3-on-2, 4-on-3, you need to at least get good shots up. We had three or four turnovers there.
"That would be one issue."
With a young team, running takes on a premium. It is how teams can take advantage of an opponent's mistake and balance out any skill or experience differential.
"I want to make them all run sprints with their hand (raised)," Beilein said. "We're not going to give it to you for a three at half court.
"…You have to get from end-to-end in four seconds and we'll get it there with the ball but you have to be there."
Michael Rothstein covers University of Michigan basketball for AnnArbor.com. He can be reached at (734) 623-2558, by e-mail at michaelrothstein@annarbor.com or follow along on Twitter @mikerothstein