Posted on
Mon, May 17, 2010 : 9:25 p.m.
Michigan basketball team likely headed to Europe this summer, more Big Ten expansion notes
By Dave Birkett
CHICAGO - Michigan coach John Beilein said Monday he expects to make an overseas trip with his basketball team this summer.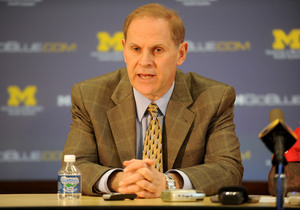 Angela J. Cesere | AnnArbor.com
"We're working through some of the possibilities there right now," Beilein said from the Big Ten spring meetings. "We can get games, it's where we can get them because the Italian leagues are just finishing, the German leagues are just finishing, the Belgian leagues are just finishing. It's hard to get a coach to make a commitment for Aug. 23, so we're working. That's what we would like to do."
Beilein said Michigan would have to travel overseas the week of Aug. 22, after summer semester classes are finished but before the fall term begins.
With a young nucleus - Michigan loses leading scorers Manny Harris and DeShawn Sims and welcomes four incoming freshmen in the fall - Beilein said the experience will be beneficial for his team.
"Hopefully we'll make a commitment," he said. Athletic director Dave Brandon "and I have to speak about it and make sure that everything's in order."
Hidden agenda Officially, expansion is not on the Big Ten's agenda this week, but nearly every coach who paraded through the Sofitel Hotel was asked about it Monday.
"It's a topic of conversation, but really it hasn't come up much in our meetings," Indiana basketball coach Tom Crean said. "I think everybody just kind of leaves it to the discretion of the commissioner's office to let us know what they want us to know. And there's so many other things to look at that you can spend all your time pontificating inside these meetings or speculating, but that wouldn't make our basketball coaches' part of it any better."
Big Ten commissioner Jim Delany is expected to break his self-imposed silent phase Tuesday and address a contingent of media that assistant commissioner of communications Scott Chipman said is the largest in recent years.
Just a handful of reporters attended last year's meetings, while this year's assembled press includes a television station from Kansas City, a newspaper from Columbia, Mo. - home of the University of Missouri - and national writers from ESPN.com, The Sporting News and CBS Sports.
"I don't think the coaches have much to say about it other than give your opinion," Illinois football coach Ron Zook said. "You give your opinion, but I don't think it's going to have a lot to do with anything the coaches have to say. Maybe Coach (Joe) Paterno or Coach (Jim) Tressel, but I think for the most part they're going to decide what's best for the league and I'm sure it comes down to finances."
Said Michigan coach Rich Rodriguez, "It's not something that, just speaking for myself, I wake up thinking about every day. We're just trying to do all we can with our program. I'm sure we'll find out a little bit here and then it's a process that who knows how it's going to go along. But if you would have asked me a couple years ago I would have said, 'Well, maybe in four or five years.' Ask me now and I think it may be sooner than that."
Missing in action Three of the Big Ten's most prominent coaches are not attending this week's meetings, Chipman said.
Penn State's Paterno, Ohio State's Tressel and Minnesota basketball coach Tubby Smith are absent from the meetings. All three are expected to send assistant coaches in their place.
Dave Birkett covers University of Michigan football for AnnArbor.com. He can be reached by phone at 734-623-2552 or by e-mail at davidbirkett@annarbor.com. Follow him on Twitter @davebirkett.