Posted on
Sun, Mar 13, 2011 : 9:40 p.m.
Michigan basketball players expected a long Sunday; instead NCAA tournament wait passed quickly
By Michael Rothstein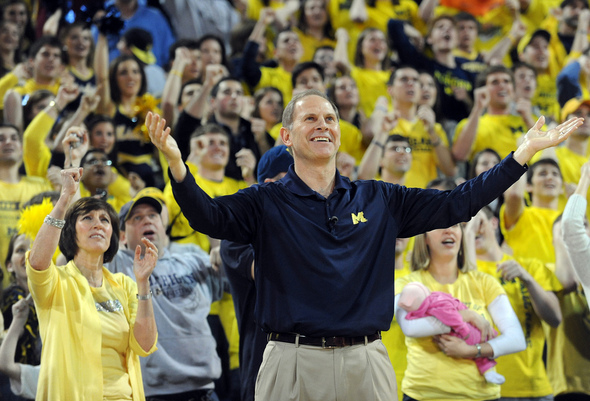 Melanie Maxwell | AnnArbor.com
As Michigan's day of wait commenced Sunday morning, the Wolverines boarded their bus in Indianapolis and began their four-plus hour journey to Ann Arbor.
At the time, Michigan figured it was on the bubble. Yet the group of Wolverines players who had never experienced the NCAA tournament before said the day didn't drag on.
If anything, the anticipation of it all moved it by rather quickly. When Michigan returned to Ann Arbor, redshirt freshman Jordan Morgan relaxed and took a nap to ease the tension, as did his roommate, Darius Morris.

"We were kind of anxious to see where we would end up, to see if we would get in at all," Morgan said. "A lot of thoughts went through everybody's head."
Morris thought Sunday would drag on, especially with a bus trip and with the Wolverines — at least according to prognosticators — sitting firmly on the bubble.
The two of them, though, had never been through it before.
Juniors Zack Novak and Stu Douglass have. Yet both said this time felt a lot different than their freshman year.
While the wait to reach the NCAA tournament from freshman year to now felt like "forever ago" to Novak, Sunday moved quickly.
It also moved along angst-free — until Novak walked into Crisler.
"I wasn't really anxious or nervous until I got here and it set in," Novak said. "It's kind of like reliving some memories from the first time."
What stood out the most was the lack of reaction from Novak or Douglass when Michigan made the NCAA tournament as freshmen. They hadn't experienced missing the tournament before, so they didn't know exactly what they were supposed to do.
So their 2009 reactions were muted. Not this time, as the Michigan players jumped in a circle together in the middle when it was announced the Wolverines would face Tennessee on Friday in an 8-9 game. Freshman Tim Hardaway Jr. yelled at no one in particular that Michigan was going to "shock the world."
"When the name came up, the first time Stu and I didn't really react," Novak said. "So I thought, I can't go out like that again.
"So I went to the go-to Aaron Rodgers Championship Belt and that's it."
Michael Rothstein covers University of Michigan basketball for AnnArbor.com. He can be reached at (734) 623-2558, by e-mail at michaelrothstein@annarbor.com or follow along on Twitter @mikerothstein