Posted on
Thu, Mar 1, 2012 : 11:14 p.m.
Michigan basketball point guard Trey Burke turns in record-setting performance, and more notes
By Nick Baumgardner
CHAMPAIGN, Ill. -- Trey Burke never expected any of this.
Entering the Michigan basketball program as a freshman this season, the 5-foot-11 point guard had no grand plans of setting the world on fire. He just wanted to play.
But now, with the season entering its fifth month, not only has Burke turned just about every head in the Big Ten, but he's also put together one of the best individual performances by a freshman floor leader in school history.
"This is just a blessing from God," a smiling Burke said Thursday following No. 13 Michigan's 72-61 win at Illinois. "To be able to come in and fill Darius (Morris') shoes, and now to break a record, it's just a blessing from God."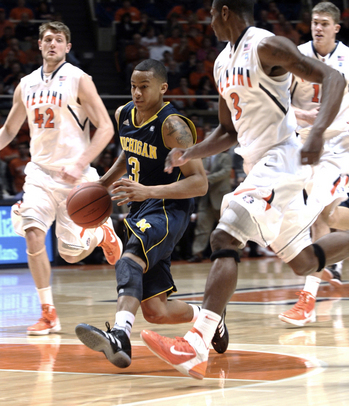 With five assists Thursday, Burke broke former Wolverine point guard Gary Grant's school record for helpers in a season by a freshman.
Grant handed out 140 assists as a freshman in 1984-85, helping former coach Bill Frieder capture the first Big Ten title of his Michigan tenure.
After Burke found senior co-captain Stu Douglass for a 3-pointer early in the second half, Burke's season total sat at 141. The rookie from Columbus, Ohio, finished with five assists (now sitting at 143 for his career) to go along with 21 points.
"(Breaking the record) wasn't really a goal," Burke said. "I never expected it."
Burke also passed former Fab Fiver Jalen Rose on the single-season assist mark, moving into 17th-place all-time. If Burke can hand out 17 more assists, he'll rank among the top 10 all-time. He has also played 1,076 minutes this season, just 56 minutes away from tying Rose and Louis Bullock for 10th on the school's all-time single-season list.
Currently, Burke is second on the team in scoring at 14.5 points per game (just one point behind Tim Hardaway Jr. for the team lead). He also leads all Big Ten freshmen in assists, 3-pointers made (50) and minutes per game (35.9).
He's won six Big Ten Freshman of the Week honors and is second only to Indiana newcomer Cody Zeller for the league's rookie scoring title.
Just like Grant was in 1985, Burke is now in position to help Michigan coach John Beilein grab his first Big Ten title at Michigan -- a banner that would be the school's first since 1986.
"I just love coaching the kid," Beilein said. "He's done just a wonderful job controlling the ball."

Morgan, Smotrycz dinged up

Both Michigan sophomore forwards Jordan Morgan and Evan Smotrycz left the game Thursday in varying degrees of pain.
Morgan exited early in the second half favoring his left shoulder before Smotrycz hobbled to the bench, favoring his hip, after drawing a foul against Meyers Leonard.
Both players eventually returned to action. Morgan finished with seven points and seven rebounds in 20 minutes while Smotrycz added three points and two rebounds in 14 minutes before fouling out.
Following the game, Smotrycz received a wrap around his midsection in the Michigan locker room before departing the arena.
"I hope they're all right," Beilein said. "Both of them had little stingers, (Morgan) in the shoulder and (Smotrycz) to his hip.
"They were banging in there with Meyers Leonard."
With both Morgan and Smotrycz battling bruises, and foul trouble, Michigan was forced to once again go to 6-foot-6 sophomore forward Colton Christian at the center spot.
Christian didn't back down, though, putting up two points, one rebound and one blocked shot in seven minutes against the 7-foot-1 Leonard.

Road rebound

With the win over Illinois, Michigan evened its Big Ten road record at 4-4 on the season, and can finish with an above-.500 record away from home in league play with a win at Penn State on Sunday.
The win also moves Michigan to 5-6 overall on the road for the season. The Wolverines began the year 1-4 on the road, the lone victory coming against Oakland at The Palace of Auburn Hills -- a contest Michigan and the NCAA count as a road game.
"We're 4-4 in the conference on the road and this league has been so solid," Beilein said. "To go 5-4 on the road in the league, that would be a great accomplishment."

Free throw frenzy

Michigan attempted a season-high 23 free throws Thursday, knocking down 21 of them.
Michigan didn't miss a foul shot until the game's final minute, scoring its final 15 points of the game from the stripe.
Hardaway went 9-for-10 from the line, Burke went 5-for-6 and Zack Novak finished 6-for-6.

Odds and ends

Michigan is 16-0 this season when it leads at halftime. ... Michigan has responded to each of its past 14 losses (spanning the past two seasons) with a win. ... Novak moved into third-place all-time on Michigan's games started list with 118.
Nick Baumgardner covers Michigan basketball for AnnArbor.com. He can be reached at 734-623-2514, by email at nickbaumgardner@annarbor.com and followed on Twitter @nickbaumgardner.
Want to stay connected to Wolverine basketball in your Facebook newsfeed? "Like" AnnArbor.com's Michigan Basketball News & Views.