Posted on
Tue, Dec 14, 2010 : 10:48 p.m.
Michigan basketball recovers from rough first half to beat North Carolina Central
By Michael Rothstein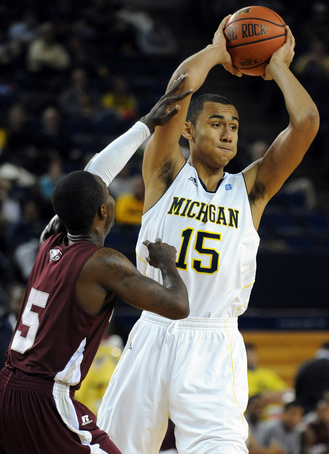 Melanie Maxwell | AnnArbor.com
Updated 10:48 p.m.
After receiving the first 'did not play' of his young career on Dec. 4, Jon Horford stepped into Crisler Arena, by himself, to take shots.
Over and over he worked on his game following the Michigan basketball team's win over Harvard. At the time, he couldn't have seen this coming.
Less than two weeks after not playing at all, Horford had his best game of the year in the Wolverines' 64-44 win over North Carolina Central Tuesday night at Crisler Arena.
It was the second straight solid performance for the reserve freshman forward and the best game by anyone wearing a Michigan jersey.
After scoring nine points with nine rebounds on Tuesday -- including team-high totals of six points and five rebounds at halftime -- Horford emerged as a legitimate option to back up Jordan Morgan at center.
"You just never can predict that," Michigan coach John Beilein said. "Sometimes it just happens overnight and all of a sudden you just go 'Wow, he's becoming a player.'"
Horford has come a long way since stepping on campus with potential and defensive skills, but lacking offensive skills.
"You could tell back on our way to Europe in August that he was going to be really good," Michigan junior guard Zack Novak said. "But if there was a definition of raw, it was him.
"The thing is, he's got so much room to improve."
There were times Tuesday when he still looked confused -- like running in front of a Stu Douglass pass and catching it instead of letting it go to an open Novak.
But he keeps growing. He's making shots from the outside (3-for-3 from the floor, including an 18-footer from the baseline) and on the inside, where seven of his nine rebounds were offensive.
Michigan needed Horford on a night Morgan was in foul trouble and scored four points, matching his lowest scoring output of the season.
"I feel like I'm improving pretty quickly," Horford said. "But that's just because my teammates are helping me out a lot.
"I didn't come in with any expectations for how quick I would develop. I was just thinking, 'Work hard and listen to what coach says.'"
His minutes have jumped from a handful in the first few games of the season to 16 against Utah on Saturday and 15 against North Carolina Central (4-5).
His nine points and nine rebounds were both a career high.
Michigan (8-2), which has gotten contributions from different players every game, needed Horford to bail it out after an atrocious first half that could be described as its worst of the year.
Considering the opponent and the home court, Michigan's 28.6 percent shooting in the first half (8 of 28) and 2 of 16 from the 3-point line was difficult for the Wolverines to deal with.
They looked sluggish and struggled before a 24-11 run midway through the second half, helped along by sophomore guard Darius Morris, who led Michigan with 12 points, broke the game open.
"We didn't expect it to kind of be that slow in the first half, we kind of expected it to be a little faster-paced," Douglass said. "We adjusted at halftime, attacked their press a lot better and adjusted to their zone, switching from man to zone, and we responded."
For North Carolina Central, which was led by 15 points from Landon Clement, it wasn't anything the Eagles hadn't seen before. All season, coach LeVelle Moton said, the same thing has happened.
Someone listed toward the bottom on their scouting report comes off the bench and has a huge night. On Tuesday against Michigan, it was Horford.
"He was big on the boards for them because he was getting second and third opportunities and kicking it back out to the shooters," Moton said. "Once those guys hit one, their confidence began.
"That's just the nature of the beast with us. People come in and have a career game against us, the one we don't prepare for."
Michael Rothstein covers Michigan basketball for AnnArbor.com. He can be reached at 734-623-2558, by e-mail at michaelrothstein@annarbor.com or follow along on Twitter @mikerothstein.