Posted on
Mon, Feb 13, 2012 : 5:59 a.m.
Michigan basketball roommates Evan Smotrycz and Tim Hardaway Jr. share a breakout game
By Nick Baumgardner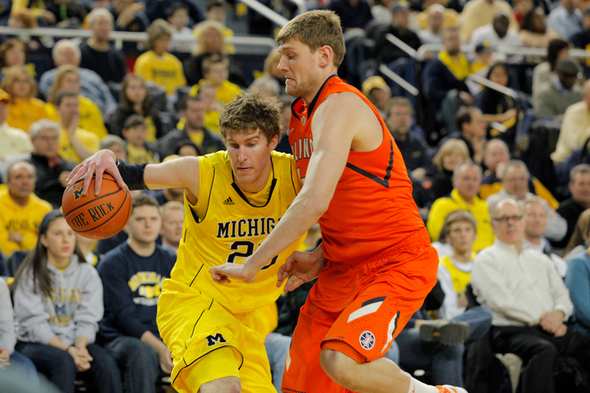 Chris Asadian | AnnArbor.com
People who live together share plenty.
Food, a bathroom, bills and even a few laughs.
But a shooting slump?
In the case of Michigan basketball sophomores Evan Smotrycz and Tim Hardaway Jr., apparently so.
Though, as the Wolverines found out Sunday, the duo that lives and struggles together, also seems to bounce back together.
"We tried not to talk about it, because it's really a mental thing," Hardaway said after Michigan's 70-61 victory against Illinois on Sunday. "But now it's a good time to start heating up.
"And this game really helped me out, and it helped Evan out as well."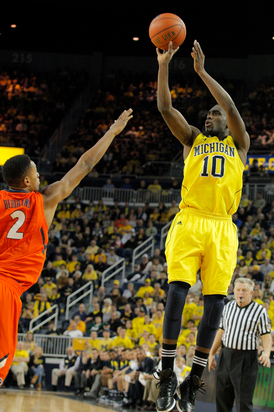 Chris Asadian | AnnArbor.com
Plagued in painful shooting slumps since early January, both Hardaway and Smotrycz — who happen to room together — found their way out of respective funks Sunday.
Hardaway paced Michigan with 15 points on 5-of-9 shooting, while Smotrycz dropped in 13 points coming off the bench, going 3-for-6 from the floor.
Both showed enough aggression to get to the basket, and subsequently went a combined 8-for-10 from the foul line. Both found a rhythm from deep as well, as each player went 2-for-3 from behind the 3-point line.
And, when it was over, both shared a collective sigh of relief.
"I was just trying to do my job and help the team any way I could," Smotrycz said afterward. "Shots finally started dropping today, and guys showed some confidence in me.
"It's a lot easier to play when your shots go down."
For Smotrycz, the past month seemed to mirror the second half of his freshman season, when the 6-foot-9 forward struggled to find energy and subsequently put up just two double-digit scoring efforts in his final 14 regular-season games.
This season, a bulked-up Smotrycz (now 230 pounds) started strong, entering the new year with an average of 11.5 points and 6.9 rebounds per game with a scorching 3-point shooting percentage of 57.1 percent
Once January hit, his numbers started to dwindle. Smotrycz entered Sunday with averages of 4.8 points and 3.8 rebounds against Big Ten opponents, and his season 3-point percentage was down to 41.1 percent
Last season, Smotrycz found a way to recover just in time. He put up 14 points in a regular-season finale victory against Michigan State before putting together quality efforts during the Big Ten and NCAA Tournaments.
And now, after showing signs of life against Illinois, Michigan coach John Beilein is hoping for a repeat occurrence for his smooth-shooting big man.
"I liked Evan all week in practice," Beilein said. "And he didn't get a (lot of minutes) at Nebraska, but he had energy and he had a good look on his face.
"When we really made our push into the NCAA Tournament (last year), Evan Smotrycz was key. When that shot started to not fall (this season), after he was uncanny with it early, he had to deal with it and it's part of life."
When Smotrycz is on, the Wolverines are a different basketball team.
But when Hardaway's on, Michigan's ceiling becomes borderline unreachable.
And on Sunday, the 6-foot-6 swingman looked nothing like the player who had shot just 27.7 percent from the floor during the team's previous four games.
He didn't look like the rushed shooter who was hitting just 19.4 percent of his 3-pointers in Big Ten play, and he certainly didn't look like the downtrodden player who was visibly shaken against Michigan State a week ago.
Hardaway wasn't outstanding Sunday, but he wasn't awful either. And, at this point, Michigan will certainly take it.
"That little slump there, it felt like I was hitting a freshman wall, because last year I really didn't hit it," Hardaway said. "I didn't show a lot of emotion (after my first shot Sunday), but (when it went in) I was very happy inside."
Michigan spent the last month with two of its shooters combining to go 18-for-84 from 3-point land.
Now the Wolverines own a 19-7 record and are one game behind Big Ten co-leaders Michigan State and Ohio State with five regular-season games to go.
"Usually if they're good in February," Beilein says, "they're going to be good in March."
Time will tell whether or not Smotrycz and Hardaway have moved beyond their collective rough patch. For now, Beilein and company are hoping the sophomore roommates continue to share everything.
Hot streaks included.
Nick Baumgardner covers Michigan basketball for AnnArbor.com. He can be reached at 734-623-2514, by email at nickbaumgardner@annarbor.com and followed on Twitter @nickbaumgardner.
Want to stay connected to Wolverine basketball in your Facebook newsfeed? "Like" AnnArbor.com's Michigan Basketball News & Views.