Posted on
Fri, Jan 6, 2012 : 11:35 a.m.
Michigan basketball senior Stu Douglass finds his scoring touch
By Nick Baumgardner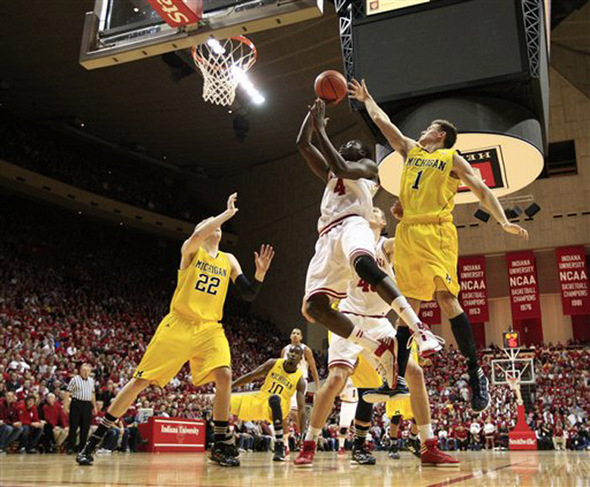 Associated Press
BLOOMINGTON, Ind. — After finishing 0-for-7 from the floor in the
Michigan basketball
team's second game of the season,
Stu Douglass
was in no mood to discuss shooting slumps.
"I'm basically done trying to look into all that," he said at the time. "I'm trying to brush it off and look more at the positive things I did."
Douglass wasn't ready to talk about it, but generally, slumps don't really care — they make their presence known anyway.
The Michigan senior guard started out the season slow. Entering the Wolverines' ninth game of the year, Douglass was saddled with woeful shooting percentage numbers — hitting at 27.8 percent from 3-point range and 37.7 percent from the floor.
He began finding his shot the following game against Oakland, sinking a pair of 3-pointers in a 90-80 victory. From there, Douglass gradually improved,
Against Minnesota on Sunday, he went 3-for-4 from downtown. And at Indiana on Thursday, Douglass was 3-for-5 from deep.
Is his shot back?
He hopes so.
"The mentality now is that every time I shoot it, I think it's going in," Douglass said after a 73-71 loss in Bloomington. "That's what I have to have for this team, that's my role, and I haven't been doing that.
"Luckily, that's coming back."
Michigan coach John Beilein routinely backed Douglass throughout his early slump, giving his senior co-captain the green light to fire away.
That strategy has paid off recently, as has a great deal of extra work in the practice gym.
"I like what he's doing right now," Beilein said. "He saw a couple corrections on film with his shot, (he was) leaning back (too much).
"He's really worked hard. He's come in the gym and always makes 25 to 50 threes at the end of practice. I really like his rhythm right now."
There's still room to improve for Douglass, but his numbers are climbing. He's now shooting 40.7 percent from the floor, and he's up to 35.4 percent from 3-point range.
And, for now, he's happy he doesn't have to discuss any more slumps.
"It's kind of a mental thing," Douglass said. "Sometimes it comes from missing shots, sometimes it's self-made — but, yeah, it feels good (to make some)."
Morgan's strong effort

Michigan sophomore forward Jordan Morgan's defensive effort in the box score didn't look overly impressive Thursday, as Indiana freshman forward Cody Zeller put up 18 points on 8-for-10 shooting.
That doesn't necessarily mean Morgan had a bad game, though. Quite the contrary.
The 6-foot-9 bruiser had perhaps his most efficient game of the season against the Hoosiers, putting up 12 points and nine rebounds in 34 minutes. And, more importantly, he committed just two fouls.
"Jordan was tremendous," Beilein said. "Defensively, that's the best I've seen him play. He was physical without fouling, and that was really big for us.
"He made a major step tonight just with being on the road and handling adversity. And just scoring off drop offs. He didn't miss a layup, he didn't have a turnover, he played really good basketball."
Beilein defends Burke's rough shooting night

Michigan freshman point guard Trey Burke had a rough night shooting at Indiana, finishing 4-for-15.
At one point, he was 1-for-10.
He did, however, end up with 10 points to go along with eight assists (four turnovers) and seven rebounds.
Did he have a poor performance?
"He didn't look like a freshman to me, he looked fine," Beilein said. "The ball didn't go in for him at times. They weren't airballs, they weren't off to the side, they were right on central.
"I thought he played very well, the ball just didn't go in."
Odds and ends

Despite Zeller's presence inside, Michigan won the points in the paint battle against Indiana, 32-24. Michigan also won the points off turnovers battle (17-10), the second-chance points category (11-7) and fast-break points (8-4). ... Indiana shot 63.6 percent from 3-point range, a season-high. ... In all three of Michigan's losses this season, the Wolverines have worn maize uniforms.
Nick Baumgardner covers Michigan basketball for AnnArbor.com. He can be reached at 734-623-2514, by email at nickbaumgardner@annarbor.com and followed on Twitter @nickbaumgardner.
Want to stay connected to Wolverine basketball in your Facebook newsfeed? "Like" AnnArbor.com's Michigan Basketball News & Views.