Posted on
Mon, Apr 16, 2012 : 5:59 a.m.
Michigan basketball recruit Mitch McGary eager to prove critics wrong
By Nick Baumgardner
What's in a number?
For Mitch McGary, as it turns out, plenty.
After becoming one of the most-ballyhooed Michigan basketball signee since the Fab Five in November, the hulking power forward from Indiana began to hear an awful lot about numbers.
First he was up, then he slid. He lost a star and heard criticism he'd never really experienced before. Initially, he said the numbers game didn't bother him, and was no big deal.
But McGary's a competitor, and, naturally, he wasn't being completely honest.
"I felt like (the criticism) was unfair a little bit," McGary told AnnArbor.com last week. "I was just doing what I was told."
The numbers McGary encountered, of course, revolved around the ever-popular world of recruiting rankings.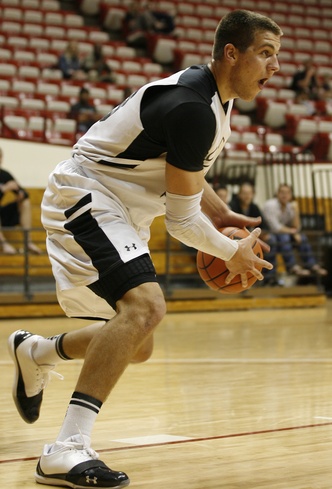 Bloomington Herald-Times
Something prospects didn't have to worry about 15 years ago has turned into a defining gauge of a player's value. A number and a star-ranking tagged next to a recruit's name is something fans eat up with a spoon, and something (admittedly or not) the players monitor religiously.
When he signed with Michigan last fall, McGary was on top of the star-system world.
A five-star prospect by Rivals, Scout and ESPN.com, McGary was the country's consensus top power forward prospect, and ranked as high as No. 2 overall in America.
When the season and subsequent expectations began, the 6-foot-10, 260-pounder had nowhere to go but down.
"I was top five, then I fell down to top 20," McGary recalled. "They bumped me down because of the game they saw on ESPN. All they saw was me with, like, three points. But I had 15 rebounds.
"And we won."
The game McGary referred to was a January made-for-TV contest featuring his Brewster Academy team, a club featuring six Division I prospects, and the Tilton School -- led by the country's top prospect, Kentucky commit Nerlens Noel.
McGary struggled against Noel, a player dubbed by The New York Times as the best Boston-area prospect since Patrick Ewing.
After going 1-for-8 from the floor against the country's top prep shot-blocker, recruiting analysts began to question McGary's motor, his overall offensive skill level and their own estimation of how impactful a player he may become.
Shortly thereafter, one by one, each service moved him down. Out of the top five, out of the top 20 and out of the fabled five-star status.
"He'll tell you those numbers don't mean anything, but I know it bothered him," McGary's father, Tim McGary, told AnnArbor.com. "I know it did. Because people started to say things and people started to question him as a player, and he doesn't like that.
"But I think he'll use that. And I think it'll make him better."
Maybe it was because of his poor showing on ESPN. Perhaps it was due to his lack of touches on a perimeter-oriented Brewster club, lauded by some as the best prep squad in America. Or, maybe it was the constant bout with plantar fasciitis, a foot affliction that has bothered McGary since the seventh grade.
In any event, McGary will enter his college career a bit less hyped than most originally believed. In fact, he's no longer the highest-rated recruit in Michigan's signing class. That distinction now belongs to Glenn Robinson III -- McGary's former AAU teammate, future roommate and best friend.
And that's all fine. McGary never really liked the spotlight anyway.
"At the offensive end, last season wasn't as good a performance as it could have been," McGary admits. "But I was doing what I was told. I averaged about 10 or 11 rebounds per game, my coach was happy with my performance and we won. A lot. So that's all that really matters.
"It'll be great to be able to come in and fit right away and know that I don't have to force things. I'm not going to force things as much as people might think, I'm going to be a team player and try to help get everyone involved. That's the main thing for me."
McGary's team-first attitude was on display earlier this month during the Nike Hoop Summit all-star event in Portland. Playing alongside some of the best prospects in America (and the world), McGary barely played.
But it didn't matter.
"He didn't play much (in Portland), but he was the first one off the bench whenever there was a good play, jumping up, high-fiving everybody," Tim McGary said. "He's always been a team guy, and he doesn't really seem to care about numbers.
"I used to ask him, ' how many points did you get?' He'd say, 'Dad, I don't know. We won.' That's just how it is with Mitch."
It's only been five months since McGary turned heads by choosing Michigan during a live television broadcast. Plenty has happened since.
McGary's Brewster club won a national championship, he played in various all-star events and he's gotten his first taste of national scrutiny.
In the end, there's only one number McGary cares about these days.
June 25. The day he moves to Ann Arbor to begin his college career.
"I'm ready to get to work," McGary says. "Trey Burke's coming back, I get to play with Glenn and Michigan is just the school for me.
"I'm excited."
Nick Baumgardner covers Michigan basketball for AnnArbor.com. He can be reached at 734-623-2514, by email at nickbaumgardner@annarbor.com and followed on Twitter @nickbaumgardner.
Want to stay connected to Wolverine basketball in your Facebook newsfeed? "Like" AnnArbor.com's Michigan Basketball News & Views.