Posted on
Fri, Jul 6, 2012 : 5:59 a.m.
Michigan basketball staff approaching unlimited text/call recruiting rule with caution
By Nick Baumgardner
When the clock struck midnight on June 15, John Beilein wasn't sure if college basketball's new world was real or not.
Beginning last month, the Michigan basketball coaching staff -- and every other staff in America -- got the green light to call and text prospective recruits whenever they wanted.
No time restraints. No quantity restrictions. No rules, really.
"It's still hard to believe," Beilein said last week. "It's just much easier to communicate, but I know we'll do everything we can to keep it (under control)."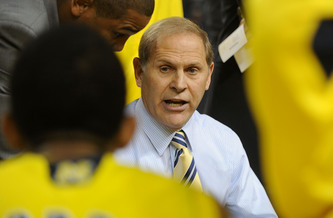 Angela J. Cesere | AnnArbor.com
Keeping it "under control," as Beilein put it, seems to be the ultimate catch in this game.
When the new legislation was announced, most agreed the ability to have open and consistent communication between college coaches and recruits had several positives.
Both parties now have the chance to get to know each other better, something that could eventually start limiting the massive annual outbreak of transfers. The entire process also becomes much more transparent -- there's no need for coaches or players to simply guess who is interested in who.
But, as with anything, the rule could begin to get out of control.
Critics feel coaches will eventually take their new freedom overboard, and begin to bombard high schoolers with massive amounts of unwanted texts and calls.
To help keep that slippery slope dry, Beilein says it's been important to him to be up front with recruits about the new rule from the start.
"When we recruit kids, we ask 'how do you want to be recruited?'" Beilein says. "If you want us to text every day, we'll text every day. You want us to call, we'll do that. But if they don't want that, we don't want that.
"As we talk to kids, almost in every conversation, we say 'I know you're getting a lot of stuff, but (we want to) accommodate you in this recruiting thing,' and we ask how they'd like to do it. And so far, it's been 'coach, you're fine.' Before you couldn't overdo it with texts and emails and calling, and (we're not now either)."
When midnight hit on June 15, Beilein didn't immediately hit the phone. He admits that a few of his assistant coaches reached out to a few select prospects during the period's opening minutes.
But Beilein waited until the next morning to reach out, and did so with the sun shining -- not during the middle of the night.
In the end, Beilein seems completely in favor of the new rule -- saying the old guard of monitoring the number of phone calls was just far too time consuming and nearly impossible to police.
But the interesting part now, he says, will be how each individual school polices itself.
"This is a great chance for men's basketball," Beilein said. "For all the coaches to demonstrate how well we can handle this freedom that we have now to recruit without worrying about how many phone calls we made or charting every phone call."
Nick Baumgardner covers Michigan basketball for AnnArbor.com. He can be reached at 734-623-2514, by email at nickbaumgardner@annarbor.com and followed on Twitter @nickbaumgardner.
Want to stay connected to Wolverine basketball in your Facebook newsfeed? "Like" AnnArbor.com's Michigan Basketball News & Views.