Posted on
Tue, Jun 26, 2012 : 5:59 a.m.
Michigan basketball assistants sign new contracts, will receive bonuses for remaining in Ann Arbor
By Nick Baumgardner
The Michigan basketball program had a banner season, literally, in 2011-12.
And each member of John Beilein's coaching staff benefited from the run.
After wrapping up a year that included a share of the team's first Big Ten title since 1986, and a third NCAA Tournament bid in four years, assistant coaches Jeff Meyer, Bacari Alexander and LaVall Jordan each received new multi-year deals from Michigan, effective April 1.
The three new contracts were obtained by AnnArbor.com through a Freedom of Information Act request.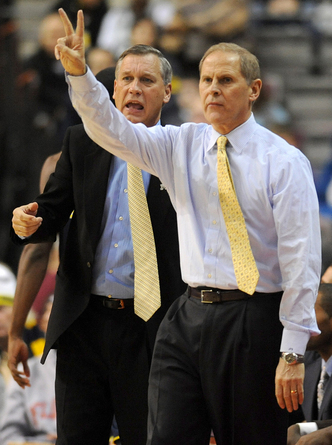 AnnArbor.com file photo
Meyer and Alexander signed their contracts on May 17, while Jordan signed his on May 10.
The new contracts will pay the three coaches a total of $470,000 in base pay for the 2012-13 campaign. Each assistant received a $10,000 base pay raise from a year ago, when the total pool -- per Michigan records -- sat at $440,000.
Additionally, each coach will receive a $15,000 bonus for a Big Ten title, a $10,000 bonus for a shared league crown, a $7,500 bonus for a Big Ten Tournament title and $5,000 for an NCAA Tournament appearance.
The coaches each stand to make an additional $1,000 for an NCAA Tournament "first round" (field of 64) win, $2,000 for a "second round" (field of 32) win, $3,000 for a "Sweet Sixteen" win, $5,000 for an "Elite Eight" win, $6,000 for a "Final Four" win and $8,000 for a national championship.
Meyer and Alexander both signed four-year pacts, and will make base salaries of $160,000 and $155,000, respectively, in 2012-13. Jordan, meanwhile, inked a three-year contract and will also receive $155,000 in base pay next season.
Meyer's four-year contract is scheduled to pay him a base amount of $695,000 through 2016, while Alexander's four-year deal is worth $670,000 in base money through 2016. Jordan's three-year deal is worth a total of $500,000 through 2015.
In addition, each assistant coach received a "stay bonus" clause that was written into his contract, adding incentive to remain at Michigan through the duration of their respective deals.
If all three men remain a member of Michigan's men's basketball coaching staff through April 1, 2013, they will receive with an added bonus of $20,000.
AnnArbor.com file photo
If Alexander and Jordan remain on Beilein's bench through April 1, 2014, they will receive another $20,000. If Alexander stays through April 1, 2015, he'll receive an additional $20,000 -- totaling a possible $60,000 in bonus money just for remaining in Ann Arbor.
Meyer, meanwhile, will receive an extra $25,000 if he stays through 2014 and another $25,000 if he stays through 2015.
Per the language of the contracts, the stay bonuses will not be "vested and payable to the Coach unless he remains continuously employed as an assistant men's basketball coach by the University through March 31, 2016, at which time the stay bonus shall vest and be payable to the Coach."
Meyer, 58, joined Beilein's bench in 2008 as an administrative specialist. He was promoted to assistant coach in 2010 and will start his 35th year of college coaching in 2012-13 -- a career that has included stops Purdue, Butler, Missouri and Indiana.
Alexander, 35, will start his third season on Beilein's staff in 2012-13. The former University of Detroit standout has also had assistant coaching stops at Detroit, Ohio and Western Michigan.
Jordan, 33, will also begin his third year at Michigan in 2012-13. A former standout guard at Butler, Jordan has been an assistant at both Butler and Iowa in his coaching career.
Together with Beilein, Meyer, Alexander and Jordan signed a five-man recruiting class that was rated No. 7 overall nationally by Rivals.com in 2012. Michigan also has a current four-man 2013 class that is already rated by ESPN.com as the No. 2 overall group nationally.
Beilein signed a contract extension with Michigan prior to the 2009 season that runs through the end of 2015-16. The entire deal is valued at a base of $12.7 million, with an average of $1.81 million per year.
The only bonus written into Beilein's current contract is for an NCAA Tournament appearance. The coach will receive $25,000 for each NCAA Tournament bid, and an additional $25,000 for each NCAA Tournament victory.
Michigan went 24-10 last season before being bounced in the second round of the NCAA Tournament by Ohio.
CBSsports.com and ESPN.com have both ranked Michigan at No. 5 in early projections for the 2012-13 season.
Nick Baumgardner covers Michigan basketball for AnnArbor.com. He can be reached at 734-623-2514, by email at nickbaumgardner@annarbor.com and followed on Twitter @nickbaumgardner.
Want to stay connected to Wolverine basketball in your Facebook newsfeed? "Like" AnnArbor.com's Michigan Basketball News & Views.