Posted on
Sun, Jan 29, 2012 : 4:48 p.m.
Michigan basketball team goes 37 minutes without a free throw in loss at Ohio State, and more notes
By Nick Baumgardner
COLUMBUS, Ohio -- Shortly after his team's 15-point loss at Ohio State on Sunday, Michigan basketball coach John Beilein was asked to comment on his team's foul shooting.
"You guys obviously didn't go to the line until very late in the game," a reporter remarked.
"Is that right?" Beilein responded with a tinge of sarcasm.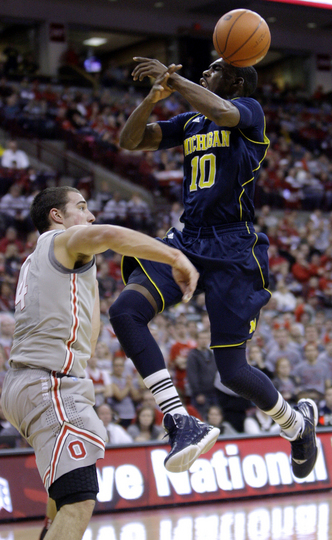 AP Photo
Ohio State out-shot Michigan 18-4 in its 64-49 win, with the Wolverines not receiving a free throw attempt until the 2:33 remained in the second half.
At that point, Ohio State was 13-of-16 from the foul line.
Beilein said plenty of the Buckeyes' foul shots resulted from OSU's 14 offensive rebounds. Michigan had 10 offensive rebounds of its own -- but had no such luck in the free throw department.
"A lot of their (free throws) came off their offensive rebounds," Beilein said. "We had 10 offensive rebounds but we didn't get to the line."
With Michigan down nine at the five-minute mark, the Wolverines had three cracks at a bucket underneath their own basket.
Trey Burke drove the line, drew contact and missed a layup without a call. Jordan Morgan grabbed the rebound in traffic, drew contact and missed a layup without a call. Zack Novak collected that miss, but had his shot blocked inside by Ohio State's Jared Sullinger.
Buckeye point guard Aaron Craft collected the loose ball, pushed forward and eventually found Sullinger inside for a jam, pushing the lead back to 11 and prompting a Michigan timeout.
During the stoppage, Beilein stormed out near mid-court with words for the officials before being gathered and led back to his own huddle by Michigan assistant coach Bacari Alexander.
After the game, though, Beilein made no ill comments toward the officiating, saying he'd have to review the tape to get a closer look at things.
"I'll have to watch the film (to see more)," he said. "They just got fouled more."

Horford travels, but doesn't play

Michigan sophomore forward Jon Horford traveled with Michigan to Columbus on Sunday, but watched the game from the sidelines in street clothes.
The 6-foot-10 Horford missed his 13th straight game after suffering a stress fracture in his right foot.
Horford has since returned to practice, and is now walking without a supportive boot, but is not yet ready for game action.
"It's always hard when you can't play," Horford said after the game. "Everyone's been helping me stay up and hopefully in the near future I'll be back at 100 percent."
Horford said he practiced well until Saturday, then sat out of practice with foot pain. He said the latest X-rays on his foot have shown that the stress fracture in his foot has healed "fairly well."
The Wolverines could've used Horford's presence inside. The Buckeyes dominated the glass, gathering 14 offensive rebounds, 16 second-chance points and 30 points in the paint.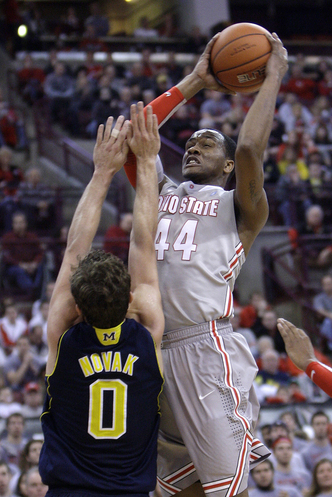 AP Photo
Scoreless Novak
For the first time this season, Michigan senior guard Zack Novak was held without a point.
Novak, who was plagued by foul trouble for most of the second half, missed all four of his field goal attempts for zero points in 33 minutes of action.
"You've got to give them credit for going after it," Novak said afterward. "But we've got to get better."
The last time Novak failed to score in a game was Nov. 21, 2010, an 80-58 Michigan win over Gardner-Webb.

Was it a flop?

After being whistled for a foul during the first half while guarding Evan Smotrycz, Ohio State sophomore Deshaun Thomas fell to the floor holding his face, appearing as though he'd been hit in the face by a Smotrycz elbow.
The officials reviewed the play, and the replay showed that Smotrycz's elbow did not, in fact, touch Thomas' face in any way.
Afterward, Ohio State coach Thad Matta was asked what exactly happened.
"I don't know, I haven't seen it yet," Matta said. "They said with the angle they had, he didn't get hit. But he was bleeding down the lip. It probably happened, I guess, earlier.
"I don't know. Then he had a cut down the side of his face where he was bleeding, but I didn't see it."

Odds and ends

Smotrycz finished 1-for-6 from the floor with three points, one rebound and four fouls in 18 minutes of action. ... Michigan's 49 points were a season-low. ... Matta is now 15-2 all-time against Michigan. ... All coaches on both sidelines wore tennis shoes in support of the Coaches vs. Cancer basketball weekend.
Nick Baumgardner covers Michigan basketball for AnnArbor.com. He can be reached at 734-623-2514, by email at nickbaumgardner@annarbor.com and followed on Twitter @nickbaumgardner.
Want to stay connected to Wolverine basketball in your Facebook newsfeed? "Like" AnnArbor.com's Michigan Basketball News & Views.