Posted on
Wed, Mar 14, 2012 : 5:58 a.m.
Michigan basketball team hears the NCAA tourney upset talk, not worried about it
By Nick Baumgardner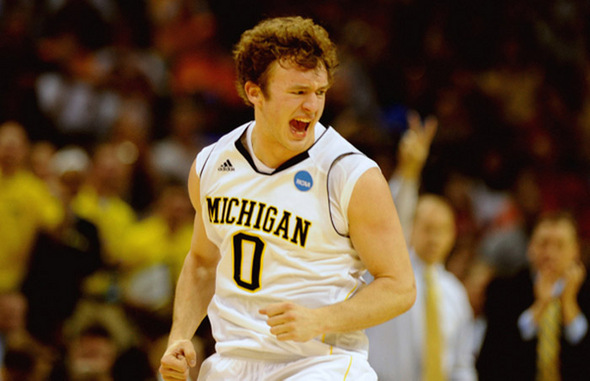 AnnArbor.com file photo
Shortly after the NCAA Tournament brackets were announced, one of the sexier upset picks involved the Michigan basketball team.
Only this time, the pick had the Wolverines on the losing end.
Several outlets have pegged No. 13 Ohio as a possible bracket-busting team, knocking off No. 4 Michigan on Friday (7:20 p.m., TNT) in Nashville, Tenn.
Are the Wolverines concerned?
"That's fine," Michigan co-captain Zack Novak said. "If they want to peg us as the underdog, that's a position we're all too familiar with.
"At this point, if you need motivation to play in the NCAA Tournament, you've got bigger issues than Doug Gottlieb not picking you to win a game."
For the record, Gottlieb -- an ESPN college basketball analyst -- was among those on the Ohio bandwagon, picking the Bobcats to upset the Wolverines in the tournament's second round Friday.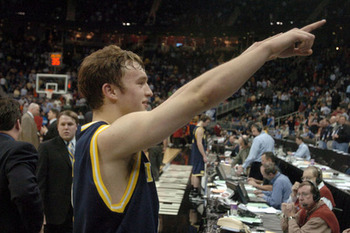 AnnArbor.com file photo
In 2009, Michigan pulled off an early-round upset as a No. 10 seed, knocking off No. 7 Clemson to advance to the round of 32. A year ago, the Wolverines won a virtual pick 'em tilt as a No. 8 seed, blowing out No. 9 Tennessee, before nearly knocking off No. 1 Duke in the third round.
In his four years at Michigan, Novak has spent more time as an underdog than he has as a favorite.
So, anyone putting him and his teammates back in that position isn't exactly doing Michigan a disservice at this point.
"For whatever reason, the last couple years (an underdog) is the team that we've been," he said. "I think we're more comfortable in that situation and it was just a new experience this year, having to play and being told people were picking you to win all the time.
"We've never had that. Everyone always said 'you're going to get rolled over.' So, we'd come out and surprise people."
Michigan hasn't surprised many this year. The Wolverines received a national ranking each week this season, and finished the year as a top-15 RPI squad.
The Wolverines also have more than enough NCAA Tournament experience. Novak and fellow co-captain Stu Douglass have played in two tournaments, while rotation players Jordan Morgan, Evan Smotrycz, Tim Hardaway Jr., Matt Vogrich and Blake McLimans were all on the roster a year ago.
The only player that sees heavy minutes who hasn't had an NCAA Tournament moment is freshman point guard Trey Burke.
The same player who was named an all-American by CBSSports.com on Tuesday.
"Our seniors have been there twice, and mostly everyone else was there last year," Morgan said. "We're used to the environment.
"We've played all kinds of teams this year, to the top of the country to mid-major teams, we're prepared for the competition of this tournament."
If Michigan does get knocked off early in Nashville, it won't be because of overconfidence.
Wolverines coach John Beilein, a former mid-major boss himself, spoke at length Tuesday about Ohio's credentials -- including impressive road wins at Marshall and Northern Iowa. The Bobcats played right with Big East tournament champ Louisville for a full 40 minutes in November before eventually falling by five on the road.
Ohio can play, and Michigan knows it.
"We have a lot of respect for them," said Beilein, who earned an NCAA Tournament upset in 1998 when his No. 14-seeded Richmond team beat No. 3 South Carolina, 62-61. "To win the number of games that they did this year, to go to Marshall and win, to go to Louisville and lead for most of the game, it's obviously a talented team with a great coach."
"You have to play at this time of year. That's why March Madness is such a special time."
Nick Baumgardner covers Michigan basketball for AnnArbor.com. He can be reached at 734-623-2514, by email at nickbaumgardner@annarbor.com and followed on Twitter @nickbaumgardner.
Want to stay connected to Wolverine basketball in your Facebook newsfeed? "Like" AnnArbor.com's Michigan Basketball News & Views.