Posted on
Wed, Jan 25, 2012 : 9:29 a.m.
Michigan basketball team leads contenders, but Ohio State remains the team to beat
By Nick Baumgardner
So, who wants to win this thing?
The Big Ten basketball season will hit its halfway point this weekend and nine of the league's 12 teams are separated by 2 1/2 games.
There's been no rhyme or reason to half of the surprises or upsets so far, and that may continue through the final weeks of the season.
But every team played more than 20 games, fatigue is mounting (mentally and physically) and the contenders should soon separate from the pretenders.
It's only a matter of time.
Here are this week's rankings:
Driver's seat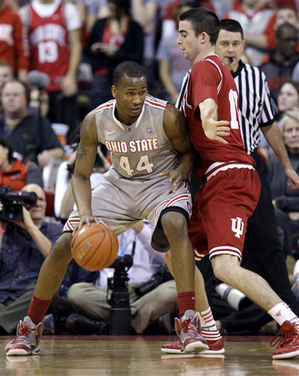 Associated Press
No. 4 Ohio State (17-3, 5-2)
Last week: W 79-45 at Nebraska

Up next: vs. Penn State (tonight), vs. No. 20 Michigan (Sunday)

The Buckeyes woke up from a funk by thumping Indiana and clobbering Nebraska on the road last week. Ohio State remains the most talented team in the Big Ten, but consistency has been lacking. Ohio State may understand now that it's not immortal in the Big Ten, as originally thought, which is a good thing if you're a Buckeye backer.
Contenders

No. 20 Michigan (16-5, 6-2)
Last week: W 60-59 vs. No. 9 Michigan State, L 66-64 at Arkansas

Up next: W 66-64 at Purdue (Tuesday), at No. 4 Ohio State (Sunday)

The Wolverines get the nod over Michigan State because, well, Michigan beat the Spartans. Pretty simple. I'm not ready to put the Wolverines ahead of Ohio State just yet, but Michigan will take a first-place standing into Columbus on Sunday one way or another. Win there, and the driver's seat is yours, Michigan.
No. 10 Michigan State (16-4, 5-2)

Last week: L 60-59 at No. 20 Michigan, W 83-58 vs. Purdue

Up next: vs. Minnesota (today)

The Spartans were humbled last week after dropping a third consecutive game to in-state rival Michigan. Michigan State responded by pounding Purdue, but the Boilermakers weren't exactly themselves as a travel snafu left them clearly drained. Regardless, Michigan State is at the top of the conversation for a league crown.
No. 16 Indiana (16-4, 4-4)

Last week: L 70-69 at Nebraska, W 73-54 vs. Penn State

Up next: at No. 25 Wisconsin (Thursday), vs. Iowa (Sunday)

Indiana remembered how fun it was to be a high-profile team earlier this season with victories against Kentucky and Ohio State. Indiana's getting everyone's best shot again, including the lower-tier members of the league. The Hoosiers already have four losses, and can't afford many more slip-ups.
No. 25 Wisconsin (16-5, 5-3)

Last week: W 77-57 vs. Northwestern, W 67-63 at No. 25 Illinois

Up next: vs. No. 16 Indiana (Thursday)

Break up the Badgers. Just when you thought it was finished, Wisconsin rattles off a four-game winning streak and puts itself back in the Big Ten conversation. The Badgers have a big one at home against Indiana on Thursday night.

On the fringe

Illinois (15-5, 4-3)

Last week: L 54-52 at Penn State, L 67-63 vs. Wisconsin

Up next: at Minnesota (Saturday)

Illinois got its first signature win earlier this month against Ohio State, and then proceeded to drop two straight and put itself in a hole in the Big Ten standings. The Illini couldn't score at Penn State, and they fell victim to another "welcome back" performance by Jordan Taylor against Wisconsin. This slump could soon turn into a tailspin, as surging Minnesota is up next.
Purdue (14-7, 4-4)

Last week: W 75-68 vs. Iowa, L 83-58 at No. 9 Michigan State

Up next: L 66-64 vs. No. 20 Michigan (Tuesday), at Northwestern (Saturday)

Purdue was embarrassed on the road in East Lansing over the weekend, and it dug itself into a pair of pretty deep holes at home against Michigan. The Boilermakers have ability, but this isn't a vintage Matt Painter team. Not right now, not this season.
Minnesota (15-5, 3-4)

Last week: W 75-52 vs. Northwestern

Up next: at No. 10 Michigan State (today), vs. Illinois (Saturday)

Oh, what might have been. If Trevor Mbakwe hadn't gotten hurt, and if the Gophers hadn't started league play 0-4. Oh well, ifs and buts aren't candy and nuts … as we all know. Still, Minnesota has won three straight. The Gophers were even in ESPN bracket expert Joe Lunardi's latest NCAA Tournament field.

Outside looking in

Northwestern (12-7, 2-5)

Last week: L 77-57 at Wisconsin, L 75-52 at Minnesota

Up next: vs. Purdue (Saturday

The Wildcats followed up their possible season-changing win against Michigan State with a pair of duds. Northwestern lost by 20 at Wisconsin and by 23 at Minnesota. Not exactly the response we were looking for. The Wildcats get most of this week off, and had better take advantage of it. They're likely on the outside looking in as far as the NCAA Tournament goes.
Iowa (11-9, 3-4)

Last week: L 75-68 at Purdue

Up next: vs. Nebraska (Thursday), at Indiana (Sunday)

Iowa's not a contender for the Big Ten championship this season, and the NCAA Tournament looks like a long shot at this point. However, I've decided the Hawkeyes will be this year's spoil sport. Iowa is just good enough to wreck someone's season, but not quite polished enough to be consistent. The Hawkeyes have at least two more upsets in them. Who's it going to be?
Nebraska (10-9, 2-6)

Last week: W 70-69 vs. No. 11 Indiana, L 79-45 vs. No. 6 Ohio State

Up next: at Iowa (Thursday)

The Cornhuskers get their first real upset as a Big Ten member, then quickly get welcomed back to reality against Ohio State. At this point, a .500 overall season for Doc Sadler's club looks like an accomplishment.
Penn State (10-11, 2-6)

Last week: W 54-52 vs. No. 22 Illinois, L 73-54 at No. 11 Indiana

Up next: at No. 4 Ohio State (today)

Tim Frazier is averaging 18 points, 6.4 assists and five rebounds per game. But, his team shoots 38.7 percent and he gets absolutely no help. The long year continues in Happy Valley.
Nick Baumgardner covers Michigan basketball for AnnArbor.com. He can be reached at 734-623-2514, by email at nickbaumgardner@annarbor.com and followed on Twitter @nickbaumgardner.
Want to stay connected to Wolverine basketball in your Facebook newsfeed? "Like" AnnArbor.com's Michigan Basketball News & Views. "Like" the page and earn a chance for 4 tickets to the Feb. 18 Ohio State at Michigan basketball game