Posted on
Mon, Feb 13, 2012 : 1:10 p.m.
Now is the time for Michigan basketball team to start discussing the possibility of its first Big Ten title since 1986
By Nick Baumgardner
Angela J. Cesere | AnnArbor.com
One month ago, John Beilein wasn't interested in the Big Ten standings.
Now, things are different.
The Michigan basketball coach admitted Monday he'd spend some time addressing the Big Ten championship picture with his team this week.
And, more specifically, how the Wolverines now find themselves with a realistic shot at their first regular-season league crown since 1986.
"They know the standings," Beilein said of his team on the Big Ten coaches teleconference. "You do the math and you see right away that we have a great opportunity here."
With just five games remaining, Michigan (19-7, 9-4 Big Ten) sits a half game behind co-Big Ten leaders Michigan State and Ohio State.
The Wolverines will have a chance to either pass or pull even with the Buckeyes on Saturday when OSU visits the Crisler Center (9 p.m., ESPN).
After beating Michigan State at home in mid-January and briefly moving into first place, Beilein said he had no discussions with his team about the situation, saying "we never even touch on it."
At that time, Michigan still had roughly half of its schedule in front of it. But now, the Wolverines are less than a month away from postseason play and a Big Ten crown is still a very real possibility.
Beilein says now is as good of a time as any to remind his club of that.
"(Some players) don't read the newspaper or look at the standings very often," he said. "They know we're in it, but maybe they don't know how close it is, or how quickly it could change with a few wins here or there."
The last time Beilein found himself in position for a regular-seaosn title this late in the season came during his fourth year at West Virginia (2005-06), when his club ultimately settled for third in the Big East before advancing to the Sweet Sixteen of the NCAA Tournament.
For Michigan? There have been scattered near-misses at a regular-season Big Ten crown, but it's been 26 years since the Wolverines finished the league schedule with a trophy.
And now, with five games left and a title shot in sight, Beilein wants to make sure his team's well aware of the situation.
"A (conference) tourney championship is wonderful, but winning a regular-season Big Ten championship is very unique," Beilein said. "It hasn't happened here in a long time, and we'd love for our guys to believe they could be special and do something like that.
"If you don't get there, it's not the end of the world. ... Dream big, but focus small. (A Big Ten title) is the dream, but we've still got to focus on the day-to-day task of being a better team."

More 'Ohio' talk

Beilein again referred to Ohio State as "Ohio" multiple times Monday.
And, as was the case last month following a 64-49 loss to the Buckeyes in Columbus, he was asked why.
"I don't think there's any message, (Michigan football coach Brady Hoke) calls them Ohio and for some uniformity, we (do too)," Beilein said. "We had no meeting (to discuss it), Brady's called them Ohio and it sounds like (we needed) some uniformity here."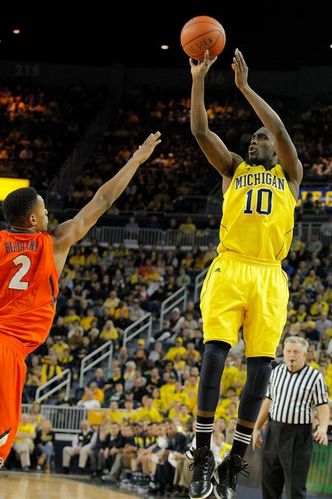 Chris Asadian | AnnArbor.com
Balance is the key
Michigan finished its 70-61 win over Illinois with four players in double figures, the seventh time that's happened this season.
With Tim Hardaway Jr. and Evan Smotrycz struggling through shooting slumps over the past month, Beilein talked Monday about how important the scoring balance on his roster has been.
Presently, six players average at least seven points per game, and the Wolverines have had five different players finish with game-high scoring numbers throughout the season.
"That's been a key to our success so far," Beilein said. "We haven't had to rely on one or two guys to do it every day, and if they don't have a good game, we have no chance.
"That would've made us something like a .500 team right now."
Nick Baumgardner covers Michigan basketball for AnnArbor.com. He can be reached at 734-623-2514, by email at nickbaumgardner@annarbor.com and followed on Twitter @nickbaumgardner.
Want to stay connected to Wolverine basketball in your Facebook newsfeed? "Like" AnnArbor.com's Michigan Basketball News & Views.