Posted on
Thu, Apr 4, 2013 : 5:59 a.m.
Michigan basketball team rejoins Ann Arbor women on annual Final Four trip
By Pete Cunningham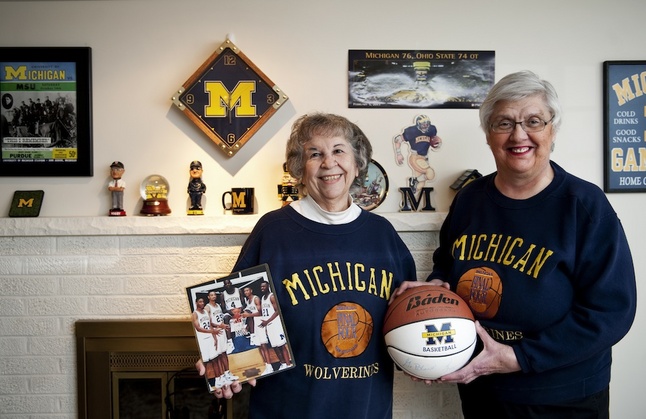 Daniel Brenner | AnnArbor.com
In 1993, longtime Michigan basketball season ticket holders
Joan Raphael
and
Penelope Bekiares
watched in horror from the Louisiana Superdome as
Chris Webber famously asked for a timeout
when the team had none remaining. Webber didn't receive a timeout, but instead a technical foul in the waning seconds of the national championship game, costing the Wolverines a chance at a comeback.
The stinging memory is still fresh for 71-year-old Ann Arbor residents.
Despite the unhappy ending, the overall experience of the weekend in New Orleans had the two hooked. They haven't missed a Final Four since, and are glad they're finally getting a chance to watch their beloved Wolverines in the Final Four again this weekend.
"We go every year and we always joke that one of these years we want Michigan to come with us," said Bekiares, who goes by Penny. "They're finally coming with us!"
After having a blast in New Orleans in 1993, Penny and Joan — both Wolverines season ticket holders since 1985 — decided to make a trip to the Final Four an annual weekend event. When the Big Ten Tournament began in 1998, they made it part of their routine too.
When they return home from Atlanta — which they'll travel to and from by train - they'll start making arrangements for next year's trips to Indianapolis for the Big Ten Tournament — both of their favorite sports town - and Arlington, Texas for the Final Four.
It's not a cheap hobby, but it's worth every penny to Joan and Penny.
"I always tell people, I don't smoke, I don't drink. I spend a lot of money on basketball," Joan said.
They don't break the bank on courtside seats. They're just happy to be in the building.
"We might not be that close and all that jazz, but we're in the house," Penny said.
Both Penny and Joan still have the sweatshirts they wore on their 1993 trip and Joan has the iconic photo of the Fab Five — with Webber sitting on a lowered rim, surround by his teammates -- framed and on proud display in her retirement home apartment.
Dyed-in-the-wool Wolverines fans, they both say they loved the Fab Five teams and every one before and since. Even during the fallout from the NCAA sanctions — when morale among the fan base and stadium attendance dipped — Joan and Penny stayed true.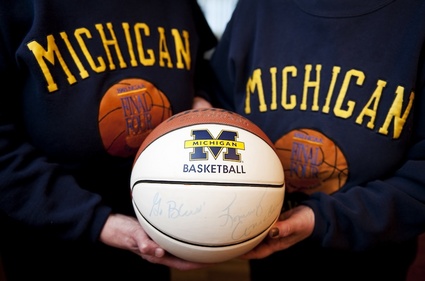 Daniel Brenner | AnnArbor.com
"They never miss a game," said Joan's daughter,
Nicole Courtney
. "It'd be them and just a few thousand fans in those lean years, but they never walked away."
Some people run away from Michigan's winters to Florida. For Joan and Penny, the Crisler Center is their Boca Raton.
Penny gave the Sunshine state a try years ago, but stopped going because, "we would miss critical games in the height of the season and it just wasn't worth it."
"Basketball gets me through the winter," said Joan.
Penny and Joan started buying NCAA Tournament T-shirts every year on their trips, but Joan "switched to buying socks because they take up less space."
They don't wear the keepsakes to the game, though. They are decked out from head-to-toe in Michigan garb no matter who is playing.
"I always tell friends and family, 'look for me, I'll be the one waiving to you in maize and blue,'" Joan said. "I might be a little harder to pick out this year."
There is one exception to their dress code. Joan — who had two daughters graduate from Michigan State - will don green and white if the Spartans are involved, something Penny can't bring herself to do.
"I'll root for 'em, but I wouldn't wear Michigan State," Penny said. "I just couldn't do it."
Without Michigan to cheer for at the past 19 tournaments, Joan and Penny have pulled for any Big Ten team involved, which Joan said has caught some Buckeyes fans by surprise through the years.
The basketball is great, but both Joan and Penny said their favorite part of the weekend is "all of the interesting people" they get to meet. Both like to tell the story of the 1995 Final Four in Seattle. They were walking down the street in their Michigan gear, as usual, when a limousine pulled up next to them and a man yelled at them.
"This man says to us, 'you ladies are in the wrong place with those clothes on,'" recalls Penny.
"He said 'you ladies go home and take those clothes off,'" Joan remembers.
Both may have been offended had they not recognized former Michigan State head coach Jud Heathcote right away.
"We had a good laugh about that," Joan said.
Both miss the days when Michigan had its postgame meals at Thano's Lamplighter, where they'd occasionally interact with the players. Joan said one of her favorite all-time players, Jalen Rose, would give her a hug and call her "mamma," when she'd congratulate him on a good game.
She used to send get well cards to injured players and the occasional birthday card.
She said she's never tried to stay in contact with any of them and just did it out of the kindness of her heart.
"They move on," Joan said. "I was just another fan who told them I appreciated them."
These days, the players are more protected, but from what they've seen in the media, both rank this year's squad as one of their favorites.
"They seem like good kids," Joan said. "They have good grammar. They play like a team."
Both have faith that they'll be unrecognizable in a sea of Michigan gear during Saturday's semifinal and Monday's final round. They hope their next memory of Michigan in the championship game is better than their only one so far.
"I'm looking forward to going all the way!" Joan said with confidence.
Pete Cunningham covers sports for AnnArbor.com. he can be reached at petercunningham@annarbor.com. Follow him on Twitter @petcunningham.