Posted on
Fri, Sep 23, 2011 : 8:56 p.m.
Michigan basketball team settling into new Crisler Arena, ready for season to begin
By Nick Baumgardner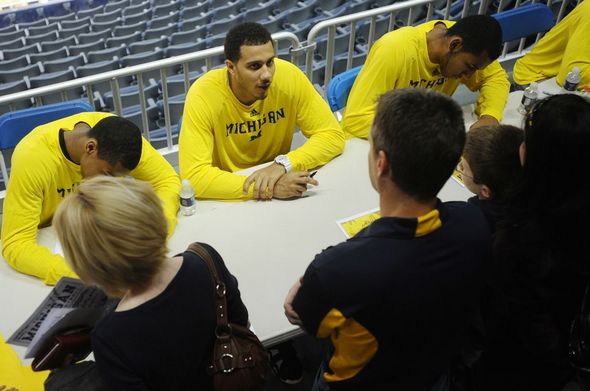 Melanie Maxwell I AnnArbor.com
For the better part of the summer, the
Michigan basketball
team wandered Ann Arbor without a home.
Dressing in the Michigan baseball locker room, lifting weights with the wrestling team and playing pickup games anywhere from the Michigan Intramural Sports Building to Concordia University.
And though the entirety of Michigan basketball's facility facelift isn't completed, the Wolverines are (for the most part) done couch surfing.
"It was a tough summer," Michigan senior guard Zack Novak said. "But when we walked into Crisler and saw this, it made us feel like we weren't getting bounced around for nothing."
The Wolverines were introduced to the new-look Crisler Arena earlier this month. On Friday night, coach John Beilein and company showed off their new digs to several hundred of their closest friends. (Photo gallery)
Michigan hosted a Crisler Arena open house, allowing fans to see the building's new high-definition scoreboard, the adjusted seating arrangement and the new-look court.
The Crisler Arena project isn't complete, and the Wolverines hope to really feel at home when they move into the new $23.2 million Player Development Center in late October, but the group says the excitement around the new facilities and the team's potential for this coming season couldn't be higher.
"I think there's a lot of excitement around the program," Novak said. "More than there's ever been."
The Wolverines return 12 players from a 2010-11 squad that came within seconds of beating Duke and advancing to the NCAA Tournament's Sweet Sixteen.
Beilein and staff have started individual workouts with players. Coaches can begin full team practices on Oct. 14.
So far this fall, Beilein said workouts have been spirited, and the number of returning players on the squad has made the transition easier for incoming freshmen Trey Burke, Carlton Brundidge, Max Bielfeldt and preferred walk-on Sai Tummala.
"I watch our young guys, in particular, they're in the back of the line watching," Beilein said. "Watching 'how does Tim (Hardaway Jr.) do this? How does Zack do this? How does Stu (Douglass) do this?' And then they go out and do it.
"It's really been good, I love the early chemistry."
Early on, Beilein said he's been impressed specifically with sophomore forward Evan Smotrycz's bulked up body. Beilein said that Smotrycz, now listed at 6-foot-9 and 235 pounds on Michigan's official roster, has added weight in the "right spots."
Smotrycz missed the entire summer last year with a foot injury, and now that he's healthy, Beilein says he expects more from him entering this season.
"You look at Novak and Douglass, they probably weight train 48 weeks a year," Beilein said. "Most young kids train four or five weeks at a time and then stop. … You'll notice a difference in (Smotrycz's) body."
Beilein also said he's seen an upgrade in leadership from Hardaway, explaining that the sophomore's trip to Europe this summer with USA Basketball's U19 team has changed him for the better.
"He likes the part of exploring and trying new things," Beilein said. "And I think this leadership thing is something he likes."
The team has no serious health issues to speak of either, as Beilein said that outside of Douglass nursing a minor ankle sprain, the group is in good shape.
The hardships of the summer haven't completely ended. The team is still lifting weights at the wrestling facility and they've yet to settle into their new practice facility. But they're real home, Crisler Arena, is good to go for a highly-anticipated 2011-12 season.
And so far, so are the Wolverines.
"It was the most difficult summer I've had here," Douglass said. "It was the most summer credits I'd ever taken before, and you're balancing that with not getting that much gym time. ... It was tough and stressful at some points.
"But we came out of it as well as we could have."
Nick Baumgardner covers Michigan basketball for AnnArbor.com. He can be reached at 734-623-2514, by email at nickbaumgardner@annarbor.com and followed on Twitter @nickbaumgardner.