Posted on
Mon, Feb 27, 2012 : 9:07 p.m.
Michigan basketball team settling its emotions after Purdue loss, still hoping for share of Big Ten title
By Nick Baumgardner
Entering the Michigan basketball team's final home game against Purdue last Saturday, emotions were approaching a boil-over point.
The Wolverines were prepping for senior night, were a week removed from a nationally-televised upset of Ohio State and less than a week removed from a thrilling overtime win at Northwestern.
But once the ball tipped against the Boilermakers, Michigan seemed to run out of steam.
"Some people commented to me that they didn't think we were as spirited or (as energetic) as we were in other games. I didn't notice that, but that could be possible," Michigan coach John Beilein said Monday during his weekly radio show. "We had an emotional game that ended at midnight on Saturday (against Ohio State), then we play an overtime game (Tuesday) and get home at 2 a.m. Then we've got a day off, practice, practice, played. For whatever reason, we weren't the same team.
"Who knows why. … We've got to get that back."
Michigan took Sunday off after the loss before returning to the practice floor Monday, a positive session, per Beilein.
With the university on spring break this week, Beilein says players have a chance to re-focus on their final two games of the regular season, at Illinois on Thursday and at Penn State on Sunday.
And, as he did following the loss, Beilein said he's confident seniors Zack Novak and Stu Douglass will push the team beyond the letdown of senior night rather quickly.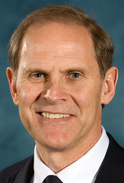 "Let's be remembered more by how we finish the season than how we played (on senior night)," Beilein said. "Let's focus now on (the task) at hand."
Presently, Michigan is tied with Ohio State for second place in the Big Ten, two games behind first-place Michigan State.
In order to grab a share of the Big Ten title, the Wolverines need to win out and Michigan State must lose to No. 18 Indiana on Tuesday and No. 10 Ohio State on Sunday.
The best Michigan can hope for at this point is a shared title. But, according to Beilein, that's much better than nothing.
"We still have goals of winning this thing," Beilein said. "We could finish in a tie, and a tie-breaker is just to determine who the No. 1 seed (in the Big Ten Tournament) is.
"If we have the same record as the other team, the same number of wins as the other top team, then we accomplished a goal. We're not the only one (in first), but it's a big-time goal."

Crisler Center renovations

Beilein said the second phase of the Crisler Center renovations is officially underway. In fact, due to construction, the Wolverines can't even practice there.
"They're blowing apart Crisler right now," he said. "We cannot go in Crisler, Crisler is officially closed right after (the Purdue) game.
"We can't practice there, it's a major reconstruction right now. ... Part of the concourse has been blown out, and they're going."
The second phase of the arena's renovation, which will cost roughly $52 million, features plans for a new lobby and entrance, private club space and an additional 63,000 square feet of space in the building.
The Wolverines have completed the home portion of their schedule, as has the women's basketball team.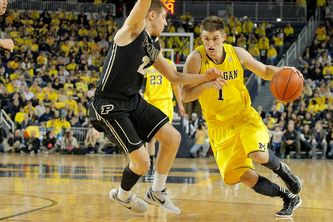 Chris Asadian | AnnArbor.com
Better play from Douglass
Beilein complimented Douglass for his improved overall efforts over the past month, especially on defense.
During Michigan's win over Ohio State earlier this month, Beilein placed Douglass against Buckeyes senior guard William Buford for the majority of the night, and the Wolverine senior responded by limiting Buford to six points on 3-of-12 shooting.
In Big Ten play, Douglass is averaging 7.7 points per game.
"He's got really good instincts for what's going on and he follows the scouting report religiously," Beilein said of Douglass. "(The Purdue loss) was the first time I was unhappy with his defense in any game over the past six or seven," "He's really evolved into a complete player.
"He's playing at a really high level right now, and that's why we've been pretty good in the last month."

Three-point barrage

As part of Michigan's practice session Monday, Beilein challenged select players to make 50 3-pointers in five minutes.
Of those participating, Beilein said only one player finished under, hitting 49 3-pointers. In total, he estimated the team made 800 3-pointers during the practice session.
"We're trying to get some muscle-memory," he said. "In 10 minutes, we made over 800 3's as a team.
"We had all those baskets going at one time, and it was very good."
Nick Baumgardner covers Michigan basketball for AnnArbor.com. He can be reached at 734-623-2514, by email at nickbaumgardner@annarbor.com and followed on Twitter @nickbaumgardner.
Want to stay connected to Wolverine basketball in your Facebook newsfeed? "Like" AnnArbor.com's Michigan Basketball News & Views.