Posted on
Tue, Feb 21, 2012 : 10:35 p.m.
Michigan basketball team takes 38 3-pointers, tops Northwestern in OT, 67-55
By Nick Baumgardner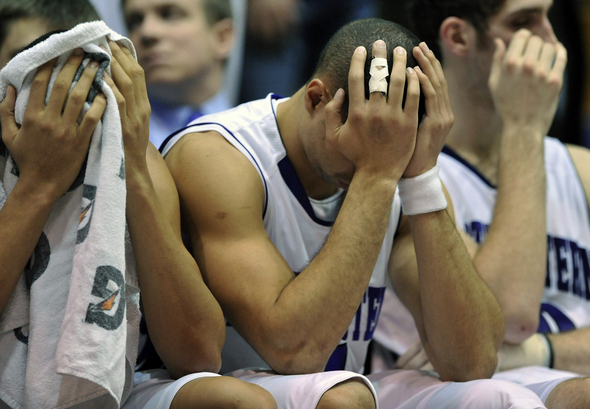 Associated Press
EVANSTON, Ill. — At times, the Michigan basketball team seems content to live or die by the 3-point shot.
On Tuesday at Northwestern, the Wolverines shot plenty and lived to talk about it.
No. 11 Michigan went 14-for-38 from the 3-point line, hitting three in a row during a 9-0 run in overtime to dispatch the Wildcats, 67-55, at Welsh-Ryan Arena.
"We missed enough to where they stayed in the zone," Michigan senior guard Stu Douglass said of the team's 3-point barrage. "But we were getting looks, and we didn't change anything.
"The message was to keep shooting."
The 38 3-pointers attempted by Michigan was a season high.
It was Michigan's third road victory of the season and its fourth consecutive win overall. With Ohio State's win over Illinois on Tuesday, the Wolverines (21-7 overall, 11-4 Big Ten) remain tied with the Buckeyes for second place in the Big Ten.
MICHIGAN 67, N'WESTERN 55 (OT)

Nick Baumgardner's recap:
KEEP ON FIRING
Michigan kept shooting. And shooting, and shooting and shooting. The Wolverines (21-7, 11-4) rattled off a season-high 38 attempts from 3-point range, connecting on 14 of them (including three straight early in overtime) to score a season sweep over the Wildcats (16-11, 6-9). The 38 attempts was easily a season-high for Michigan, and the 14 makes was one shy of a season-best.
BATTLING BURKE
Tuesday was far from Trey Burke's prettiest performance of the season. The freshman point guard went 6-for-16 from the floor and air-balled Michigan's final shot of regulation. But Burke knocked down four big triples and sparked a 9-0 start to overtime to push the Wolverines to their fourth straight win. Burke finished with a game-high 19 points in 45 minutes of action.
END OF THE LINE?
Entering the game, buzz around Evanston was that Tuesday's tilt against Michigan was one of the biggest regular-season game in Wildcat basketball history. It may have had a storybook billing, but it was far from a fairy tale finish. Northwestern is now 16-11 on the season and still has just two top-50 RPI wins on the season. With three games left, the Wildcats -- who have never made an NCAA Tournament -- are in danger of being left out in the cold again.
QUOTE
"We just came together as team down the stretch and hit everything we needed to."
— Michigan point guard Trey Burke
RELATED CONTENT
Photo gallery
Notebook: Michigan gets another lift from Matt Vogrich in foul-plagued win at Northwestern
Boxscore
|
Top 25 scores
|
Big Ten scores
Michigan State (22-5, 11-3) leads the conference and travels to Minnesota on Wednesday.
Freshman point guard Trey Burke dropped in a game-high 19 points to go along with five rebounds and four assists. And, as he did during an overtime win over Northwestern in Ann Arbor earlier this season, Burke played the entire 45 minutes.
"Coach told us to keep shooting and they were going to start falling," said Burke, who is now tied with Tim Hardaway Jr. for the team's scoring lead at 14.3 points per game. "That goes to show how much he trusts his players, and how much he trusts us to take big shots and knock them down.
Hardaway finished with 14 points and Douglass 12 points for Michigan -- going a combined 6-for-16 from 3-point range.
"We shot 38 (3-pointers), didn't we," Michigan coach John Beilein said. "That's a lot. We're going to have to put ice on those arms on the way home."
Northwestern, meanwhile, may have watched its NCAA tournament bubble burst.
Billed as one of, if not the, biggest regular-season game in Wildcat basketball history, the loss leaves Northwestern 16-11 overall, 6-9 in Big Ten play. Northwestern has never advanced to the NCAA tournament.
The Wildcats may be in bubble trouble, but Northwestern certainly has Beilein's respect.
"We've beaten them twice in overtime, and this league is so good," he said. "If we go 0-2 (against them), they're in the tournament.
"You watch them play, it's absolutely a thing of beauty."
After foul trouble to all three of its big men (Jordan Morgan, Evan Smotrycz and Blake McLimans) put Michigan in a seven-point first-half hole, the Wolverines slowly found their way back in the second half by playing defense.
Michigan held Northwestern to 3-of-11 shooting to begin the second half, outscoring the Wildcats 18-7 during that stretch, including an 8-1 spurt sparked by Douglass and Matt Vogrich triples to go back up 41-38 with 8:15 to play.
The lead changed hands four more times over the next seven minutes, with the Wildcats going back up by as many as four before back-to-back triples from Burke and Hardaway tied the game at 49-all at the 1:33 mark.
Northwestern then got two cracks at the basket after Reggie Hearn rebounded a Shurna miss, but the Wildcats couldn't take advantage, as Hearn bricked a 3-pointer with just 24.3 seconds to play.
Burke grabbed the rebound on the baseline, and he wisely called timeout before falling out of bounds.
Michigan couldn't capitalize, though, as Burke eventually airballed a last-second triple — sending the two teams to overtime for the second time this season.
"There was a lot of time for us in the timeout to think about what we were going to do," Burke said. "But we went back out there with a different mindset coming into overtime.
"We just executed."
The overtime session would feature no airballs, as Burke, Zack Novak and Douglass would hit consecutive 3-pointers, putting the Wolverines up 58-49 with 2:02 left.
The Wildcats never recovered and the smattering of Michigan fans began a "it's great to be a Michigan Wolverine" chant with 49 seconds to play.
"We'll take it," Novak said. "We'll take them anyway we can get them.
"You look at who they've beat here, we'll take this any way we can."
Michigan finished with just seven two-point baskets and shot 37.5 percent from the floor.
John Shurna led the Wildcats with 14 points on 6-of-16 shooting. Northwestern went 21-for-51 from the floor and committed 14 turnovers.
Vogrich, from nearby Lake Forest, Ill., finished with nine points off the bench for Michigan, all coming via the 3-point line.
Michigan returns to action Saturday when it hosts Purdue (6 p.m., BTN). The game will serve as the club's senior night and the Wolverines will honor Novak, Douglass, walk-on senior Corey Person and former big man-turned-volunteer assistant coach Ben Cronin.
Nick Baumgardner covers Michigan basketball for AnnArbor.com. He can be reached at 734-623-2514, by email at nickbaumgardner@annarbor.com and followed on Twitter @nickbaumgardner.
Want to stay connected to Wolverine basketball in your Facebook newsfeed? "Like" AnnArbor.com's Michigan Basketball News & Views.