Posted on
Sun, Dec 11, 2011 : 6:02 p.m.
Michigan basketball team turns in best offensive half of the season in win vs. Oakland
By Nick Baumgardner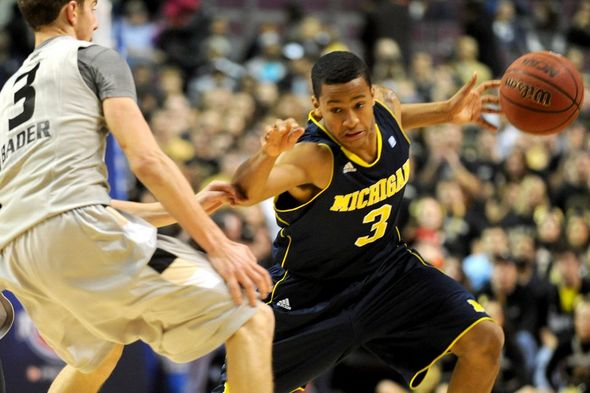 More often than not, if a game turns into a track meet, the Michigan basketball team's in trouble.
On Saturday against quick-paced Oakland, the Wolverines found themselves in that exact position. The Golden Grizzlies exerted their will in the second half, forcing Michigan to play their end-to-end style.
Rather than relent, though, the Wolverines went with the flow.
The result? Michigan racked up 58 second-half points, shot 70 percent from the floor and beat Oakland at its own game.
Who said Michigan basketball was slow and boring?
"We knew Oakland coming in was an up-tempo team," Michigan freshman point guard Trey Burke said following the 90-80 win. "But it's good to know that, in the second half, our guys ran right with them."
Michigan's second half wasn't perfect Saturday. The Wolverines turned the ball over seven times and missed seven free throws.
But it was close enough.
The Wolverines missed a total of eight shots after halftime, going 9-for-11 from two-point range and 10-for-16 from behind the arc.
Oakland kept the pace high, answering Michigan shot-for-shot for the first nine minutes of the second half, keeping the game tied at 49-49 at the 12:11 mark.
From there, Michigan did little wrong.
The Wolverines were perfect over the next six minutes, going 7-for-7 from the floor (5-for-5 from deep), breaking Oakland's back in the process.
"We needed to make them play D," Burke said. "The second half, I made sure the offense was more fluid, we got Tim (Hardaway Jr.) the ball more and it was more up-tempo."
Burke had perhaps the best half of his young career, totaling 13 points and seven assists after the break. Hardaway Jr. was able to shake off another sluggish first 20 minutes with an 18-point second-half performance.
Jordan Morgan and Evan Smotrycz were perfect from the floor, and even Stu Douglass got in on the action.
Entering the game, Douglass was mired in a nearly seven-game shooting slump. That funk officially ended Saturday, though, as he went 4-for-6 from the field after halftime before finishing with his best scoring output (13 points) since Michigan's season opener.
"We'd been shooting terrible from top to bottom for our standards," Douglass said. "It was nice to get it going."
Smotrycz, Burke and Hardaway became the program's first trio to each net 20 points in a game since Daniel Horton, LaVell Blanchard and Bernard Robinson Jr.accomplished the feat against Bowling Green in 2002.
It was easily Michigan's best offensive half of the season, and it offered a glimpse of what could be moving forward.
Michigan coach John Beilein wasn't sure why everything fell into place the way it did, he's just happy it happened.
"I don't have an answer, really," Beilein said. "Why, all of a sudden a guy hits three home runs in a day? I don't have an answer.
"Once they start going in, it may be a bit contagious."
Contagious indeed.
And for Michigan, hot shooting is an affliction the group hopes will hang around for a long time.
Nick Baumgardner covers Michigan basketball for AnnArbor.com. He can be reached at 734-623-2514, by email at nickbaumgardner@annarbor.com and followed on Twitter @nickbaumgardner.
Want to stay connected to Wolverine basketball in your Facebook newsfeed? "Like" AnnArbor.com's Michigan Basketball News & Views.