Posted on
Wed, Feb 1, 2012 : 5:58 a.m.
Michigan basketball to roll with same starting lineup for foreseeable future
By Nick Baumgardner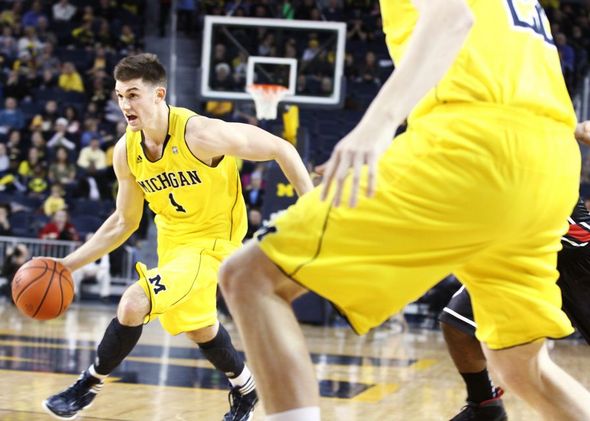 Jeff Sainlar I AnnArbor.com
More than two weeks ago, Michigan basketball coach John Beilein shook up his starting lineup.
Against Michigan State on Jan. 17, Beilein inserted senior guard Stu Douglass into the starting lineup in place of sophomore forward Evan Smotrycz.
Since that decision, Michigan has gone 2-2. And, for now, Beilein says he has no plans on changing anything.
"I like the defense we can come out with, I like how we can sometimes turn matchups in our favor," Beilein said of his current lineup. "I think we've gotten off to pretty good starts (with this current lineup)."
In the current configuration, which Michigan will feature Wednesday against Indiana (6:30 p.m., BTN), Douglass starts as the off-guard next to freshman point guard Trey Burke.
Sophomore Tim Hardaway Jr. plays the three, while senior guard Zack Novak checks the opposition's power forward, leaving Jordan Morgan at the five.
Beilein says he's been encouraged by that particular starting five's ability to begin games in a positive manner. Outside of a rough start against Arkansas, Michigan got off on the right foot against Michigan State, Purdue and Ohio State.
Against Indiana the first time this season, a Jan. 5 loss in Bloomington, Beilein started Smotrycz in place of Douglass and the Wolverines struggled from the get-go.
"We got off to a bad start (at Indiana) and we had trouble from there," he said. "They're the second or third-leading 3-point shooting team in the league, and you've got to get after them in a hurry.
"That's why we're putting as quick a team as we can out there."
Beilein didn't rule out the possibility of re-inserting Smotrycz -- who has struggled since the turn of the calendar year -- into the starting lineup at some point this season, but said it will "all depend on how people are playing."

Look-back, look-ahead?

Michigan's home game against Indiana falls in an interesting schedule gap. The Wolverines will welcome the Hoosiers to Ann Arbor for a game that falls smack in the middle of two major rivalry contests.
Michigan fell at Ohio State on Sunday and will travel to East Lansing for a rematch with Michigan State this upcoming Sunday.
Is Beilein concerned about a hangover, or a look-ahead?
"That rival stuff, I get all that stuff, but we circle every date on the calendar," Beilein said. "Whether it's an off day, a practice day, a game day, we're just trying to win that day.
"Whether it's Indiana, practice, Ohio State, Michigan State -- it's a big game for us."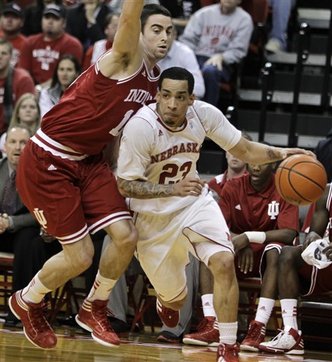 AP Photo
First look at Will Sheehey
When Michigan traveled to Indiana earlier this season, the Wolverines weren't at full strength, with sophomore forward Jon Horford missing the game due to a foot injury.
Indiana wasn't fully stocked, either. Sophomore sixth-man Will Sheehey missed the game with a leg injury.
The Wolverines won't have Horford Wednesday, but Indiana will have Sheehey -- a player Beilein paid high praise to Tuesday.
"He's really a good player and he gives them some diversity," Beilein said. "He can shoot the 3, he rebounds, he does some good things.
"That gives them more depth, certainly, but they already had a lot of depth."
In 17 games this season, the 6-foot-6 Sheehey is averaging 9.5 points and 3.1 rebounds per game.

Slowing Hulls

In the previous meeting with Indiana, Michigan held Hoosier starting point guard Jordan Hulls to one of his worst outings of the season.
Hulls, a 6-foot junior, finished with just three points in 29 minutes.
But Beilein isn't exactly banking on a repeat performance. Hulls is still a 48.4 percent 3-point shooter on the season.
"We tagged him pretty well, but he and (Matt) Roth are incredible shooters," Beilein said. "You think we have some guys that can shoot at times, those guys can shoot from the locker room.
"And you have to be with them when they walk out of the locker room. Roth is incredible. I mean, half court, I think he could shoot it from half court as well as some guys can from the line."
Roth, a 6-foot-3 senior guard, is has gone 27-for-47 from 3-point range this season (57.4 percent).
Nick Baumgardner covers Michigan basketball for AnnArbor.com. He can be reached at 734-623-2514, by email at nickbaumgardner@annarbor.com and followed on Twitter @nickbaumgardner.
Want to stay connected to Wolverine basketball in your Facebook newsfeed? "Like" AnnArbor.com's Michigan Basketball News & Views.