Posted on
Tue, Dec 14, 2010 : 10:46 p.m.
Michigan basketball very aware of Oakland's upset of Tennessee and more
By Michael Rothstein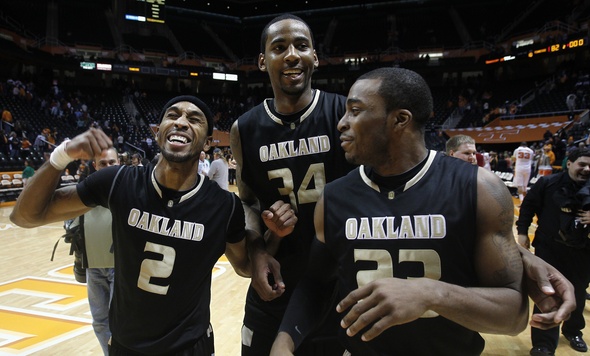 AP Photo
Standing at his locker Tuesday night, Michigan's Stu Douglass asked a reporter how many points Oakland center Keith Benson scored on Tuesday night in the Grizzlies' 89-82 upset of Tennessee.
The Wolverines knew what its next opponent had been oh-so-close to doing on Saturday in a 77-76 loss to Michigan State. In the wake of Michigan's 64-44 win over North Carolina Central, the Wolverines were already aware that the Grizzlies had upset the nation's No. 7-ranked team.
"Coach (John Beilein) was talking and he asked about it," redshirt freshman forward Jordan Morgan said. "You want to be focused on every game. We know Oakland is a good team, so we just have to come out with the same intensity that we have to come out with every game."
At noon Saturday, Michigan will play a team all of a sudden in the national spotlight when Oakland plays at Crisler Arena.
Tennessee was the fifth major conference team the Grizzlies (6-5) had played this year. They played Illinois and Purdue, both ranked teams from the Big Ten, close before the one-point loss to then-No. 7 Michigan State, when they failed to make free throws down the stretch.
"That's a great win for them," Beilein said. "It's great for Oakland and if we can have an opportunity to beat them here it's great for us, because they are obviously a very good team."
Oh, and since Douglass asked, Benson had 26 points and 10 rebounds.
Melanie Maxwell | AnnArbor.com
First 3-pointer for McLimans
Blake McLimans had to wonder after the first nine games of the season whether or not it'd ever come. Would he ever make a 3-pointer in a game?
Thirteen times McLimans tried and 13 times McLimans missed, whether he was defended or wide open.
"It was definitely on my mind," McLimans said. "But you've got to go out there and not really think about that and do the little things and, hopefully, it'll come."
On Tuesday it did. With Michigan's win over North Carolina Central wrapped up, McLimans let loose a 3-pointer from right of the top of the key.
And, for the first time in his career, it went in.
"Definitely felt good, finally getting that first three," McLimans said. "Hopefully now that I saw it go in the net, it'll go in more often."
This and that
Michigan governor Rick Snyder was in attendance Tuesday and his name was chanted by the Michigan student section, the Maize Rage, until he acknowledged them. … Michigan will continue its normal practice schedule through final exams, although the Wolverines will take Wednesday off. … Assistant coach Bacari Alexander was the N.C. Central scout. Beilein said Jeff Meyer is the Oakland scout.
Michael Rothstein covers Michigan basketball for AnnArbor.com. He can be reached at 734-623-2558, by e-mail at michaelrothstein@annarbor.com or follow along on Twitter @mikerothstein.