Posted on
Mon, Jan 11, 2010 : 12:11 p.m.
Michigan basketball coach John Beilein signs contract extension through 2015-16
By Michael Rothstein
At every Division I job he has had, Michigan coach John Beilein has stayed for exactly five years before moving on.
Now, Beilein, in his third season at Michigan, may have found a home. He agreed to a contract extension through the 2015-16 season, and outgoing athletic director Bill Martin said in a statement on Monday that Beilein has said he'd like to retire at Michigan.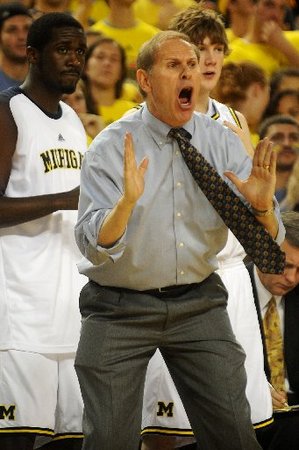 Michigan is Beilein's fourth Division I stop, after stints at Canisius, Richmond and West Virginia.
"I've been a coaching nomad for quite a few years," Beilein said. "And Michigan is a place that I want to coach and bring back to the top of the Big Ten.
"It's the only place I want to coach at."
Beilein, a 57-year-old native of Burt, N.Y., said he began discussions with Martin about a contract extension after last season. When the contract expires, Beilein - who turns 58 on Feb. 5 - would be 63 years old.
"What he has done on and off the court with our men's basketball team has been tremendous, and he has made it clear he wants to coach at Michigan until he retires," Martin said in a statement. "This contract extension is a win-win situation for the men's basketball program at Michigan and for coach Beilein."
Beilein will be paid $1.7 million in 2010-11, $1.8 million in 2011-12 and 2012-13 and then $1.9 million in 2013-14, '14-'15 and '15-'16.
In all, Beilein stands to make $12.7 million dollars throughout the rest of his contract, an average of $1,814,286 a year.
In three seasons at Michigan, Beilein is 39-43. After taking the Wolverines to the NCAA tournament last year and having his team ranked in the Top 15 to start the season, Michigan is 8-7 overall and 2-2 in the Big Ten.
Michael Rothstein covers University of Michigan basketball for AnnArbor.com. He can be reached at (734) 623-2558, by e-mail at michaelrothstein@annarbor.com or follow along on Twitter @mikerothstein.