Posted on
Fri, Apr 5, 2013 : 5:59 a.m.
Thousands of Michigan fans heading to Atlanta for Final Four
By Pete Cunningham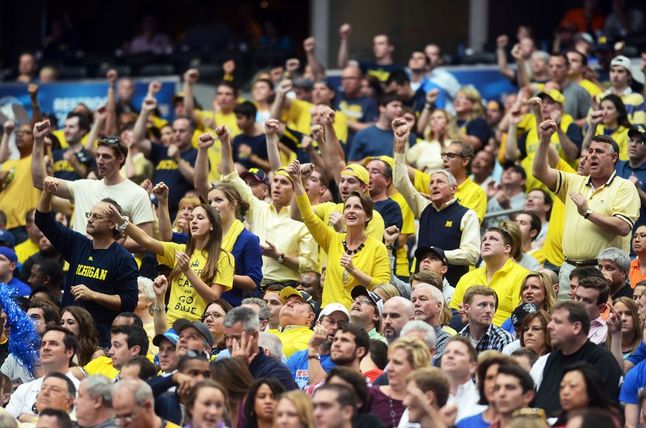 Melanie Maxwell | AnnArbor.com
Chaim Frenkel
graduated from the University of Michigan in 2012 and shortly after moved to Atlanta to work for a startup company. Because of his religious beliefs, Frenkel doesn't use a car or public transportation from sundown on Friday until sundown on Saturday in observation of the Sabbath.
So when he straps on his walking shoes and throws on his Michigan gear to make the 7-mile trek from his apartment to the Final Four festivities in downtown Atlanta on Saturday, he'll be keeping the faith in more ways than one.
To his team, and his religion.
"I'll be walking the seven miles with my Wolverine flag tied around my neck," said Frenkel, who won't be alone. He said most of the eight to 12 people he'll be hosting at his apartment for the weekend will join him.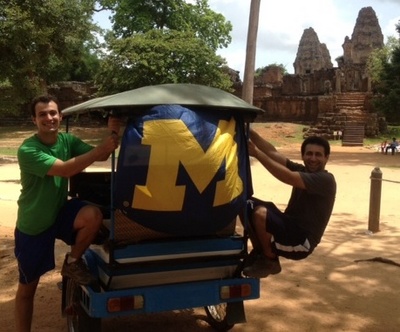 Photo courtesy of Chaim Frenkel
"Most do not have the same (religious) commitments, so I'm not sure if they're doing it out of dedication to friendship or for the exercise," he said with a laugh. "It's going to be a lot of fun."
Not long after Michigan's win over Florida last Sunday, Frenkel began receiving requests for couch space. He said his open door policy for the weekend likely will lead to very little couch space for a lot of people.
"I'm predicting my apartment will be swamped by Wolverines," Frenkel said. "I'm getting all my Michigan gear ready."
Frenkel and his friends likely will see plenty of maize and blue on their journey downtown. The Alumni Association of the University of Michigan quickly sold out of its 300 allotted tickets and sold close to 300 separate travel packages -- which include airfare, hotel, shuttles and events but not game tickets -- according to Tonja Deegan, digital marketing manager for AAUM.
This is in addition to the 3,950 tickets allotted by the NCAA to Michigan for fans and season ticket holders.
"We have a lot of (Michigan) locals looking for tickets, but we had people nationwide calling about tickets," Deegan said. "We sold out fairly quickly."
There also will be plenty of resident Wolverines fans already in Atlanta. The AAUM's U of M Club of Atlanta - made up of alumni in Atlanta and the surrounding areas - is more than 5,000 members strong according to treasurer and communications manager Cheryl Summers. The club will be hosting the "unofficial" Michigan fan parties at the Whitehall Tavern in downtown Atlanta and Pepperonni's Tavern in nearby Alpharetta.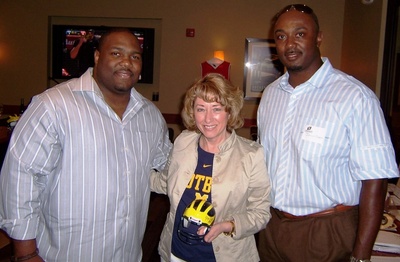 Photo courtesy of Cheryl Summers
Summers, a 1976 Michigan graduate, said the club has been going to the two locations for years for football and basketball games. The NCAA designates certain bars and restaurants the "official" hangouts for the different fan bases for the Final Four, but Summers said the club is sticking with its regular hangouts — and inviting visitors to join them — now that the times are good.
"We're very protective of Whitehall and Pepperoni's. They stuck with us through the lean Rodriguez years so they deserve to cash in," Summers said. "What were we that year, 3-9? Oh god, that was pathetic."
Brad Bauer, managing partner at Whitehall looks forward to the influx of Michigan fans in addition to the regulars. He's expecting a standing room only crowd by game time in the 300 person venue.
Bauer is a University of Georgia fan, but said he's become a Michigan fan by osmosis.
"It's hard not to pull hard not to pull for 'em when there are 200 screaming for them every game," Bauer said.
Pete Cunningham covers sports for AnnArbor.com. He can be reached at petercunningham@annarbor.com. Follow him on Twitter @petcunningham.