Posted on
Tue, Mar 2, 2010 : 10:54 a.m.
Michigan forward DeShawn Sims isn't planning on being sentimental on senior night
By Michael Rothstein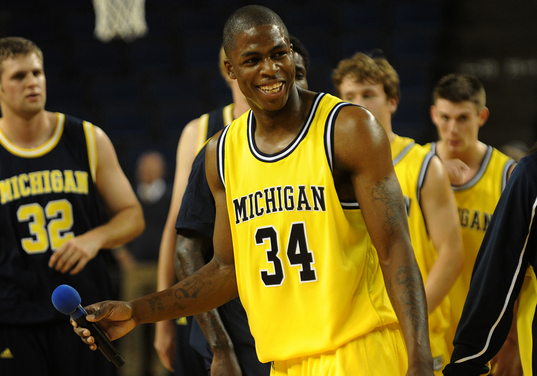 Melanie Maxwell | AnnArbor.com
DeShawn Sims isn't expecting to be too emotional for his official Senior Day against Minnesota at Crisler Arena. It's not his style.
The always-honest, often-hilarious University of Michigan senior will play his final home game Tuesday night (7 p.m. tip; TV: Big Ten Network) barring an unlikely postseason trip.
"I'm not the sentimental guy at all," Sims said. "My mom always told me I was crying but I haven't cried in so many years. I just don't see it. I don't see any sentimental bone in my body."
Michigan will miss the 6-foot-8 senior who will finish among the Wolverines' all-time top 20 in scoring and rebounding. He's been Michigan's one consistent inside presence this season and a guy who seemingly makes everyone comfortable in every situation.
His personality is so infectious it left Michigan coach John Beilein, who has been a head coach for 32 years, saying Sims will go down among his favorite personalities in a career spanning seven colleges.
What makes Sims so likeable is his ability to say anything and make people laugh.
Take, for instance, a pre-game speech he made to the team earlier this year.
"I forget which game it was before but he got all serious and started to give us this speech," sophomore guard Zack Novak said. "And he ends it and he's like 'All right, we need to win on offense. We need to win on defense. And we need to win on special teams.'"
Sims is the guy who Beilein said called freshman Blake McLimans 'Kyle,' "because he said he looks like a Kyle."
What does Sims remember from his college career?
Being healthy, for one. He has played in every Michigan game the past three seasons and started every one this year - the only Wolverine to do so.
"There's a lot of statistical things that I don't know about myself. There's a lot of things I just don't know," Sims said. "To be able to come and play every game healthy, to be able to be healthy and play every game has been great for me. Never getting hurt.
"I've seen guys go down with injuries but I've never missed a game due to injury. I've seen guys do it on my team over the past four years. But I've been a warrior, played in every game that the coaches wanted me to. Doing that has been one of my biggest memories."
Then there's hitting a game-winner in a comeback against Savannah State a year ago that had Michigan lost the game, the Wolverines likely would have missed the NCAA tournament in all four of Sims' seasons in Ann Arbor.
There's winning against Duke.
And there's the fans - and how they showed up at the beginning of this season.
"How our fan base just expanded," Sims said. "It's been the best, the loudest, the most energetic since I've been here and to see something evolve like that…"
His words trailed off then.
The next question, the most obvious one, was about how the fans that showed up at the beginning of this season started to dissipate as Michigan struggled through the year.
Sims noticed.
"It kind of hurt," Sims said. "But you support the fans that stick with you through thick and thin and you also kind of take a little blame for it. If we were doing our job as far as wins and losses, I don't think that would have dropped at all.
"You take the blame for it and you just support the people who stayed in your corner."
While the season has been a disappointment, Sims has been a bright spot. He's averaged a career-best 16.9 points and 7.8 rebounds and emerged as Michigan's first offensive option on a team with junior guard Manny Harris.
He also became the Wolverines' most consistent player, despite being undersized often against taller big men.
Michigan fans recognized that. At the Wolverines' students' last home game a week ago - they are on spring break this week - they chanted 'Thank you, Peedi,' as he walked off the court in that game.
Sims heard them. He'll remember that for a while. And no matter what happens Tuesday, he's not going to forget it.
"That was kind of like 'Wow,' you know," Sims said. "That's when I realized they weren't going to be here for the official senior day, which that hurt it a little bit.
"But chanting my name, they can do whatever, tomorrow is a day I'm going to remember forever no matter how the game goes."
Michael Rothstein covers University of Michigan basketball for AnnArbor.com. He can be reached at (734) 623-2558, by e-mail at michaelrothstein@annarbor.com or follow along on Twitter @mikerothstein.