Posted on
Tue, Dec 13, 2011 : 9:33 p.m.
Tim Hardaway Jr. bruises tailbone, Jon Horford sits out Michigan's win over Arkansas-Pine Bluff
By Nick Baumgardner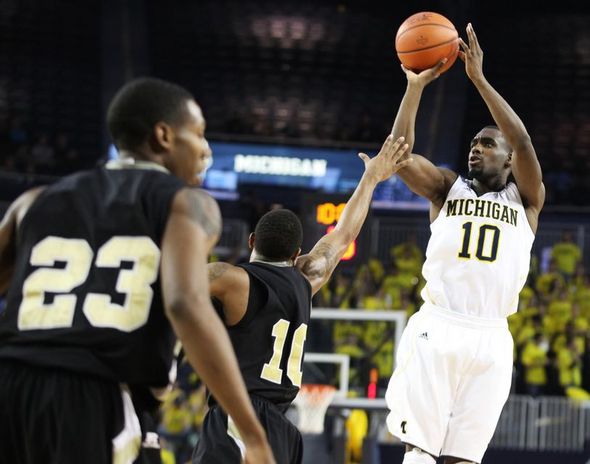 Jeff Sainlar | AnnArbor.com
The injury bug appears to have bitten the
Michigan basketball
team for the first time this season.
Tim Hardaway Jr., the team's leading scorer, suffered a bruised tailbone during the first half of a 63-50 win over Arkansas-Pine Bluff on Tuesday, while sophomore forward Jon Horford sat out the game with a right foot injury.
Hardaway, who is averaging 15.6 points per game this season, isn't expected to miss any game or practice time, though, according to Michigan coach John Beilein.
"They've just got to ice the heck out of it right now," Beilein said after the game. "He fell on his tailbone. He came (back) in there (in the second half) and I didn't feel like he seemed like himself."
The injury occurred with 1:34 to go in the first half when Hardaway was whistled for fouling Arkansas-Pine Bluff guard Lazabian Jackson on a 3-point attempt.
Hardaway and Jackson bumped into each other in the air, and Hardaway landed awkwardly on the Crisler Arena floor. The 6-foot-6 sophomore laid on the ground in pain for roughly 20 seconds before being helped to the Michigan bench.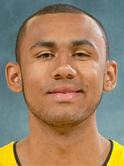 He started the second half, but didn't last very long, finishing the game with eight points in 19 minutes -- just six of those minutes coming after the break.
While Hardaway is expected to be fine, the news might not be as positive for Horford.
Beilein said Horford continues to fight through a stress injury to the fifth metatarsal of his right foot. Currently, there is no broken bone in Horford's foot, but Beilein said the situation could lead to a break if proper rest isn't given.
Horford did dress Tuesday and is currently cleared to practice, though Beilein said he wasn't planning on using the 6-foot-10 forward outside of an emergency situation.
"I didn't have a plan for him to be in there unless it was an emergency situation because we're trying to let the foot heal 100 percent," Beilein said. "It's a stress area that could break or could show a fracture if not taken care of and continued pounding would do that.
"We're trying to stay away from continued pounding."
Beilein said Michigan may consider resting Horford on Saturday against Alabama A&M and again next Thursday against Bradley, giving him time to rest before Michigan opens Big Ten Conference play against Penn State on Dec. 29.
Horford is averaging 2.7 points and 3.6 rebounds in nine games this season.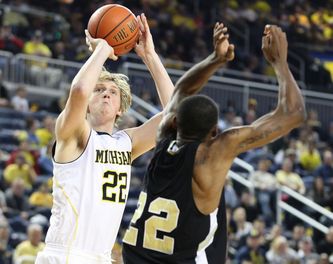 Jeff Sainlar | AnnArbor.com
No extended rest for the starters
Outside of Hardaway, Michigan was forced to give its main rotation players normal minutes Tuesday against Arkansas-Pine Bluff.
Burke and Novak each played 37 minutes, while Smotrycz logged 30. Morgan finished with 21 minutes, as did Vogrich, while Douglass logged 19.
Of the back-rotation players, only junior Blake McLimans saw extended action, logging 11 minutes.
Freshman guard Carlton Brundidge played, but only received one minute.
"I just wanted to get that (lead) up to 25 or 30 and clear the bench, that's what I was trying to do," Beilein said. "But it never happened."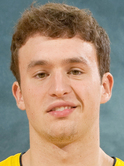 Novak continues to stuff the stat sheet
Earlier in the week, Beilein said the growth of Smotrycz as a post player has allowed him to use Novak almost primarily at the two-guard position this season.
That move continued to pay off Tuesday.
After finishing with five points, eight assists and six rebounds in a win over Oakland on Saturday, Novak had five points, six assists and five rebounds against Arkansas-Pine Bluff.
He also became the 40th player in Michigan history to grab 500 rebounds, as he now sits with 504 for his career.
"He's playing so solid," Beilein said. "He's just really solid, rarely makes a mistake and is doing everything defensively. Really, really good."

Turnovers, turnovers

With 19 turnovers Tuesday, Michigan now has 36 miscues in its last two games. It's an ongoing issue few players had an answer for following the win over UAPB, and one Beilein said can't happen again.
"That will be officially the last game we ever win when we have 19 turnovers this year," Beilein said. "I don't predict that happening again."
The turnover problem wasn't limited to one player, though, as it was more of a team effort.
Sophomore forward Evan Smotrycz led the way with five turnovers (zero assists), while Hardaway, Jordan Morgan and Trey Burke each added three. Senior guard Stu Douglass had two, while Zack Novak, Matt Vogrich and Eso Akunne all finished with one.
"We just get a little bit (sloppy) with the basketball when we get a lead," Novak said. "I don't think we mean to, it just happens.
"That's not the way we play."
Nick Baumgardner covers Michigan basketball for AnnArbor.com. He can be reached at 734-623-2514, by email at nickbaumgardner@annarbor.com and followed on Twitter @nickbaumgardner.
Want to stay connected to Wolverine basketball in your Facebook newsfeed? "Like" AnnArbor.com's Michigan Basketball News & Views.