Posted on
Fri, Nov 26, 2010 : 11:17 p.m.
Michigan forward Jordan Morgan excels again and Glen Rice's dream matchup fizzles
By Michael Rothstein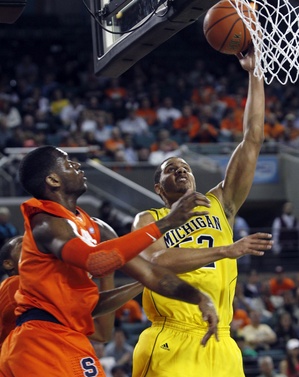 Mel Evans | AP Photo
ATLANTIC CITY, N.J. -
Jordan Morgan
had played well against opponents he should have played well against, guys recruited to smaller schools without the skill set or size Morgan possesses.
This, though, was different.
Syracuse had long bodies. It had highly-touted recruits. And Morgan, the Michigan basketball team's redshirt freshman forward from Detroit, outplayed them, too.
Morgan had 11 points and eight rebounds in Michigan's 53-50 loss to Syracuse Friday in a semifinal of the Legends Classic.
He played well enough that he was part of the reason Syracuse adjusted the structure of its 2-3 zone in the second half.
"They were probably a little more focused on stopping our inside game once they realized we had interior play," said Morgan, who had averaged 12 points and 7.3 rebounds in wins over South Carolina Upstate, Bowling Green and Gardner-Webb.
"Blake (McLimans) hit a little jump shot in the middle and they probably felt they had to respect it a little bit more, so that was able to get our shooters open."
Michigan's shooters couldn't do much with it in the second half, but Morgan proved he could play with any opponent in the country.
"It was a good first half for him, (it showed) that he can do some things," Michigan coach John Beilein said. "He's learning, but we keep pushing him to get even more done because he's learning about the intensity you have to play with at this level.
"He's soaking it up, wants to be a player."
On Friday night in this East Coast gambling town, Morgan showed why going with him as Michigan's starting center is no risk.
Spark off the bench Junior guard Stu Douglass continued his solid play off the bench, scoring 11 points and giving Michigan a much-needed lift from the 3-point line.
Douglass made 3 of 6 long-range shots, including a critical one with 5:50 left to give Michigan its last lead, 45-44
"They really keyed on him in the second half much more," Beilein said. "I told Stu, you know how important it is. We've always had guys come off the bench and give us a spark, score some points and guard. Stu is a very good defender.
"It was really good for him to do that. Especially against that zone, you need someone who can shoot deep and, at the same time, he does a great job running our club when called upon."
Rice won't get his matchup ... Former Michigan guard Glen Rice, the school's all-time leading scorer, sat in the seventh row Friday night watching his son, Glen Rice Jr., play for Georgia Tech.
At halftime of the Yellow Jackets' 71-61 win over UTEP, Rice confessed he wanted to see his son play his alma mater.
And that, if it happened, he would root for Michigan.
"I've only been dreaming about Michigan and Georgia Tech playing," Rice said. "And when I think about it, I'm thinking 'How is this going to work? I've got to cheer for Michigan and I've also go to cheer for my son.'"
He won't get his wish. Instead, he'll be able to hope his alma mater wins a consolation game and then root for his son in a championship game against Syracuse.
... but Hardaway Jr. will… Heading to Atlantic City, Michigan freshman guard Tim Hardaway Jr. thought about the possibility of playing UTEP, his father's alma mater.
This just wasn't the way he wanted it.
Tim Hardaway Sr., who starred at UTEP before an All-Star career in the NBA, was also in attendance at Boardwalk Hall.
"We talked about it here and there, I knew that was one of the other reasons he came up here, to watch his alma mater play," Hardaway Jr. said. "It's going to be a nice game."
Still winless against Boeheim Beilein entered Friday's game 0-8 against Syracuse coach Jim Boeheim. He left 0-9, but with his team closing the gap.
In 2006, Boeheim's Syracuse team beat Beilein's West Virginia team, 60-58. So for the second straight game, four years apart, it was close.
"We beat them in the past because our offense was good," Boeheim said. "Our offense was horrible tonight."
This and that Michigan's nine turnovers were a season-low. So were the Wolverines' 11 assists. … The 19 points scored in the second half was a season-low. … Among the luminaries in the stands Friday were Rice, Tim Hardaway Sr. and former NBA player Pervis Ellison.
Michael Rothstein covers Michigan basketball for AnnArbor.com. He can be reached at 734-623-2558, by e-mail at michaelrothstein@annarbor.com or follow along on Twitter @mikerothstein.