Posted on
Sun, Jun 12, 2011 : 8:57 a.m.
Michigan guard Tim Hardaway Jr. prepares for U-19 USA Basketball tryouts
By Michael Rothstein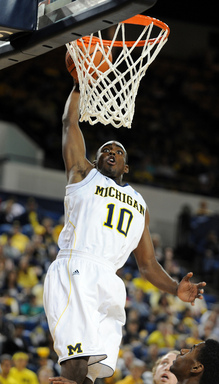 File photo
Tim Hardaway Jr. left John Beilein's office in April surprised, flattered and eager to call his father.
The Michigan basketball coach told his sophomore star he was invited to the USA Basketball Under-19 tryouts this month in Colorado Springs, Colo., in an attempt to make a team that will compete for the U19 FIBA world championships in Latvia from June 30-July 10.
So for the past two months, Hardaway Jr. has had a dual focus as he's worked out in Ann Arbor and Miami.
Make the USA team. Make himself better for the next Michigan basketball season.
"Ballhandling, getting quicker, getting stronger, getting more explosive," Hardaway Jr. said. "Since we lost Darius, we really need people that can try to get to the basket a lot more and just create for others. I'm just working on facets of my game to help my team."
One aspect of Hardaway Jr.'s game has been focused on more than the others: His ability to drive to the basket.
Although Hardaway Jr. showed flashes of potential getting to the hoop during his freshman year, he too often settled for mid-range jump shots or 3-pointers. It was something Beilein harped on throughout the season. It was something his teammates told him he should do more.
And now that his rookie year is done, Hardaway Jr. agreed. He needed to get to the basket more last year, so he and his father — former NBA All-Star Tim Hardaway Sr. — began drilling to expand his game into another drive.
Hardaway Sr. also felt that was his son's biggest weakness a year ago, so he planned on focusing on that anyway. The added encouragement from the Michigan coaching staff helped.
"Skill moves to the hole," Hardaway Sr. said. "In-and-out moves, crossover moves, spin moves. Understanding how to get to the hole.
"Basically one-on-one moves, that's all."
Few would understand how to drive to the basket better than Hardaway Sr., who owned a move named the Killer Crossover during his playing days and was one of the better drive-and-dish point guards in the NBA.
Hardaway Jr. won't be a point guard now or in the future, but with the way Michigan uses ball screens with redshirt sophomore forward Jordan Morgan, it has become a critical part of the offense. When point guard Darius Morris departed for the NBA, Hardaway Jr. became a focal point for the Wolverines' offense both in-and-out of ball screens.
In addition to that, he has also been running outside in the humid Miami heat two miles every other day in order to increase his stamina and conditioning.
Before Michigan, though, Hardaway Jr. wants to head to the World Championships — the second person in his family to represent USA Basketball. Hardaway Sr. was a part of three USA Basketball teams and won one gold medal in the 2000 Sydney Olympics. He was injured before the 1996 Olympics and the 1998 World Championships ended up fielding a team of college and CBA players instead of NBA stars.
Hardaway Jr. will be trying to be one of 12 players trying out to make the team made up mostly of incoming college freshmen and those who were college freshmen last year.
"At first, I really didn't want to go but I thought about it with Evan (Smotrycz) and he was like, 'You should take it. It's a once-in-a-lifetime thing and nobody else is doing it,'" Hardaway Jr. said. "I just want to be recognized in that group of athletes that actually has a chance to represent the nation."
Michael Rothstein covers University of Michigan basketball for AnnArbor.com. He can be reached at (734) 623-2558, by email at michaelrothstein@annarbor.com or follow along on Twitter @mikerothstein