Posted on
Sat, Feb 12, 2011 : 8:36 p.m.
Michigan guard Tim Hardaway Jr. "punks" Indiana, lineup maneuvering and more notes
By Michael Rothstein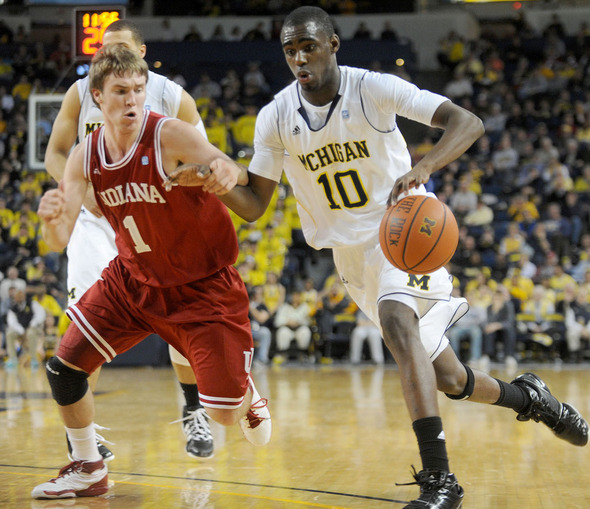 Angela J. Cesere | AnnArbor.com
What started as an average game ended in a flurry for Tim Hardaway Jr.
The Michigan basketball team's freshman guard has been emerging as a go-to player during the Wolverines' current three-game win streak. And Saturday's 73-69 win over Indiana was no different.
Hardaway sliced through and shot over Indiana in the second half, scoring 17 of his career-high 26 points after halftime and earning the praise of Indiana coach Tom Crean.
RELATED CONTENT
"He punked our guys," Crean said. "He's good, but we're good enough to guard a young man like that. He's become a shot maker. Earlier in the season, he was a shot taker."
Hardaway has also been Michigan's big playmaker the past week. He made two 3-pointers midway through the second half to give the Wolverines a 61-42 lead Saturday. Before that, he made a 3-pointer during a second half-opening 9-4 run that gave the Wolverines a double-digit lead, 41-28.
"He's playing with a lot of confidence right now," Michigan junior guard Zack Novak said. "He's come through big for us a couple games now. The kid's a player. We've been saying it all year long and he's shown flashes.
"Now, he's starting to put it together."
In the last five games, Hardaway has averaged 18 points, 4.2 rebounds, shot 55.2 percent (32 of 58) from the floor and 50 percent (17 of 34) from the 3-point line.
Staying with the lineup For the second straight game, Michigan coach John Beilein started junior guard Stu Douglass in place of freshman forward Evan Smotrycz.
It was a decision the fourth-year coach said he was still mulling Friday. Whether or not it remains permanent, Beilein isn't telling.
"I don't know," Beilein said. "That's two games in a row we got off to a pretty good start. I think we have an opportunity to get off to an even better start. But it could be.
"I'll just keep looking at it."
Douglass, who was receiving starter's minutes regardless, scored 13 points. Smotrycz had three points and three rebounds in 17 minutes off the bench.
Foul patrol Much of both team's game flow was curtailed by fouls Saturday.
The teams committed a combined 53 fouls (Indiana 30, Michigan 23) and each had at least one player foul out.
Indiana guard Jeremiah Rivers had four fouls in the first half, after being dinged for a technical foul along with Michigan's Darius Morris, and fouled out with more than nine minutes left.
"Rivers got a little frustrated over a call and he started walking toward my teammate, Novak, and Novak had his back turned. I didn't want him to do anything to him," Morris said. "So I just kind of put my hand out and just said 'Chill.'
"Double tech, I don't know. I was just sticking up for my teammate. I didn't say anything else after that, just put my hand up and was, like, 'Chill.' By the time that happened the ref turned his back and called double tech."
Beilein didn't seem too happy with Morris — something the sophomore point guard understood. It was Michigan's second technical foul of the season. Smotrycz picked up one against Oakland in December.
"You're never happy when someone gets a technical foul," Morris said. "You shouldn't be."
Michigan redshirt freshman forward Jordan Morgan fouled out with 2:19 remaining.
As far as the fouls in general, Beilein said there was something he wanted to contact the Big Ten offices about, but wouldn't elaborate.
"There was one thing I have to talk to the officials about, which is how people are drawing fouls right now," Beilein said. "It's a good strategy to draw fouls, but I don't think it is the intent. So we just want to keep looking at it."
Angela J. Cesere | AnnArbor.com
This and that Michigan governor Rick Snyder, a season-ticket holder, went to the Michigan student section at halftime to shake some hands (photo at right). The Maize Rage chants his name pretty much every game. … Detroit Pistons forward Austin Daye sat in the front row Saturday and former Wolverine Maceo Baston was also in attendance.
Michael Rothstein covers Michigan basketball for AnnArbor.com. He can be reached at 734-623-2558, by e-mail at michaelrothstein@annarbor.com or follow along on Twitter @mikerothstein.