Posted on
Sat, Dec 18, 2010 : 4:18 p.m.
Michigan guard Zack Novak continues to rebound, a shoe change and more
By Michael Rothstein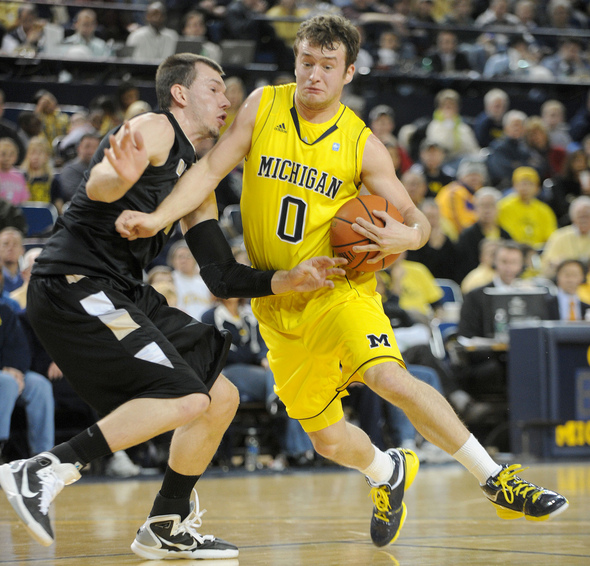 Angela J. Cesere | AnnArbor.com
Zack Novak insists it has little to do with him, that his absurd rebounding totals this month have more to do with everyone around him instead.
But it isn't often a 6-foot-4 guard (who is really 6-foot-2), leads his team in rebounding almost every game. Yet that's just what the Michigan junior guard is doing.
"I know you're probably going to think I'm bluffing on this one, but the game plan today was keep (Keith) Benson and (Will) Hudson ... off the boards and I'll go get 'em.
"So I'm just cleaning up easy rebounds."
For the third time in five games, Novak has grabbed double-digit rebounds, getting 12 Saturday in a win over Oakland after notching 11 against Harvard and 14 against Concordia. He's led or tied for the team lead in rebounding in six of 11 games this year.
Combined, the 6-foot-9 Hudson and 6-foot-11 Benson grabbed 13 rebounds.
Novak also had his third double-double of the season Saturday, scoring 13 points. And coach John Beilein thinks a bigger scoring night is coming.
"Now that he's handling the ball more, I think he's going to see the court better," Beilein said. "But he's going to go off one of these days. His shot is looking so good right now."
It can't be the shoes
When Michigan wears its maize jerseys, black socks and black shoes typically are worn along with them. It's a trend started at Michigan when the Fab Five became a cultural phenomenon.
It changed Saturday.
Michigan wore the maize jersey, but went with white socks and, for the most part, blue and yellow shoes — although junior guard Stu Douglass had blue-and-white shoes instead.
So what happened?
"I don't know, our equipment manager put it in our locker room. I asked the team did they want to do this instead of the black socks and black shoes," sophomore guard Darius Morris said. "I guess people wanted to show these off, I guess. I was okay with it.
"But we'll definitely be going back to the black shoes, black socks."
Technically speaking
Evan Smotrycz had to think back a little bit. He couldn't remember the last time he had picked up a technical foul.
The answer now is Saturday against Oakland. The freshman forward picked up the first technical given to a Michigan player or coach this season with 12:05 left in the first half.
"I didn't do anything," Smotrycz said. "I was just helping Jordan (Morgan) up and the kid pushed me and said some words."
Smotrycz and Oakland forward Iljia Milutinovic both received technicals for a small scuffle after a jump ball.
As for the last time Smotrycz received a technical? He said it was his freshman year at Reading (Mass.) High School.
This and that
Longtime official Ted Valentine worked his first Michigan game of the season Saturday. … The Wolverines, despite being undersized, outscored Oakland in the paint, 28-20. … Beilein, when asked if his team would receive votes in the AP Top 25 poll this week, laughed off the question and said "Oh, I hope not. Let us play. Just let us play."
Michael Rothstein covers Michigan basketball for AnnArbor.com. He can be reached at 734-623-2558, by e-mail at michaelrothstein@annarbor.com or follow along on Twitter @mikerothstein.