Posted on
Sat, Dec 4, 2010 : 5:28 p.m.
Michigan guard Zack Novak has a double-double, not playing zone and more
By Michael Rothstein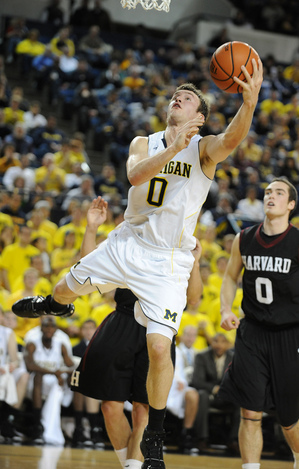 Lon Horwedel | AnnArbor.com
John Beilein has always called junior Zack Novak an underrated rebounder. The fourth-year Michigan basketball coach has long said when Novak moved from forward to guard, he might actually end up grabbing more rebounds.
Saturday proved the point.
Novak grabbed 11 rebounds and also hit two critical 3-point baskets down the stretch of Michigan's 65-62 win over Harvard.
"I don't know if we can expect double figures," Novak joked of his rebound total.
The reason for the big output, he said, had little to do with himself. Michigan merely boxed out better on the Crimson, so it allowed Novak to take open paths to the basket. When he did, no one was around to block him out.
His point is well-taken. All of Novak's rebounds were defensive.
It was merely part of a second-straight good game for the Chesterton, Ind. native. Along with his season-high 11 rebounds, he scored a season-high 12 points.
He also made a season-high four field goals while taking a season-high 11 shots. For the second straight game, he made 2 of 6 shots from 3-point range.
With Harvard playing small -- similar to how Michigan played a year ago, when Novak was mainly a forward -- Novak seemed to be able to do what he wanted.
"He goes in there and rebounds," Beilein said. "But he go in a little bit of waves with his shot, but it's starting to even out.
"Those were two big ones that he hit and the 11 rebounds were huge for us."
Making the switch For the first time, the Wolverines started a different lineup in the second half than at the start of the game.
Guard Stu Douglass replaced Evan Smotrycz in the lineup -- joining Novak, Darius Morris, Tim Hardaway Jr. and Jordan Morgan -- and played the entire second half.
"Tommy (Amaker) just took us out of everything," Beilein said. "We had to put in a lot of specials. I watched the film, painfully, from three years ago when we played them and they had a similar attack defensively. So we had to do some different things.
"Not that all of it worked."
Whether it was due to style of play or the closeness of the game, Michigan also shortened its bench Saturday. Freshman forward Jon Horford didn't play for the first time. Freshman forward Colton Christian did not play in the second half and Smotrycz played sparingly after halftime.
No zone, no way With the shooters Harvard had, Beilein said he never thought once about ditching the man-to-man defense for either a 1-3-1 or 2-3 zone.
That was probably a smart move for multiple reasons. First, Michigan's young team has shown it is a better man-to-man than zone team. Second, the Crimson played four shooters.
"We weren't going to zone that team one second," Beilein said. "Maybe, because they'll probably never see it, you probably should zone them. They won't know how to attack it because nobody plays it against them.
"That team, boy, there's two or three of those players out there you can put on any Big Ten roster."
This and that Sophomore guard Jordan Dumars, who transferred to Michigan from South Florida following the fall semester last year, said Saturday he should be eligible to play starting with Bryant on Dec. 23. … Future Michigan governor Rick Snyder attended the game and sat in the front row. Multiple times in the second half, the Maize Rage -- Michigan's student section -- chanted Snyder's name. Once, he waved.
Michael Rothstein covers Michigan basketball for AnnArbor.com. He can be reached at (734) 623-2558, by e-mail at michaelrothstein@annarbor.com or follow along on Twitter @mikerothstein.