Posted on
Thu, Dec 23, 2010 : 8:01 a.m.
Michigan has its share of for-profit autograph seekers
By Michael Rothstein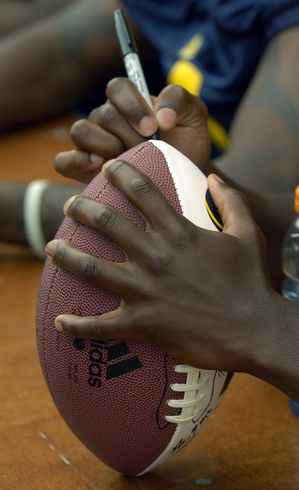 AnnArbor.com file photo
They emerge from every angle of the Michigan Stadium parking lot with binders, helmets and Sharpie pens — silver and black and gold and blue — in tow.
Their targets are leaving the Junge Family Champions Center after playing a football game. Mixed among the mass of Michigan football fans is the professional autograph seeker, the man or woman who collects signatures for money, to turn around and sell them on eBay or elsewhere.
They exist at most major college sports venues, another example of everyone around college athletics cashing in on athletes — except athletes themselves.
"There's guys you can tell," Michigan safety Jordan Kovacs said. "They've got four helmets and you're signing each one. You can tell they are going to end up selling them.
"I try to get the kids first, because I know what that was like going up to guys asking for autographs. I can put myself in their shoes. There's a lot of older guys that do it, too, and not all of them have intentions of selling them."
Almost every Michigan athlete AnnArbor.com talked with for this story said it didn't bother them what people did with the autographs once they signed them, but it is a concern to the school.
Michigan associate athletic director Dave Ablauf said he'll usually talk with football players about the realities of autograph seekers. During Michigan's annual fan day, the school limits autographs to one per person for each athlete.
The advice Ablauf gives the players came from a conversation he had with Archie, Peyton and Eli Manning.
"The Mannings told me to have our athletes personalize anything that they sign, like 'To Mike,' and then you write your name over a portion of the 'To Mike,'" Ablauf said. "That way, if they try to wipe off where you personalized it, chances are they are going to wipe out the signature."
Ablauf said just asking an autograph seeker's name for personalization purposes will help figure out who is trying to sell an autograph versus who wants it for personal use.
Michigan basketball coach John Beilein gives his team similar advice. He tells them to be patient with people, to ask their names and to always address them while looking them in the eye.
That way, he says, you create a moment instead of something much more insignificant. It becomes a human interaction.
"You try to have a good spirit about it," Beilein said. "You're giving a fan an autograph and not thinking, 'He's going to sell this.'"
Ablauf's conversations are often reiterated to players whose star quotient rises.
"Mike Hart probably comes to mind that I spent the most time with because he would just get bombarded," Ablauf said. "I traveled enough with Mike and Jake (Long) and Chad (Henne); these guys would just come up and bring boxes and bags of stuff.
"Mike was very clear to them, 'We'll be happy to sign one thing as long as it's personalized.'"
Some players don't have a problem with professional autograph seekers profiting from their signatures.
"It doesn't bother me," wide receiver Darryl Stonum said. "It's more flattering that people would actually want to buy my autograph. I don't understand why you'd want to buy my autograph, but it's flattering."
Receiver Roy Roundtree feels the same — kind of. He's a big believer in the personalization advice Ablauf provides.
"I just sign it for them because I'm thinking they want it, or maybe it's for somebody else or for a little kid. I just try to sign it and on to the next one," Roundtree said. "But sometimes they do (sell them) and I don't think that's a good thing to do, you know.
"I think if I sign an autograph, it's for you only or the person you're giving it to."
Michael Rothstein covers Michigan basketball for AnnArbor.com. He can be reached at 734-623-2558, by e-mail at michaelrothstein@annarbor.com or follow along on Twitter @mikerothstein.