Posted on
Sun, Jan 17, 2010 : 5:33 p.m.
Michigan basketball team holds on to upset No. 15 Connecticut, 68-63
By Michael Rothstein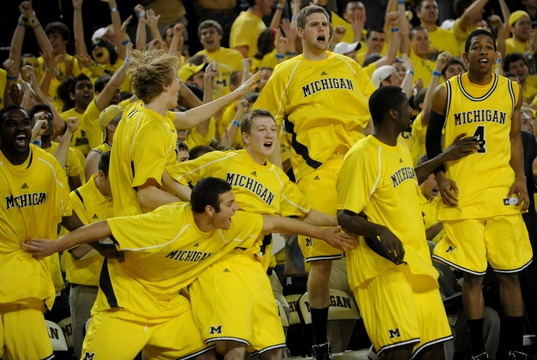 Melanie Maxwell | AnnArbor.com
The frustrations of a season of disappointment tumbled out, spilling onto the Crisler Arena floor in the form of Michigan students celebrating a victory they didn't expect.
The Michigan basketball team finally picked up a non-conference signature victory, a 68-63 decision over No. 15 Connecticut on Sunday afternoon.
Forgotten, for the moment, were losses to Marquette and Alabama in November and losses to Utah and Kansas in December. Michigan (10-7, 3-2 Big Ten) has won four of its last five games and can carry confidence into a week that has road games at Wisconsin and at Purdue.
"It's big, you know," fifth-year senior forward Zack Gibson said. "UConn is historically a very good basketball program, and it's great to get a win like that. We needed that. Our season has been in a little bit of a funk, but we're on a little bit of a streak here."
The Wolverines put together their most consistent performance of the season against UConn (11-6, 2-3 Big East), which has lost three consecutive games. They jumped out to a big lead, using a 17-2 run in the first half where the defense was suffocating, 3-pointers were falling and everything worked.
They responded when Connecticut made its run in the second half once senior guard Jerome Dyson - the leader of the Huskies - was freed from his first half foul trouble. Dyson finished with 13 points, one of four Connecticut players in double figures, led by 15 from Kemba Walker.
Michigan only surrendered the lead once and fought back every time Connecticut tied the game. The Wolverines did in on the defensive and offensive ends of the floor, often times because of the Wolverines undersized forward, Zack Novak.
Novak jumped into the lane as Donnell Beverly tried to throw the alley-oop with a little over eight-and-a-half minutes left. The 6-foot-5 forward swatted the ball away. At the time, he had no idea a Connecticut player was lurking behind him to complete the assist.
"Was there someone going up for it?" Novak said. "I was just hoping I didn't get dunked on for the third time."
Then, a few seconds later, he crept under the basket, grabbed the offensive rebound off a Laval Lucas-Perry missed 3-pointer and laid it in, giving Michigan the 49-47 lead.
He followed it six minutes later with the biggest shot of the game, a 3-pointer at the top of the key that ignited the Crisler Arena crowd and gave Michigan the lead for the final time, 61-58, off an assist from Manny Harris.
"Michigan needs that," Connecticut coach Jim Calhoun said. " Harris and (DeShawn) Sims can't be the only stars in town."
The confidence Novak displayed spread throughout Michigan's team. Novak was one of four Michigan players to score 10 or more points, led by 18 from Harris.
The defense forced Connecticut into almost twice as many turnovers (17) as assists. Michigan had 10 steals and two blocks.
And it led to this - Michigan's fans rushing the floor, Michigan's players bouncing around on the court and Kathleen Beilein, the wife of third-year Wolverines coach John Beilein, accepting hugs and well wishes from friends and fans from her seat in the stands.
About the most realistic person Sunday was John Beilein, who while he knew this win was important couldn't say how big the win is for Michigan's season, especially with the Big Ten's three top teams - Wisconsin, Purdue and Michigan State - next on the schedule.
"I don't know," Beilein said. "I'll tell you at the end of the year. We have to continue to win right now, and I don't even want to look at the schedule. Everybody knows what's coming up."
More coverage
• A slideshow from Michigan's victory against UConn.
• Notebook: Bench players play big role for Michigan.
• Dave Birkett's view: Michigan keeps NCAA tournament hopes alive.
• Video with Zack Novak on defense.
• Video with John Beilein on Zack Novak.
• Beat writer Michael Rothstein grades Michigan's day.
Michael Rothstein covers University of Michigan basketball for AnnArbor.com. He can be reached at (734) 623-2558, by e-mail at michaelrothstein@annarbor.com or follow along on Twitter @mikerothstein.