Posted on
Fri, May 18, 2012 : 5:58 a.m.
Michigan hopes to find rest for Trey Burke next season, not opposed to starting freshmen
By Nick Baumgardner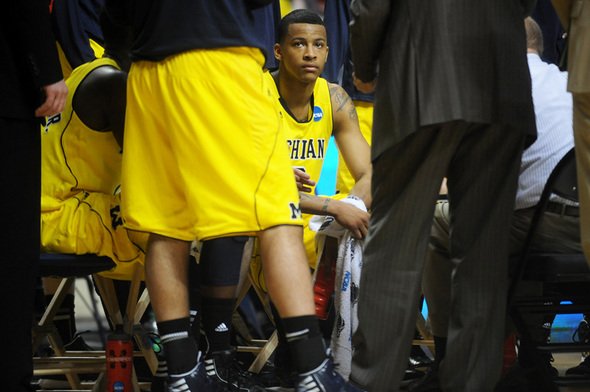 Melanie Maxwell | AnnArbor.com
The more the 2011-12 season drug on, the more John Beilein tried to steal minutes for Trey Burke.
Beilein tried to spell the Michigan basketball team's freshman point guard with senior Stu Douglass. He tried to give him a break with Carlton Brundidge and Eso Akunne.
He tried to squeeze every second out of each media timeout to give his rookie floor leader a break.
None of it really worked, though. The co-Big Ten Freshman of the Year still finished the season with 1,227 minutes played, the second-highest single-season total in school history.
Michigan survived Burke's heavy minutes a year ago, but Beilein insists the Wolverines can't go through that again.
"Trey Burke needed to get rest," Beilein said of last season. "The game has changed where the point guard has the ball much more than he ever had it. ... And we realize that.
"(Burke) was a horse the whole year, and was still able to perform, but we realize that's not the best practice."
Often times last season, Beilein had no real choice.
Akunne eventually was lost for the season with a foot injury, Douglass was forced into extensive off-guard duty and Brundidge never seemed to earn the staff's trust as a full-time backup point guard.
In 2012-13, Beilein hopes the point guard minutes issue will be solved.
The Wolverines scored a spring commitment from prep school point guard Spike Albrecht, a true floor-leader his entire life. Additionally, Michigan will welcome combo guard Nik Stauskas into the fold next season. He's can play the two or the three position, but can serve as a backup point guard in a pinch.
"Spike and Nik both have ball-type skills," Beilein said. "Obviously Spike does, that's what he's been playing (forever). But Nik has the ability to dribble the ball that allows him to play, the same dribble skills Stu had acquired here, Nik comes in with."
Long story short, Beilein said a perfect scenario would allow him to spell Burke for roughly 10 minutes per game, maybe five in a close contest.
That didn't happen much last season, but he's hoping to alleviate that in 2012-13.
"I always thought the players you want on the floor the most, 30 and 35 (minutes) is a good number," Beilein said. "That would mean an eight or nine-man rotation, but who knows, we could go 10."
As far as overall depth goes, Beilein is hoping that improves next season.
By the end of the 2011-12 campaign, Michigan was relying on a starting lineup of Burke, Douglass, Tim Hardaway Jr., Zack Novak and Jordan Morgan. Evan Smotrycz -- who has since transferred -- and Matt Vogrich were often called on for bench duty.
But beyond that, it was questionable.
Next season, Beilein will have a healthy Jon Horford to go along with Morgan, Blake McLimans and freshman Mitch McGary in the front court. Additionally, redshirt freshman Max Bielfeldt is expected to push for minutes.
In the backcourt, Michigan will once again have Burke and Hardaway to carry the load and Vogrich as an important reserve player. Additionally, the Wolverines will be able to work in five-star wing Glenn Robinson III, to go along with Stauskas, Albrecht, incoming freshman combo guard Caris LeVert and a healthy Akunne.
"I hope (this team will be deeper)," Beilein said. "We won't be an equal-opportunity (team) where everyone's playing 20 minutes, but we will go deeper in the bench.
"I think that's really important."
As far as who starts? That's, obviously, still to be determined.
However, Beilein says it shouldn't come as a shock if one -- or more -- freshmen players find their way into the starting lineup when the season begins.
That's been common practice over the years, and it likely won't change next year, either.
"Anything's possible," Beilein said. "We never promise people they're going to start, but the truth is, we've started a freshman almost every year here.
"How many? Who knows."
Nick Baumgardner covers Michigan basketball for AnnArbor.com. He can be reached at 734-623-2514, by email at nickbaumgardner@annarbor.com and followed on Twitter @nickbaumgardner.
Want to stay connected to Wolverine basketball in your Facebook newsfeed? "Like" AnnArbor.com's Michigan Basketball News & Views.