Posted on
Wed, Apr 28, 2010 : 9:25 a.m.
Michigan men's basketball coach John Beilein was 'surprised' by NCAA tournament expansion to 68 teams
By Michael Rothstein
A few weeks ago, Michigan coach John Beilein was convinced that the NCAA men's basketball tournament would expand to 96 teams.
The third-year Michigan coach had long been against such a move, preferring the 65-team model. When the NCAA announced last week that it'd likely move to 68 teams in a vote of the NCAA Board of Directors this week, Beilein was a little stunned.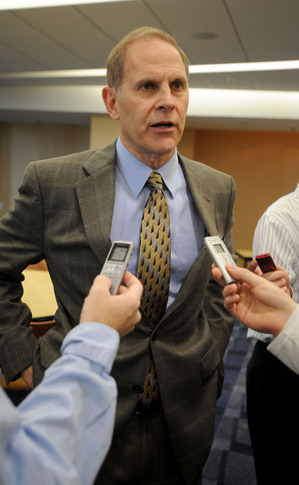 The NCAA recommended the expansion to 68 teams to the board as part of a
14-year, $10.8 billion television deal with CBS and Turner
.
"I was surprised," Beilein said. "Because everything that I was hearing, not that it was a done deal but it really seemed like it was going to happen. I wish that, whenever we went to the NIT and went to the third round, we were like one of the last teams that didn't get in.
"I wish it could be retroactive."
It isn't, but the smaller expansion will also mean the likely preservation of the second-tier National Invitation Tournament. Beilein won the 2007 NIT in his final season at West Virginia and has often said how much that tournament has helped his teams.
"At Canisius and at West Virginia, the NIT runs that we had set the stage for great seasons in the future," Beilein said. "So the NIT has always been special.
"If we were going to 96, the NIT might have become obsolete and I didn't want to see that happen."
Beilein, though, said he wouldn't fight against more expansion. He instead praised the people that run the NCAA tournament and said he believes in their ability to make good decisions.
He didn't have any opinion, either, on how the three-team expansion should be implemented. One thought is to have eight teams play for the No. 16 seeds in each region - almost assuredly meaning eight one-bid leagues will be in play-in games.
The other thought is to have eight bubble teams play for No. 12 or 13 seeds. These games would likely include teams from power conferences or strong mid-majors.
"All I know the NCAA, the way they seeded it and the way they've conducted the tournament, they have a great formula for success," Beilein said. "I don't think I know enough about that to even comment on it. All I know is they'll find the right way and if it isn't the right way, they'll fine-tune some things.
"They've done a great job with that lately where people aren't traveling all over the place and it wasn't too long ago where if Syracuse had a regional, they were also in it. They've really made great changes to the NCAA tournament over the years, and I have a lot of faith in them."
Michael Rothstein covers University of Michigan basketball for AnnArbor.com. He can be reached at (734) 623-2558, by e-mail at michaelrothstein@annarbor.com or follow along on Twitter @mikerothstein.